City Commission to move forward with living shoreline, design incentives
The two big items on Monday night's Safety Harbor City Commission agenda generated plenty of discussion, but little dissension, and the Commission was unanimous on moving forward on a "living shoreline" project at Safety Harbor Waterfront Park and design incentives for developers to reflect the city's "small town charm" initiative.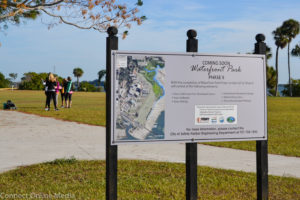 The living shoreline, which will replace the existing crumbling seawall near the pier with oyster beds and vegetation sloping down from the park to the water, will move on to the next stage of permitting and planning. The concept plan estimates a loss of 2,400 square feet of usable footprint often used as additional seating or a backdrop during events, though park visitors will be able to walk on the slope down to the water if they wish. As the project progresses, the city will get a better idea of exactly how much uplands will be lost, which may result in Commission debating whether to slightly alter the location of a proposed shade pavilion. 
As part of that discussion, Commission was unanimous in wanting to move forward with the planting of nearly 30 shade trees donated by the Rotary Club of Safety Harbor at the northern end of the park by the boardwalk, after some discussion over possible loss of view.
The design incentives, drafted by the city's Planning & Zoning Board to encourage residential and commercial builders to design their projects to promote "small town charm," were the subject of plenty of social media chatter before the meeting. Most of the handful of residents who spoke on the issue were concerned that one of the rewards to be offered developers was setback reductions, meaning buildings could be built closer to the lot line. Commissioners Andy Zodrow, Nancy Besore and Cliff Merz shared those concerns, but after Mayor Joe Ayoub suggested that setback increases be included as one of the design incentives rather than setback reductions as a reward, the Commission was unanimous in moving forward on the plan.
After city staff updates those changes and seeks input from the development community, the incentives will go back to the Planning & Zoning Board before two more hearings in front of the Commission.
OTHER ACTION TAKEN
Mease Area Park Playground replacement project: Commission voted 5-0 to approve a bid from Gametime to replace the playground equipment at this park near Mease Countryside Hospital, which contributed $45,000 of the cost of the project.
Zoning of 1575 10th St. S: Commission voted 5-0 on second reading to zone this recently annexed property as R-2 (single-family residential).
Construction noise: Commission voted 5-0 on second reading to push back the construction start time, including the staging of equipment, to 8:30 a.m. on Saturdays.
Minimum permit application fee: Commission voted 5-0 to collect a minimum building permit fee when a permit is applied for.
Update to Capital Improvements Element: Commission voted 5-0 to approve an annual update to the city's Capital Improvement Program.
FY2018 budget amendment: Commission voted 5-0 to approve a budget amendment resulting from an increase in revenue from an uptick in building permits and the costs of processing those permits.
North Pinellas Cultural Alliance board appointment: Commission voted 5-0 to appoint Commissioner Nancy Besore to be the city's representative on this alliance that promotes public art in several North Pinellas County communities.
Bridge dedication: Commission voted 5-0 to approve a resolution supporting the renaming of a State Road 580 bridge in honor of U.S. Army Cpl. Frank R. Gross of Oldsmar, who was killed in action in Afghanistan.
NEXT MEETING
7 p.m., Monday April 16.