City Commission Honors Three Safety Harbor Firemen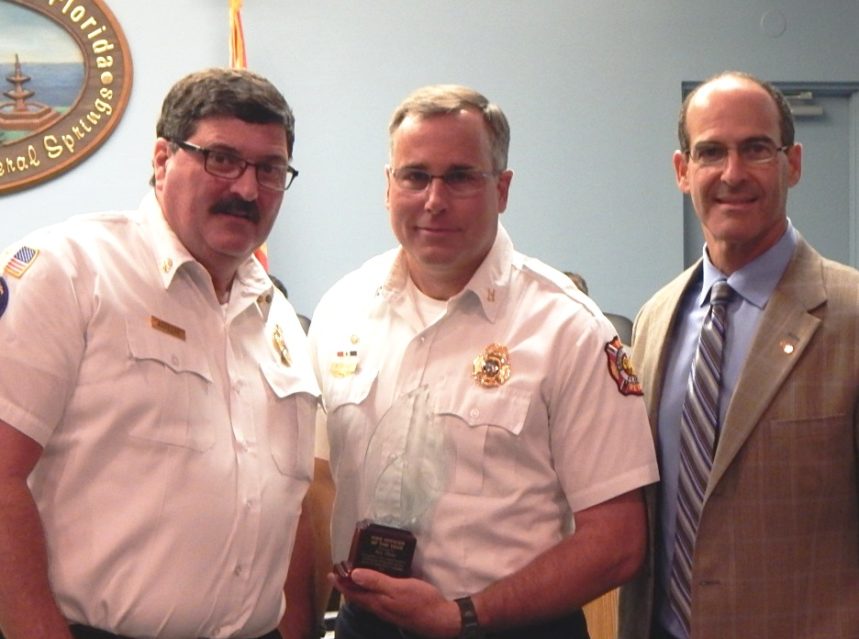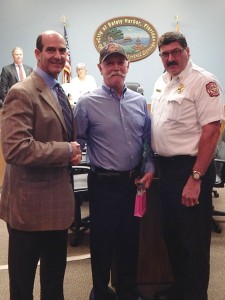 The Safety Harbor City Commission recently recognized three firemen for their contributions to the department and the community.
Fire Marshal Richard "Dick" Brock was honored for his 35 years of service to the City of Safety Harbor, while Captain Ray Duke was named 2014 Officer of the Year and Firefighter/EMT Anthony Barello was named 2014 Fireman of the year.
At the start of the April 20 City Commission meeting, Mayor Andy Steingold read from proclamations for each of the three fire department honorees.
"Fire Inspector Dick Brock's 35-year career with the City of Safety Harbor began in March 1980 under the federal government's Cooperative Education and Training Act (CETA) job program. In October 1981 he became a permanent employee when the department doubled in size."
"We thank you Mr. Brock for your thirty-five years of dedication, devotion and service to our city."
"Captain Ray Duke has been with the department for 31 years, during this time, he has rose to the rank of captain," Steingold read. "Ray was nominated for his role as the unsung her that goes unnoticed and for making a difference in the organization."
"Anthony has been with the department for 14 years and is qualified to drive and operate all apparatus, and will act as the company officer when needed," the mayor continued. "This nomination is for taking the time to go the extra mile and making a difference in the organization."
After each speech the mayor handed the recipients their awards, and each one said a few words of thanks.
"I'd like to say thank you very much. I appreciate this," Brock said. "Mostly I'd like to thank the community itself. It's been an absolute pleasure to live in this community and work in this community…We have top-notch people, a top-notch fire department and a very, very good community."
"I want to thank my family for putting up with me," Captain Duke said. "The fire department does take away from your family life, and they've been a big part of backing me up and being there for me."
"Also, to be recognized, I'm very grateful," he added. "When you have a good crew and you have good bosses that are directing you, it makes it pretty easy to be easy successful and do the right things, so I want to thank them as well."
"I just want to thank you guys for the recognition," Barello said. "I like my job because I like working in the community, and that's basically the reason why I keep coming back. So it helps. Thanks for this."