Chalk Art Subject Shares Unique Story Behind Winning Piece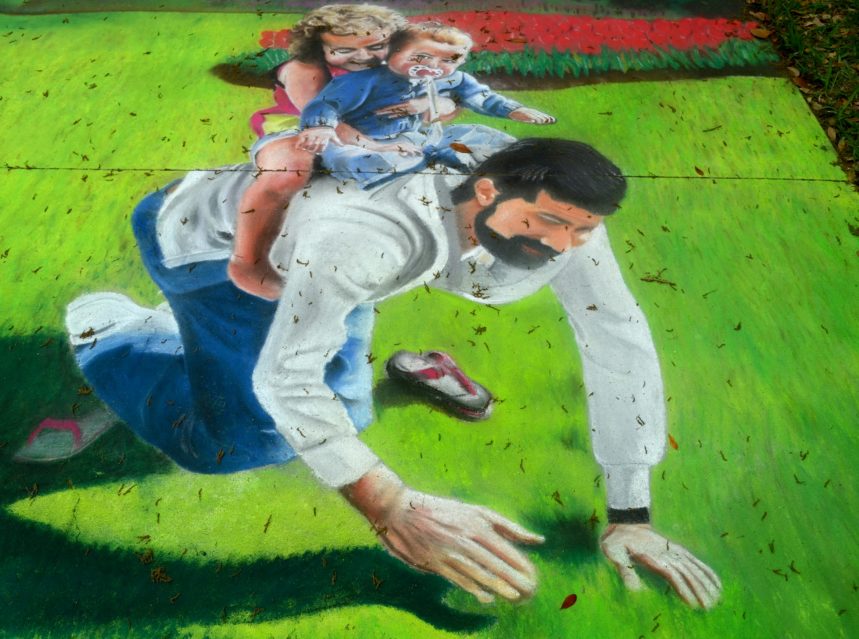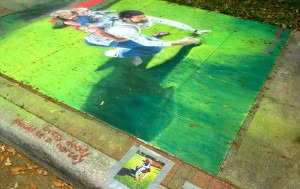 Artists find inspiration in a wide variety of places, from natural landscapes to models to man-made structures.
For Dave Conley and Laurie Pinna, a pair of Temple Terrace artists that entered last weekend's Safety Harbor Bloom N Art N Chalk Fest, the inspiration for their chalk creation came from a more personal source – an old family photo.
The picture of Conley giving his two young children a piggy back ride on a grassy field, with the caption "every daddy should be a horsey," won the Father and Son/Woman and Child Award at the festival.
When the artists came up to the Gazebo to accept the prize, they brought a surprise guest on stage.
"My son from the photo is here, should we bring him up?" Conley asked the crowd gathered at John Wilson Park.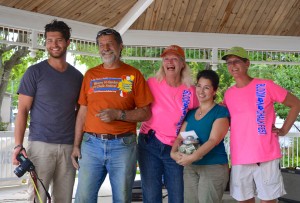 After a resounding affirmative response, Steven Conley came up on stage, looking decidedly different than he did in the 20-year-old photo.
"I think I was one year old in that photo," Conley told Safety Harbor Connect after the ceremony.
"It was taken a park in Calgary, Alberta," he added. "Our parents always took us to play at the park and took photos of us. This was one of those photos."
Conley said the inspiration for the art came when his dad, a veteran chalk artist who was making his second appearance at the Safety Harbor show, heard about the 'family' category.
He knew one of the old photos would make for a great work of art, and he decided to recreate the image on the sidewalk near City Hall.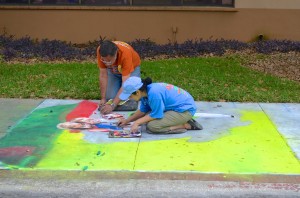 Afterwards, the elder Conley and his parter, Pinna, were full of praise for the Safety Harbor festival.
"They appreciate the artists, and we appreciate them," Conley said of the community and the event organizers.
"It's wonderful. They always treat the artists well, and that makes a difference," Pinna said.
The younger Conley, meanwhile, was just honored to be part of a prize-winning portrait of family life.
"It's pretty cool, honestly," he said.
Related: