'Drive Away Breast Cancer' this Sunday in Safety Harbor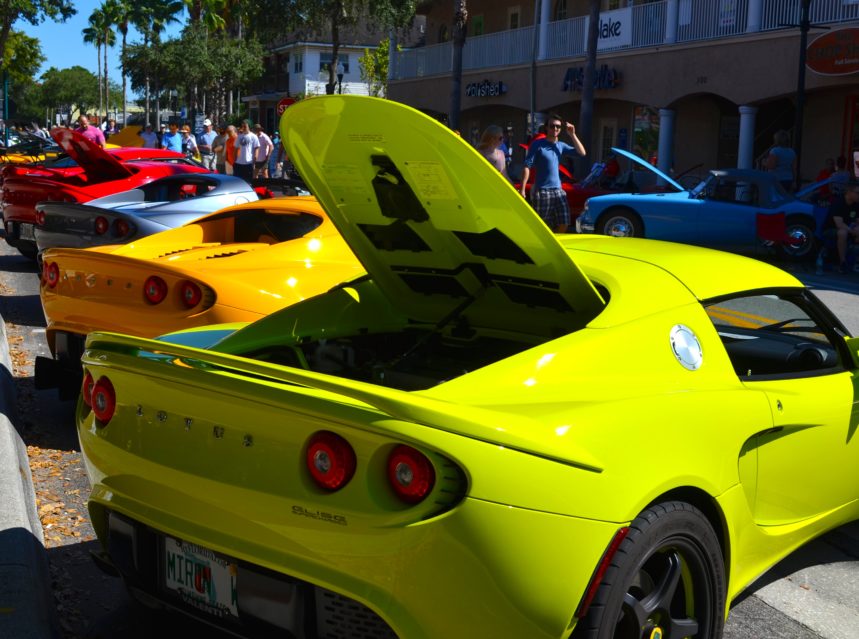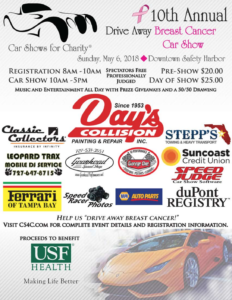 Car shows tend to attract large crowds, with rows and rows of shiny classics, crazy customs and modern-day machines typically drawing car nuts and casual fans of all ages.
And while many such shows benefit a particular car club, few are designed to act as charitable events.
Car Shows for Charity, a nonprofit founded by Palm Harbor's Suzann and Chris Painter, along with Mallorie Renker and Bonnie Theal, a decade ago, breaks the mold of the typical car show, as each of the organization's annual events serves as a fundraiser to benefit those in need, and their 10th annual Drive Away Breast Cancer flagship event will come to Safety Harbor this Sunday, May 6, starting at 10 a.m.
"We started this ten years ago as a way to help my grandmother, who was battling breast cancer for the second time," Suzann Painter said by phone this week as she prepared for Sunday's show.
"My daughter and I wanted to enter the Susan G. Komen Walk for a Cure and we needed to raise $2,600 each to enter, so we came up with a way to raise the money by using our passion for cars."
The inaugural event in downtown Palm Harbor featured roughly 180 cars and raised approximately $6,000—enough to sponsor Painter, her daughter and half of another entrant—and just like that, a new charitable endeavor was born.
"The unique thing with Car Shows for Charity is we're a 100 percent volunteer organization, and very few car shows can say that 100 percent of the proceeds go to the charity," Painter said, noting past shows have benefitted needy children at Christmas as well as the tragic 2014 slaying of Tarpon Springs Police Officer Charles Kondek.
"We're very fortunate to have sponsors that pay for the costs of everything—the venue fees, the operating costs—so we are able to donate every dollar to our cause."
After six years of hosting the flagship event in Palm Harbor, the show moved to Tarpon Springs for three years before making the switch to Safety Harbor this year, and she said so far, she couldn't be happier with the decision.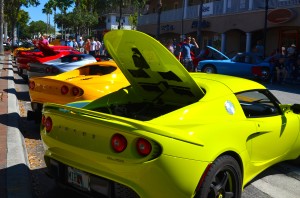 "Joe Cooper has been absolutely fabulous to work with," she said of the city's special events coordinator.
"And the City Commission, the merchants, Mercedes (Locke) with the Market on Main have all been so receptive to the show. I can't rave enough about the support we have received. This place has such a great hometown feel. I'm really excited about this year's event."
In addition to the more than 280 cars she expects to line Main Street on Sunday, Painter said the free event will feature a live auction with prizes ranging from autographed sports memorabilia to weekend getaways, plus live entertainment, 50/50 raffles and more.
She also said there are still a limited number of spots available for those interested in participating in the show.
Painter said CS4C typically hosts 3-4 shows a year, and she noted there is no agreement in place to bring the Drive Away Breast Cancer show back to Safety Harbor.
But based on the experience she's had so far, she hopes this year's event will mark the beginning of a long run in town.
"The show has always been in a downtown setting and we wanted to continue that, and Safety Harbor gives you that in a great little package," Painter said.
"It's a great venue, and we hope this is our home for many years to come."
For more information on Car Shows for Charity and the Drive Away Breast Cancer event, visit cs4c.com.
Related content:
Note: This article has been update to include all four founders of the CS4C charity.