Business Spotlight – Seersucker Sassy Boutique
Ready to toss those pandemic sweat pants to the curb and breath new life into your wardrobe? Well then look no further than Safety Harbor's own Seersucker Sassy!
Located on the corner of Main St and 8th Avenue, this trendsetting women's boutique has been livening up wardrobes with it's "classic with a twist" namesake for over 7 years now.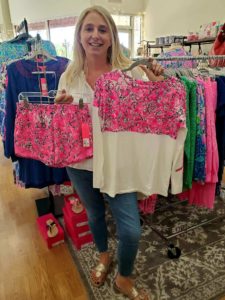 Owner Jamie Prince first started Seersucker Sassy as an online venture before setting up shop five years ago in her current Main Street location. A location Jamie has grown to love, along with a clientele she has loved to watch grow. Locals and visitors alike love to shop Seersucker Sassy's fun lines that have evolved over the years to include women's clothing, shoes, accessories, home goods and even baby gifts. Staples like Free People t-shirts, Luck Brand denim, Brighton bags and jewelry play well with show stopping Consuela Bags and the latest and greatest Lilly Pulitzer prints, including the newest Breast Cancer Awareness sport line. Needless to say, you will not walk out of this "Best of the Bays 2021 Women's Boutique Winner" empty handed!
Can't make the trip down to Main Street? Well then shop virtually. Seersucker Sassy makes it virtually impossible for you to stay in those tired sweatpants by offering online shopping via their website and social media pages, such as Instagram and Facebook. Featured items on their social media pages can be yours with a quick call to the store, and are always shipped for free right to your door. Just don't forget to tag your favorite boutique once you've popped those tags! #seersuckersassy
Hours:
Tuesday 12–4PM
Wednesday 12–4PM
Thursday 12–4PM
Friday 11AM–4PM
Saturday 11AM–4PM
Sunday Closed
Monday Closed
Seersucker Sassy Boutique
801 Main St, Safety Harbor, FL 34695
Phone: (727) 723-7277