Poltergeist Spotted in Safety Harbor!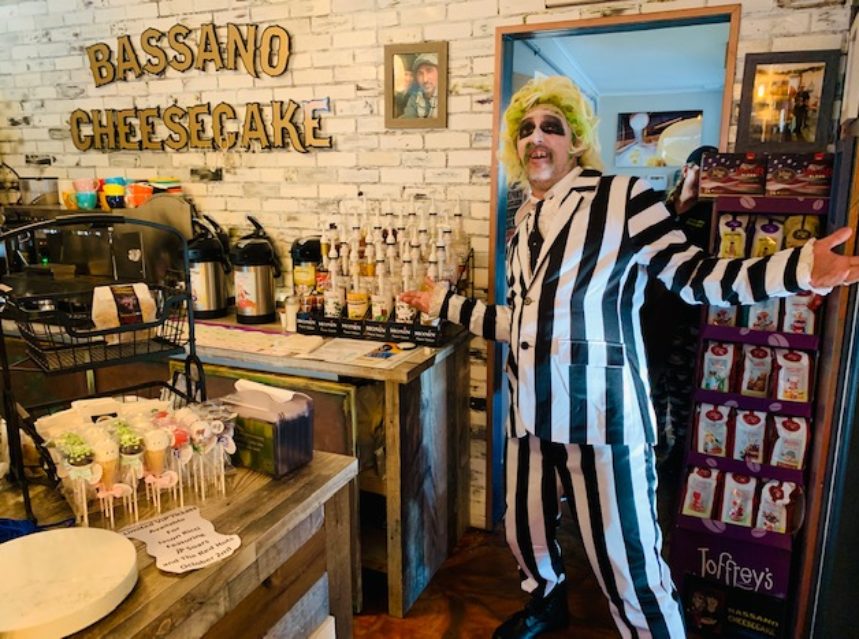 Just when you thought that you could safely approach Bassano Cheesecake Cafe, without being gifted an onion or finding green fur on your plate -courtesy of the Safety Harbor Grinch- beware! Arriving just in time for Halloween, the ghost with the most aka Beetlejuice has ominously begun skulking around Bassano Cheesecake Cafe located at 507 Main Street in Safety Harbor. With the cafe's eerily boarded up windows, unattended cobwebs, and ghoulish sightings you would think that Beetlejuice had successfully ousted the owners, Tom and Cindy Bassano, from their widely popular dessert factory, and scared them away forever.
More than just a Cheesecake Cafe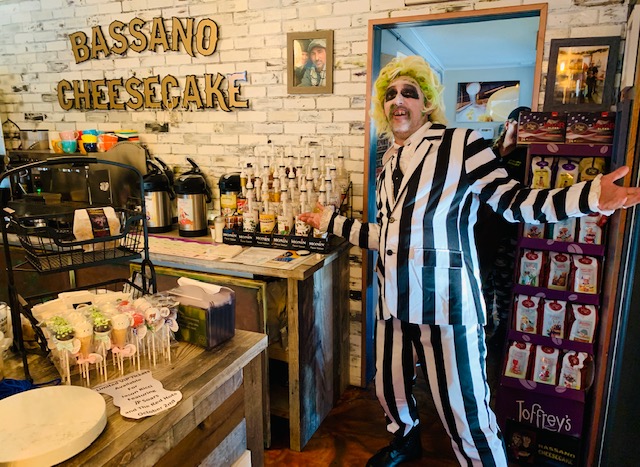 You can't blame a ghost for trying, but Tom and Cindy have become accustomed to the grouchy types lurking around their establishment and remain unfazed by Beetlejuice's attempts. Last year, the Safety Harbor Grinch became a regular at Bassano's, serving onion lattes, photo bombing tourists, as well as leaving his furry fingerprints in the cheesecake! If Tom and Cindy could survive the Safety Harbor Grinch – then Beetlejuice, a poltergeist who specializes in the art of scaring occupants out of their own home, will have to level up his fear tactics. Threatening to sprinkle sandworms on the Monster Cheesecake may not faze Tom and Cindy, but it IS Halloween weekend so one can only guess how Beetlejuice might "turn on the juice to see what shakes loose."
Winner of "Best Dessert" in Tampa Bay
Winner of "Best Dessert" in the Creative Loafing's Best of the Bay for two years in a row, it's not difficult to understand why a devious poltergeist would be frequenting Bassano's dessert counter. What might be more difficult to understand is how a little dessert shop in Safety Harbor could not just compete, but beat Mazzaro's Italian Market in St. Pete and Harry Waugh's Dessert Room at Bern's Steak House in the Best Dessert category for Best of the Bay. Now that's saying something!
If it's not the cheesecake that Beetlejuice is drooling over, then perhaps it's the Safety Harbor Grinch's nod as Runner-Up for Best Cosplayer. Is Beetlejuice vying for the Safety Harbor Grinch's coveted place on the Creative Loafing's Best of the Bay Contest for 2022? Time will only tell.
Halloween Weekend at Bassano Cheesecake Cafe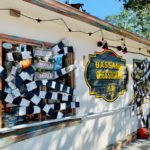 Halloween weekend will be ripe with tricks and treats at Bassano Cheesecake Cafe. After the Main Street Trick or Treat event on Friday, October 29th from 4:30pm-6:30pm, this dessert-loving cafe will be hosting FREE Kid-Friendly Halloween movies in their courtyard on the big screen. Beetlejuice, the devious poltergeist, will be serving up sandworms and might have a few other tricks up his sleeve if you dare to venture out to this eerily decorated dessert house.
Stop by this week to enjoy the festivities and the best desserts in town! 507 Main Street, Safety Harbor, FL 34695…and keep an eye out for the Grinch and their Christmas decorations coming soon after Halloween!
Hours: Sundays 7am-5pm; Mondays 7am-6pm; Tuesdays through Saturdays are 7am-10pm.