2nd Annual Best Damn Race! To Hit Safety Harbor on Saturday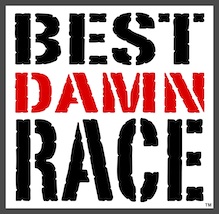 Get ready Harborites – roughly 4,500 runners are set to invade the city on Saturday, Feb. 1, as the 2nd annual Best Damn Race rolls into Safety Harbor.
The event, billed as "a race for runners, by runners", has over 4,400 people to registered to run in the three races: a 5K; a 10K; and a half-marathon.
BDR organizer and founder Nick Zivolich said he believes this year's race will be even bigger and better than before.
"I'm really excited about the 2nd Annual Best Damn Race Safety Harbor," Zivolich told Safety Harbor Connect via email. "Year 1 exceeded my expectations and year two has done the same."
"We currently have over 4,400 registered participants across all 3 races," he added. "And we are expecting beautiful weather for Friday at the Expo and Saturday for the Expo and race day."
Last year the inaugural BDR was considered a success in most all respects.
Although organizers experienced some minor technical glitches that led a few medal mixups, no one doubted that the economic impact combined with the spectacular Safety Harbor setting made the first-year event a smash.
In fact, when it came time to approve the city's special events calendar for 2014, the commission agreed to partner with the event in marketing and promotional materials in order to take advantage of the race's popularity, although a couple of commissioners did have an issue with the title of the event.
Safety Harbor Connect.com even ran a contest to sponsor three runners in any one of the three races. We have extended the contest deadline through tomorrow (1/31) and the winners will be announced on our website the same day.
Zivolich wanted to thank the City, volunteers and others who help make the event possible, including, of course, those participating in the races.
"I want to thank the runners for believing in the race and coming back for year two." he said. "I want to thank the City of Safety Harbor for letting us come back, and Pinellas Country Sheriff's Office and Clearwater PD for helping make the route safe for our runners.
"Lastly I want to thank the volunteers. Without volunteers we don't have race!"
According to officials, there is still time to register to run in any of the three Best Damn Races. Visit the event website to register, and for more information, including the accompanying health and fitness expo the Safety Harbor Connect sponsorship or the race routes.