2017 Safety Harbor election candidate profile: Joe Ayoub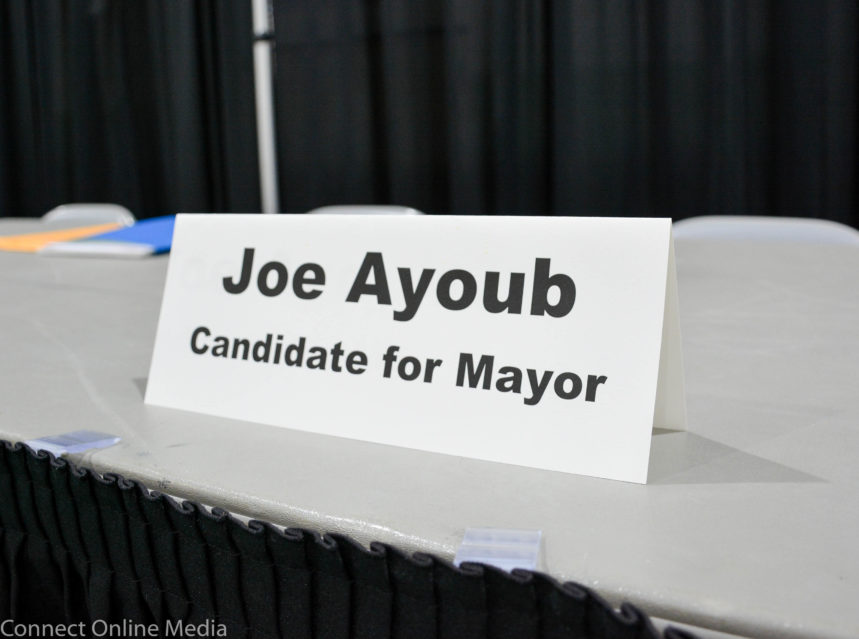 2017 Safety Harbor election candidate profile: Joe Ayoub (Mayor):
Name: Joe Ayoub
Age: 40
Place of birth: Brooklyn, NY
Moved to Florida/Safety Harbor: Florida in 1976, Safety Harbor in 1990
Professional background: CPA and I'm the CFO of Data Blue, LLC
Civic background (organizations, volunteer work, boards, etc.…): My past community involvement includes serving on the Pinellas Planning Council, Pinellas County School Transportation Safety Committee, Florida League of Mayors, Safety Harbor Middle School Advisory Council, Chairman of the Board of Plato Charter School Academy, Vice President of the Safety Harbor Budget Advisory Committee and as a PSTA board member.
Campaign website/Facebook page: JoeAyoubForMayor.com; Facebook.com/JoeAyoubForMayor
Email/phone: Joe@JoeAyoubForMayor.com; (727) 238-7085
What made you decide to run for Safety Harbor City Commission? 
I am running for Mayor because I love Safety Harbor and care about our city's future. I have lived in Safety Harbor for 26 years, owned a home here for 15 years and have had the opportunity to serve as the city's Mayor and Commissioner for a total of 7 years. Safety Harbor is a great city but there are areas that need improvement, which is why I'm running to be the next Mayor of our wonderful city.
What do you think is the most important issue facing Safety Harbor today? 
The key issue is how to address our struggling downtown while maintaining our small town charm. Recent statistics show that we are losing retail businesses at an alarming rate. They now compromise only about 10% of the establishments on Main St.  In addition, the vacancies on Main St now outnumber the total amount of retail locations. So what we are seeing is a steady transition of our downtown from a vibrant town center where people gather to a suburban office park, which is not good.
What are your thoughts on the state of the downtown development in as it relates to businesses as well as residential properties (i.e. smart growth)?  
We have a downtown that is struggling as evident by the many vacant buildings and empty storefronts. I want to end the revolving door of businesses that come and then go out of business in just a short period of time by putting a plan in place to revitalize our downtown and help our struggling businesses, which will make for a better town center for all residents to enjoy. This plan includes public private partnerships, tax incentives and hiring an economic development officer.
I would also like to see smarter zoning put in place that protects our small town charm by putting in place architectural standards that promote front porches and garages placed in the rear of houses. This will help create more aesthetically pleasing homes, a better sense of community and a more walkable downtown.
What is your position on the R2 lot setbacks issue?
The new changes to the R2 zoning district are the result of a petition started by some residents and non-residents that were unhappy with the new two story homes on Iron Age, which are in a completely different zoning district. The real issue is how do we protect our small town charm moving forward, and instead of addressing the broader issue the Commission took a very narrow approach and made changes to setbacks in the R2 district. I prefer a broad approach that makes sure we protect out small town charm that includes looking at architectural standards in our downtown area that promote greater compatibility for new homes with existing homes and neighborhoods.
What would you like to see happen with the Firmenich property?
For this issue the process in which a new plan is considered is going to be key. First and foremost, I'd like to see anyone with a new proposal for this site actively reach out to the surrounding neighborhoods to get their feedback and buy in, and then keep them involved in the process so there are no surprises. I'd also like to see any proposal adequately address any traffic concerns for that area and keep as much green space as possible.
What would you like to see happen with future development of the Waterfront Park? 
After 4 years and $5 million spent we still don't have any picnic benches or shade pavilions. We need to add these amenities and other improvements such as landscaping, more walking trails and a kayak launch to make our park a great place to spend the day. And let me be clear, this does not include adding a restaurant or parking structure as I have never supported these ideas.
If you could do one thing to stimulate economic growth in the city, what would it be?
I would hire an economic development officer and give him or her the full support of the Commission. Other cities have done it and have had great success in turning around their downtown while at the same time protecting their small town charm.
Name an issue you believe is not getting the attention it deserves or that is especially meaningful to you
Right now there is a lot of divisiveness in our city that is being caused by a few bad apples. When people talk about our "small town charm" that should extend beyond just the aesthetics of the structures in our city to the culture of our community and how we treat each other.  We need to be more welcoming to new residents that decide to make Safety Harbor their home and go out of our way to make them feel like a part of our community. I believe the Mayor has an important role to play in setting the tone of the city, which includes leading the city with a positive tone and inclusive style and appointing people to leadership roles and advisory board that share this vision.
If you were to be elected on March 14, what would your priorities be for the city, and what are your long-term goals for Safety Harbor's future?
If elected my top priorities would be to address our struggling downtown, add amenities to our Waterfront Park and to take additional measures to protect our small town charm. My long term goal is to have a thriving and walkable downtown that will become a place for residents to go shopping and have more entertainment options. I also want to put in place some beautification programs to address areas of that city that could use some improvement. In addition, I would like to address some quality of life issues by improving our recreation center, our library, our marina and the museum.
Any final thoughts? 
When I started this campaign a few months ago I pledged to run a positive campaign based on the issues, and I have kept that promise. I have taken painstaking efforts to get as much feedback from residents as possible regarding the issues that are most important to you. I have already knocked on over 2,000 doors and have put a survey on my website to give you an opportunity to share your thoughts on the issues facing the city directly with me. I have had several meet and greet events and will have more so check out my website for when the next one will be. In summary I am going to work hard to best represent all the residents our city and I ask for your vote so I may have the privilege of serving as your next Mayor.