2015 Safety Harbor Candiate Profile: Chris Logan (Seat 1)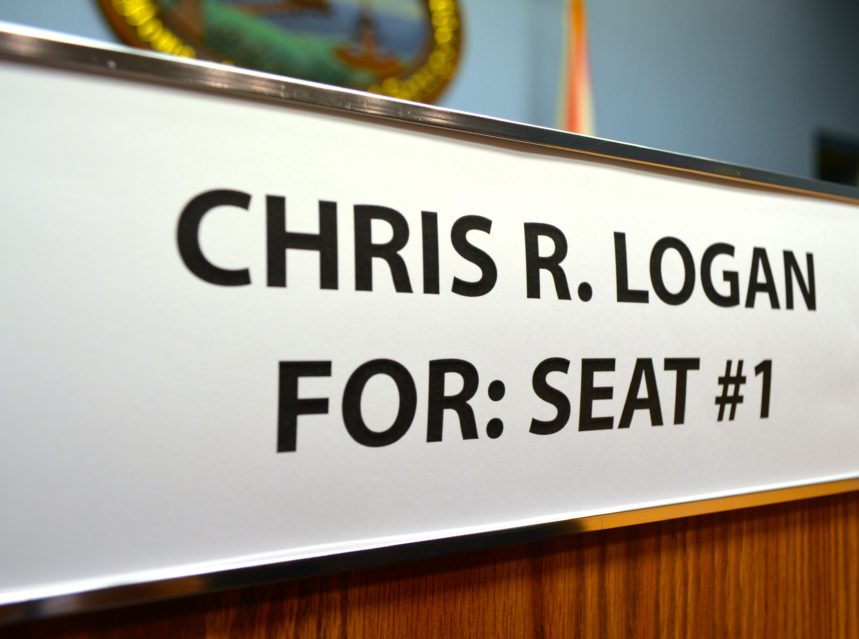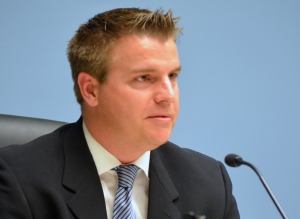 Name: Chris Logan
Age: 39
Family: Gina Logan, Wife
Professional Background:
Graduated from Michigan State University in 2001 with a Bachelor of Science degree in Civil Engineering.
Relocated to Florida in 2001, where I began work as a Civil Engineer with Wade-Trim Engineering. While at Wade-Trim I worked on several different types of design projects mostly comprised of transportation and site plan engineering.
Passed my professional engineering exam in 2006 and became a Florida registered Professional Engineer.
Accepted a position with Paradise Ventures in Safety Harbor in 2007 as a Project Manager, where I continue my career today. Paradise Ventures is a commercial real estate company specializing in various types of retail projects. Most recently our focus has been on purchasing timeworn shopping centers and updating them to fit within the local fabric of the community.
Additionally, my wife and I own a Bangz Salon and Spa in South Tampa that houses over 20 employees.
I am also a partner in Service Hub Insurance Company that writes home, auto and life insurance policies.
Civic Background (commissions, boards, organizations, volunteer, etc…)
City of Safety Harbor – Current Chairman of the Planning and Zoning Board (10 years)
City of Safety Harbor – Current Zoning Board of Appeals member (4 years)
City of Safety Harbor – 2014 Charter Review Committee – member
City of Safety Harbor – 2007 Visioning Session – member
Old Harbor Place Subdivision – President of Homeowner's Association
Cypress Meadows Community Church – Secretary of the Governing Board (8 years)
MATHCOUNTS Middle School Math Competition – Past Chair
Harbor Oaks Subdivision – Past Board Member
What made you decide to run for the Safety Harbor City Commission?
I have always enjoyed being involved in the community through various forms of volunteerism. After serving 10 years on the City's Planning and Zoning Board I feel it is time to redirect my services to the City and the Citizens of Safety Harbor in a different capacity. I look forward to finalizing projects which I have been fortunate enough to be involved with since their inception. One of my main focuses will be the completion of the Waterfront Park in front of the Safety Harbor Spa. The current plans are lacking in park amenities typical to our area. The Waterfront Park requires these modern day conveniences to be the crown jewel of Safety Harbor. It is my goal to ensure this project includes everything necessary to reach its full potential for our City.
What do you believe is the most important issue affecting Safety Harbor today?
I believe the most important issue is maintaining the small town charm that we all have come to love and depend on. This issue is affected by many decisions made by the City Commission. If elected, I promise to preserve the small town charm that is the fabric of our community by maintaining a vibrant downtown with quality events, sustaining our tree canopy through meaningful rules and regulations, and completing the Waterfront Park.
What is one issue you would like to see the City Commission address?
I would like to see the City Commission identify goals that will improve our overall quality of life and that add to the small town charm of our entire City. Once these goals are identified, leadership needs to be exercised to ensure they are completed successfully. One of my primary goals would be to increase the tax base and add revenue so we don't have to dip into reserves to fund a sound City budget.
If you were to be elected, what are your priorities for the City?
My priorities are simple and all of them add to the character and small town charm of our community. My first priority is to get the Waterfront Park project back on track. My goal is to deliver the high standards initially intended for this property, which were approved by the commission's hand selected steering committee in a unanimous vote. My second priority is to pass a sound tree ordinance that maintains the property rights of the Citizens and does not penalize them for planting trees on their property.
Final thoughts?
I am an 11-year property owner in Safety Harbor with deep roots in volunteering for our community through various civil opportunities as well as through my church. I have proven leadership experience necessary to be your City Commissioner. If elected, I will work hard and be committed to giving every resident a voice in our government. If you would like any additional information about me, or would just like to have a conversation, please reach out to me through the following outlets:
Campaign Info:
Related content: