WatermelonWeek features tasty creations throughout downtown Safety Harbor
If you like watermelon, get your taste buds ready for an entire week of sampling some fantastic creations from Safety Harbor restaurants and bars during WatermelonWeek Saturday through July 5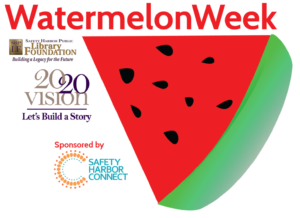 For WatermelonWeek, which is part of the promotion for the Melons for Moolah Watermelon Festival at Safety Harbor Waterfront Park on July 6, local establishments were asked to create a watermelon-inspired dish, drink or dessert and pledge a portion of each sale to the Safety Harbor Public Library Foundation's 20/20 Vision Campaign, which has a goal of raising $500,000 to furnish the soon-to-be-built second story on the Safety Harbor Public Library.

After sampling the creations, you'll be able to vote for your favorites on Melons for Moolah's Facebook page, with the winning establishments awarded an advertising package from WatermelonWeek's sponsor, Safety Harbor Connect.

And for some added fun, don't miss the WatermelonWeek Pub & Restaurant Crawl on July 3. The event starts at 5 p.m. at Crooked Thumb Brewery, which is bringing back its Lose My Rind beer brewed for last year's successful Melons for Moolah Guinness World Record attempt. From there, crawlers can design their own path, choosing to visit as many of the 18 participating establishments as they like the rest of the night, including Safety Harbor Galleria, which will be serving watermelon lemonade for donations for the Library Foundation, and Aeire Lane, which is donating $10 to the Foundation from anyone who makes a watermelon door hanger craft in its studio throughout WatermelonWeek.

For more information, visit the WatermelonWeek page on Melons for Moolah's website.

Here are the participating establishments:
511 Food Company: Watermelon Gazpacho (served chilled with fresh celery, cucumber, skinless fresh tomato, herbs and pepper with multigrain tortilla chips) and Florentine Fricassee Feta Salad.
8th Avenue Pub: Watermelon Margarita (Camarena tequila, triple sec, fresh lime and sour with muddled watermelon. Jalapeno style upon request.)
Bar Fly Saltwater Grill: Melonito (Skyy watermelon vodka, deep eddy ruby red, grapefruit juice, lime, mint and agave)
Buttercups Cupcakes and More: Watermelon Cupcake
Coastal Cantina and Grill: Mojo Shrimp Salad (spring mix, smoked ham, mojo-sauteed shrimp, watermelon, strawberry, queso blanco, red onion, diced tomato, Cuban toast croutons, citrus vinaigrette) and The Margaret (gin, strawberry puree, simple syrup, lime and lemon juice)
Crooked Thumb Brewery: Watermelon Florida weisse beer
Daydreamers Cafe & Grill: Pink Dreams Mimosa, Sweet Melon Curried Chicken and Tomango Melon Salad
Gigglewaters Screening Room & Social Club: Watermelon Shot (watermelon slice soaked in Camarena Reposado tequila and lime, then sprinkled with salt)
Harbor Bar: American Kids (three ounces fresh watermelon juice, two ounces silver tequila, 1.5 ounces Grand Marnier, juice of one lime, sweet red wine)
Joey Biscotti: Watermelon Dream Bar (Deliciously cloud-like, loaded with summer flavor on a yummy cookie crust)
The Kitchen & Bar at Safety Harbor: The Firecracker (cucumber-infused vodka, fresh watermelon, lime, simple syrup and a sugar-salted rim)
Nona Slice House: Watermelon and strawberry Pat O'Brien's Hurricane and a watermelon spinach salad with red onion and feta cheese.
Screaming Jalapeno: Mural Watermelon Hibiscus Fresca Cerveza
Sips Wine Bar: Watermelon Sangria Combo (glass of Watermelon Sangria with a Watermelon Sangria Truffle)
Troubled Waters Brewing: Fun Police Berliner-style beer with watermelon syrup
Whistle Stop Grill & Bar: Watermelon & Feta Salad (Florida watermelon, feta cheese, fresh mint and balsamic viniagrette) and Watermelon Cooler (muddled Florida watermelon, American Freedom Distillery Rekker's Rum, simple syrup and lime juice)