WatermelonWeek winners tempted taste buds
Daydreamers Cafe & Grill, Sips Wine Bar and Buttercups Cupcakes & More are the winners of this year's online fan vote for best watermelon-inspired creations in the first WatermelonWeek.

WatermelonWeek, an extension of the annual Melons for Moolah event, had Safety Harbor restaurants and bars creating watermelon-themed dishes, drinks and desserts, and featured a Pub & Restaurant Crawl. A portion of each sale was pledged to the Safety Harbor Public Library Foundation's 20/20 Vision Campaign, which is raising money to equip the second story that will soon be built on the library.

An online vote was held on Facebook to choose the best in each of the three categories. Here is more from each winner:

Best Dish – Tomango Melon Salad, Daydreamers Cafe & Grill

This sweet and savory salad was the perfect light brunch for the summer season. Thick pieces of watermelon and sliced plum tomatoes were gently tossed in a basil pesto extra virgin olive oil before being placed on a bed of fresh spinach and cool vanilla yogurt. It was topped with finely chopped chilled mango and garnished with freshly cracked pink Himalayan sea salt immediately before service.

"We are thrilled to be chosen as the best watermelon-inspired food dish and are happy that the residents and visitors of Safety Harbor enjoyed our food so well," said Chris Wicks, owner of Daydreamers, on behalf of his entire staff. "We continue to seek out new and creative flavors and spices to inspire our unique and exciting menu."

Whistle Stop Grill & Bar, Coastal Cantina and Nona Slice House also participated in Best Dish.

Best Drink – Watermelon Sangria Combo, Sips Wine Bar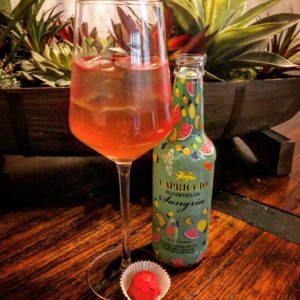 "We were absolutely thrilled to be chosen as Best Drink for the Safety Harbor WatermelonWeek! The opportunity to be involved in a fundraising event that directly benefits our wonderful community is always such a privilege and we were delighted to see Safety Harbor really passionate about Watermelon Week," said owners Andrea Honan and Jeremy Richardson. "As summer was approaching, we knew we wanted to introduce some fresh flavors to our repertoire and had been tasting some watermelon options throughout the spring. We couldn't have been more excited when WatermelonWeek launched as it gave us the chance to introduce a new sangria flavor to Safety Harbor! Not only that, but to be able to pair it with a delicious Watermelon truffle from another local small business just doubled the experience!

"Our customers loved the entire week – from our Watermelon Sangria + Truffle Combo to the waterfront festival. An overwhelming amount of feedback included the taste and flavor of all the entries as well as the organization and excitement created by Scott Long and the entire WatermelonWeek team," Honan and Richardon continued. "We love this community and are so proud to be a part of a town that supports its own. Congratulations to all the winners, entries, and beneficiaries of this fantastic event!"

Crooked Thumb Brewery, Troubled Waters Brewing, Harbor Bar, Whistle Stop Grill and Bar, Coastal Cantina, Barfly Saltwater Grill, Screaming Jalapeno, The Kitchen & Bar Safety Harbor, Daydreamers Cafe & Grill, Gigglewaters, 8th Avenue Pub, Nona Slice House and Brady's BBQ also participated in Best Drink.

Best Dessert – Watermelon Cupcake, Buttercups Cupcakes & More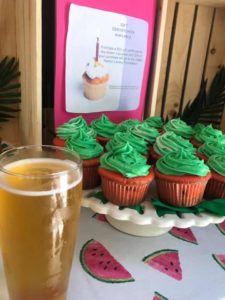 "I feel completely honored and humbled to have won this contest. I wanted the cupcakes to not only taste like watermelon, but to resemble watermelon as well. I made the cake a juicy deep pink color with watermelon flavor. I wanted to represent 'seeds' inside the cake so I used mini chocolate chips. I then topped them off with a green watermelon-flavored cream cheese frosting," said owner Monique Papia. "I got a lot of compliments that the cupcakes were delicious and had an authentic watermelon taste. Many seemed impressed with the appearance of the cupcake, especially the 'seeds.' Thank you for putting on such a great fundraiser to benefit the Safety Harbor Public Library Foundation, and thank you for the opportunity to participate in this worthy cause."

Joey Biscotti Bakery also participated in Best Dessert.