Totally 80's! Totally Murder! Mystery Dinner Theater – Safety Harbor Library Foundation Fundraiser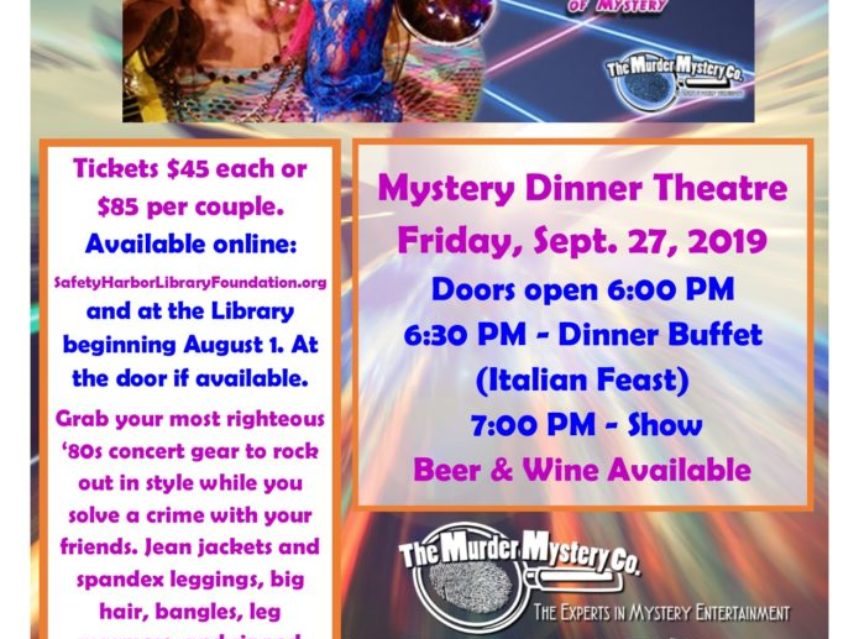 The Safety Harbor Public Library Foundation announces Totally 80s! Totally Murder! An evening of fun, food, and mystery theater at the Safety Harbor Public Library on Friday, September 27, presented by the Murder Mystery Company. Doors open at 6:00 PM, delicious Italian dinner buffet served 6:30 PM, show begins at 7:00 PM. Dessert served at intermission. Beer and wine available for purchase.
Tickets are $45 per person, $85 per couple. Available online: https://80smurdermysterytheater.eventbrite.com in advance at the Library beginning August 1, and if available at the door. To reserve a table, contact Lisa via email, lkothe@cityofsafetyharbor.com.
The Library is located at 101 2nd Street North, Safety Harbor. All proceeds benefit the SHPL Foundation's 20/20 Vision, Let's Build a Story Capital Campaign. Call 724-1525 x 4106 for more information or visit www.SafetyHarborLibraryFoundation.org