W. C. Handy: Teach Our Young People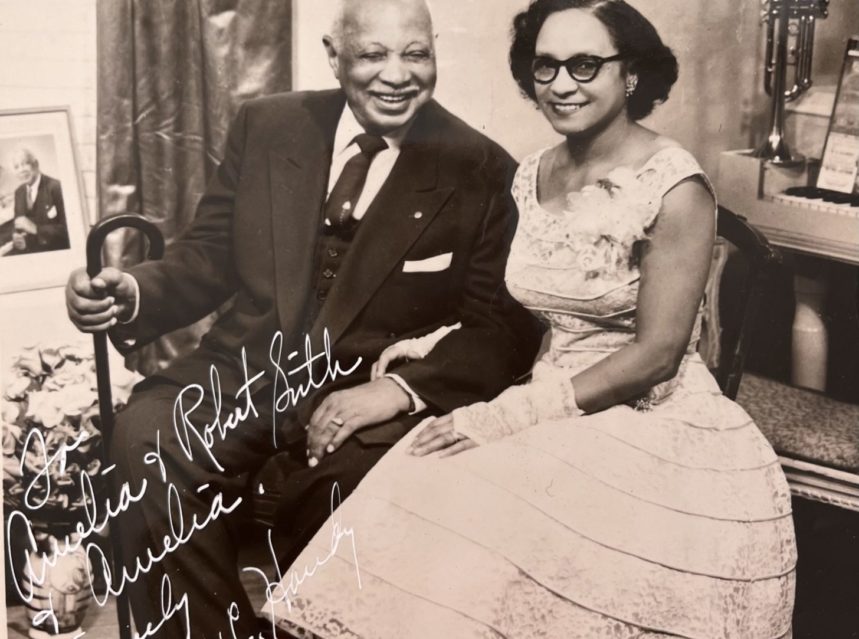 Seated in the living room for a holiday party, we turned as Mr. Handy, blind since the age of seventy, entered the room, escorted on the arm of his long-term assistant, Louise Logan. Easing into his chair, gifts piled around his feet, he called out the names of his guests, one by one. It was my turn. Amelia. I stood up, approached him, and stretched to exchange a hug. He placed a small package in my hand and I returned to my spot on the floor. I carefully unwrapped the paper and opened the box. It contained a piece of jewelry, not just any jewelry, an emerald ring, my birth stone, perfectly sized for my seven-year-old finger. In keeping with tradition, the visit was brought to a close with his reaching for his trumpet, and favoring us with a mini-recital.
My heart was warmed by this kind and generous man. To me he was a family friend, who just happened to be a musician. To the world, he was The W. C. Handy, the Father of the Blues.
In the summertime, he would give lawn parties in his rolling backyard. I was the only guest my age, but the teenagers and adults always found a way to include me and make me feel welcome.
Mr. Handy owned a tv several years before my family did. We were invited each Thanksgiving morning to watch the Macy's Thanksgiving Day Parade before returning home to our own turkey feast. The years passed, and eventually when Mr. Handy married Louise Logan, it was my parents that they chose to be the best man and matron of honor.
Little did I know that I was living through a significant era of Black History; from my perspective it was so matter-of-fact.
As the Father of the Blues, Mr. Handy was famous for the St. Louis Blues, Memphis Blues, and Beale Street Blues, to name just a few. It began the path leading to rhythm and blues, followed by rock and roll, hip-hop, and rap, all of which were introduced by Black musicians.As a genre, the blues was the precursor of the music of America's young people.
Growing up, I was exposed to many accomplished Blacks, not only in the field of music, but in literature, business, and medicine. Mainstream history books have portrayed accomplished Blacks as the exception, not the rule, but I knew differently. Storytelling has been a traditional way to pass down history within the Black culture. There are many Black families with stories like mine to tell.
The lives of young people of all races would benefit from learning not just the Eurocentric version, but the fullness of American history. What a gift it would be for the youth of today to be taught about the significant achievements of Blacks like my friend Mr. Handy: a history reflective of the mindset of inclusion.