Volunteers Needed For Latest Air Potato Roundup in Safety Harbor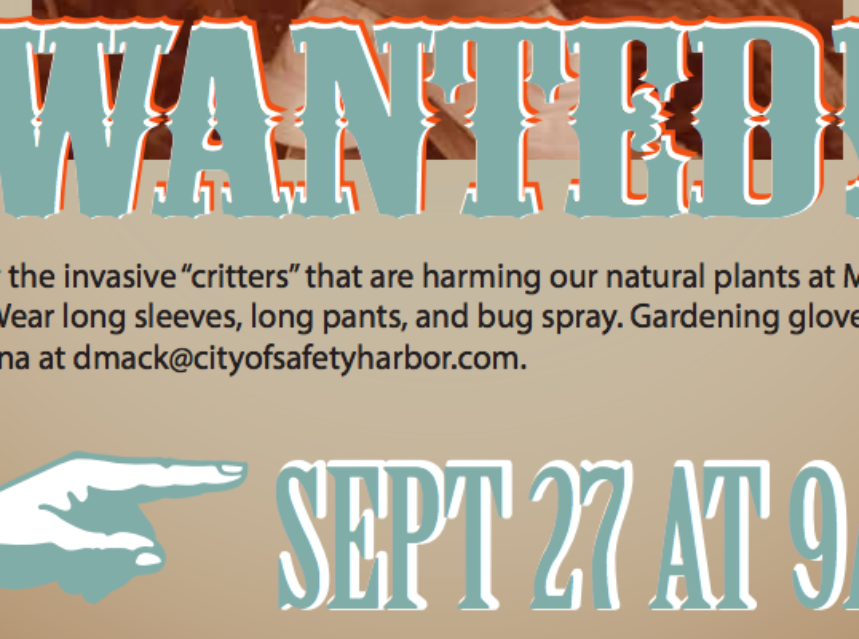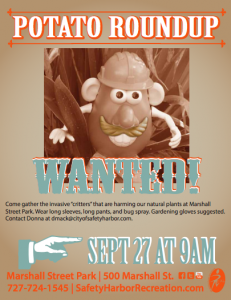 The air potato's invasion of Safety Harbor is still in full effect, so officials are organizing another "roundup" this Saturday in an attempt to eliminate the invasive vine from Marshall Street Park.
Volunteers are wanted for the city's latest cleanup effort, which will take place from 9 a.m. until noon this Saturday, Sept 27, at the park, which is located at 500 Marshall St. near downtown Safety Harbor.
Those who show up are encouraged to wear long sleeves, bug spray and long pants. Gardening gloves are also suggested.
Outspoken air potato activist Gisela Bennie said despite the prevalence of the pesky vines in town, the community's removal efforts are finally being felt.
"The air potato vine is spreading all over town, even right downtown, but our community's efforts in Marshall St Park have made a difference there, glad to note," Bennie wrote Safety Harbor Connect.
"We need residents to be more aware of this invasive killer plant and help in the effort, if only just in their own back yards."
Bennie added that they just received a commitment from a local boy scout troop to assist with this as well as future cleanup efforts.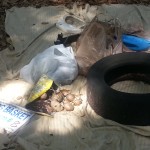 Saturday's event is the latest in a string of cleanup efforts that have taken place in the community over the past several years, as concerned citizens and city officials have banded together in an attempt to rid the town of air potatoes once and for all.
The efforts even prompted one local resident to pen an ode to the cause.
Barbara Finkelstein said she wrote "So Much Depends" as response to William Carlos William's poem, "The Red Wheelbarrow," during one of her morning walks in and around Philippe Park.
Finkelstein read the piece, which pays tribute to Bennie's as well as fellow activist Joe Caisse's dedication to the cause, at a recent Safety Harbor Writers and Poets meeting, and she gave permission to Safety Harbor Connect to reprint it here in full:
                     So much depends

upon the yellow Volkswagon

and the red truck

parked beside the road

where Gisela and Joe meet

to stop the invading air potatoes.

They work in the undergrowth

chatting as if sipping coffee

in a Main Street café.

We must tear out all these vines,

Gisela tells me,

and especially here, Joe says,

because this stretch of road

is the only barrier

between the easement—

which the power company neglects—

and green space along the bay

and the shore road into town.

Vines tighten around the stems

of tame and wild hibiscus,

swaddle the sea grape,

and scale the trunks of oak trees

reaching, reaching,

their heart-shaped leaves widening

and green darkening

the stronger their grasp

the higher their climb.

No use for the rooted tubers

Gisela unearths with her trowel,

though one gardener claims

to boil and safely eat them.

But here we import fingerlings,

New Jersey sweets and Yukon Golds,

while the air potato shows us

what it can and will strangle

if left unchecked.

Yesterday at this same road's edge

a yellow rat snake startled me.

I stepped aside quickly,

but then stood guard to ward off cars

as this constrictor scrawled its yellow

S and S and S across the black asphalt.

                                

Barbara R. Finkelstein

Safety Harbor, Florida
For more information on Saturday's air potato roundup at Marshall Street Park, email Donna Mack at dmack@cityofsafetyharbor.com or call the City of Safety Harbor's Rigsby Recreation Center at 727-724-1545.
Related: