Two Little Free Libraries Dedicated In Safety Harbor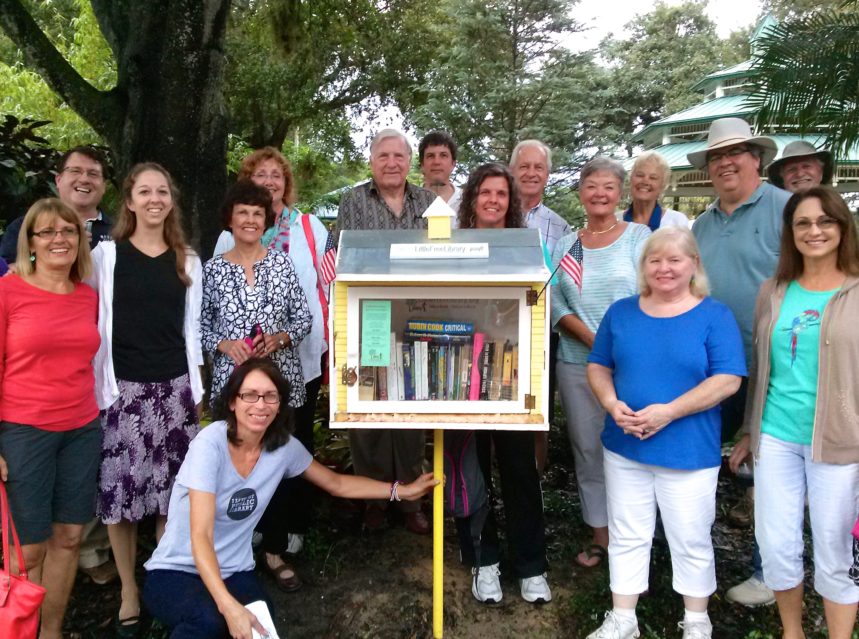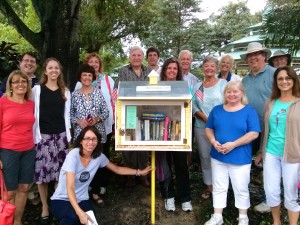 Safety Harbor's first two Little Free Libraries were unveiled at a pair of dedication ceremonies during Third Friday last week, marking the city's first official foray into the world of public book sharing.
Library officials, community members and the builders of the two book receptacles gathered, first at Mullet Creek Park and then at the John Wilson Park Gazebo, to partake in ribbon cuttings for the LFLs, which operate nationwide on a "take a book, return a book"  concept.
After the ceremonies, those involved with the projects spoke to Safety Harbor Connect about what it felt like to be part of such an important addition to the community.
"I think these Little Free Libraries are a great idea," Michael Willie, a novice carpenter from Spring Hill who built the Key West home-styled LFL installed at the Gazebo, said.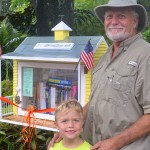 "My daughter lives in Safety Harbor and she kind of volunteered me for the project, and I had a lot of fun doing it," he added. "In fact, I already have an idea for another one!"
"We've lived in Safety Harbor for two years, and this is our way of giving back to the city," Steve Puskas, who along with Susan Kelly constructed the colorful LFL located at Mullet Creek Park, said.
"We think it's a great project, so we decided to put our creative skills to use," Kelly added. "We are really into it and we plan to promote it and get more people involved."
It's a good thing Willie has more ideas and Puskas and Kelly plan on promoting them, because these were just the first two of what could be six or eight such official Little Free Libraries in town, according to Safety Harbor Public Library director Lisa Kothe.
"We have one in the process of being built that will be installed at Marshall Street Park," she said. "Hopefully it will be ready in time for the next Third Friday."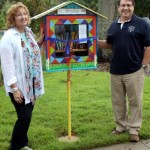 "We plan to put them in other city parks as well, but we will most likely limit it to 6 or 8 that will be run by the library in order for the model to be sustainable and successful"
Kothe was quick to point out that individuals or organizations can always jump into the book sharing business on their own, much like local artists Kiaralinda and Todd Ramquist did at Whimzeyland, their creative haven on Thirteenth Avenue North.
She believes there can never be too much book sharing in any community, especially one as dedicated to art and reading as Safety Harbor.
"If people want to do one at their own home, that would be great," Kothe said. "It's just such a cool thing for Safety Harbor, it fits right in."
"Promoting reading and sharing in the community, that's what these Little Free Libraries are all about."
Related: