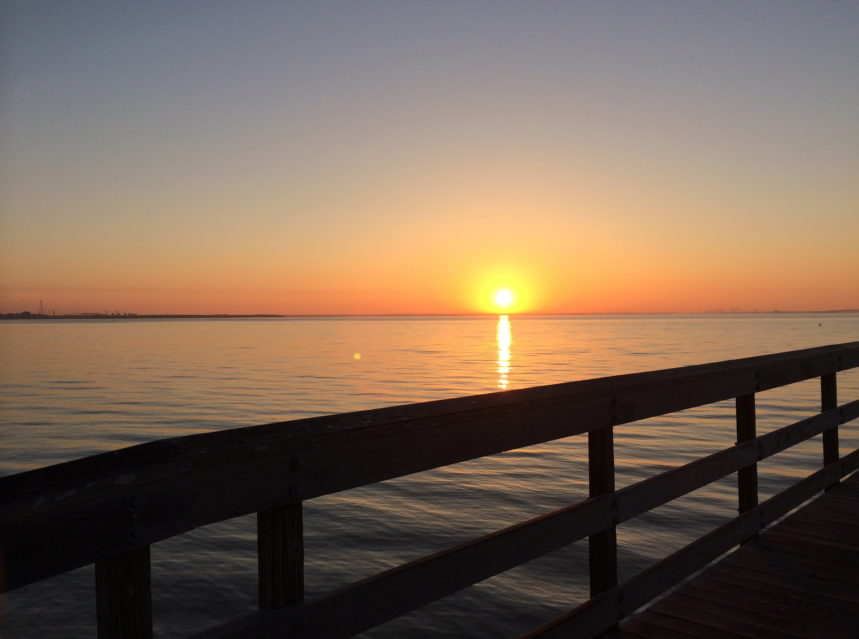 In Safety Harbor, it is easy to sleep a little later. What could be more pleasant than the exotic birds singing in the trees as the Tampa Bay breeze gently waves your drapes? Well, if you are willing to set your alarm, I will reveal to you a most magical happening…the sunrise!!
One Sunday evening, I decided to set my alarm to film a Tampa Bay sunrise from the Safety Harbor Pier. Everyone I invited declined the invitation expect for one, my Golden Doodle fur baby, Charlee!
Charlee and I yawned during our drive to the pier. I was worried thinking this wasn't such a safe idea. I mean, it was pretty dark outside and I am not trained in Karate! My fears were dispelled the moment I turned the corner at the spa. The place was alive with people and dogs! They were all chattering together drinking coffee and sharing early morning smiles. This must be a group of old friends! I thought. That's when the cheerful group waved hello! One gentleman with a happy pup approached us. "What's your dog's name?" He asked. "Charlee!" I replied. "Well, welcome!" He chirped. "We come here every day and this is supposed to be the best sunrise of the year!!"
I was delighted!
Charlee and I approached the pier as the first rays of sun extended to the sky. I set up my camera and waited. Soon, the most fantastic colors arched upward reflecting red, orange and pink light in the clouds. The dolphins were jumping and the birds started to swoop over head. I thought it was over (I was not a professional sunrise watcher at the time) when the sun made its entrance! One pixel at a time, the sun climbed over the horizon until it was a great ball of yellow fire suspended in the sky!
It is a whole new world at the pier during sunrise! Set your alarm and go one morning.
You too can be a member of the Safety Harbor Sunrise Club!
It's the best day EVER!
JL
Here's the video from that day. Look above the letter S at :33 you will see a dolphin!
https://www.youtube.com/watch?v=spFUhhthkns