Summer Teen Events at the Safety Harbor Library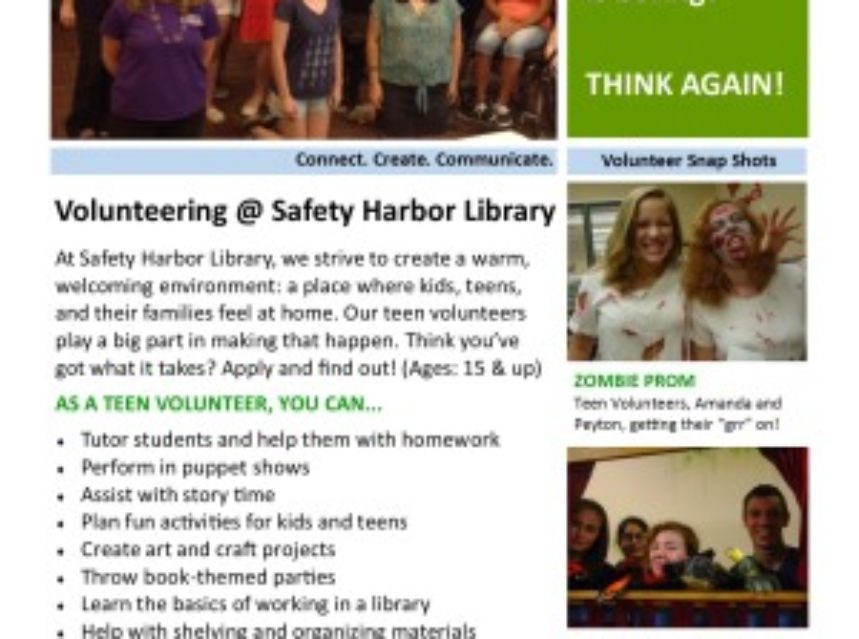 Local teens are encouraged to participate in Unmask! the Safety Harbor Public Library's teen summer reading program, from June 1 – July 31. Teens are invited to read for prizes and take part in free, special events offered throughout the summer.
Teens can sign up to play our Summer Reading BINGO by picking up BINGO cards at the Library. Teens who complete their cards will receive a reading award and their names will be entered into a drawing to win a Kindle Fire! Summer reading begins June 1.
We are still looking for  teen summer volunteers.  If you are interested in joining our summer team, orientation is set for Thursday, June 4, 6:00 pm at the Library.  Applications can be found here.  You'll make new friends and learn new things, in addition to logging your Bright Futures or other community service hours.
Special events this summer include:
Teen Crafts: Thursdays, June 18 and July 16, 4:30 pm.  Decorate your shoes with comic strips in June. Create glow in the dark shirts with puffy paint in July.   
Japanese Culture Workshop:  Monday, July 6, 4:30 pm. Learn about Japan with special guest, Paul Stonebridge. Sample real Japanese food. 
Be an Animal Hero:  Friday, July 10, 4:30 pm.  Learn how you can help animals and create a toy for the shelter animals, presented by the Humane Society of Pinellas. 
Sweet Ida Mae's Treat Decorating Class: Sunday, July 12, 2 pm. Decorate superhero-themed cupcakes, cookies and sweets, presented by the owners of Sweet Ida Mae's Bakery. 
Human Trafficking Awareness Discussion: Monday, July 20, 4:30 pm. Be a hero in your community by preventing and becoming aware of human trafficking. Prize raffles to participants.  
Superhero Movie Marathon Saturday: Saturday, July 25, 9:30 am – 5:00 pm. Watch superhero movies all day long! Prizes and snacks provided.
Unmask! teen summer library program is sponsored by the Safety Harbor Public Library and the Friends of the Library.  Call 727-724-1525 x 4118 or visit www.SafetyHarborLibrary.com for more information.