So. Fresh, 10 Years Later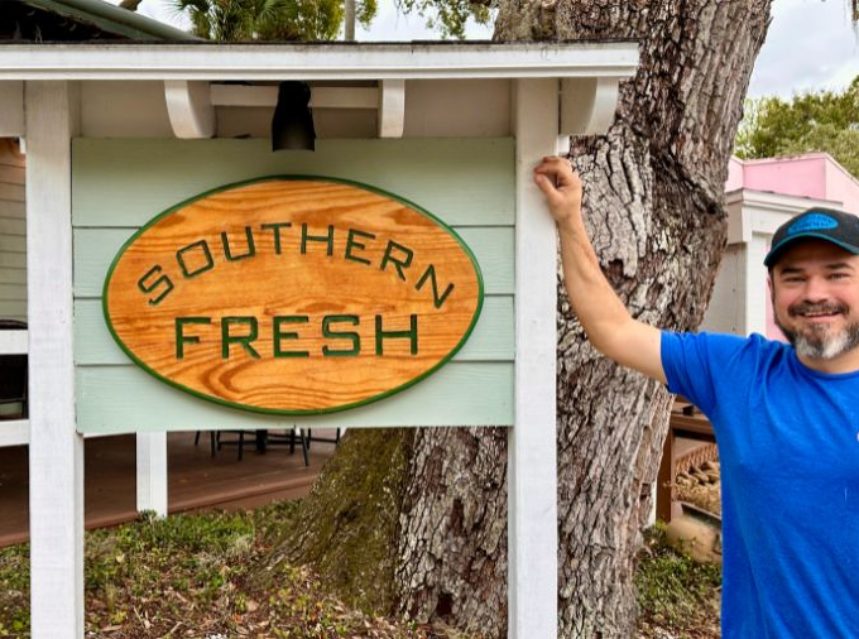 A Decade of Southern Fresh, the popular downtown Safety Harbor restaurant celebrates 10 years of serving authentic homemade meals, including its signature fried chicken, this weekend.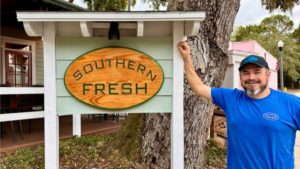 Aaron Stewart and his partners at Southern Fresh planned to celebrate the 10th anniversary of their popular downtown Safety Harbor restaurant in late September, near the actual date. But after Hurricane Ian cut a swath of devastation through Central Florida on Sept 28, Stewart felt the timing wasn't right for a party, so they decided to postpone the celebration for a bit. Flash forward six weeks and another system—Tropical Storm/Hurricane Nicole—has hit the Sunshine State, an early November surprise blowing into town on Stewart's rescheduled date. "We moved the original anniversary party due to Ian and out of respect for everyone who lost so much in that storm," Stewart said recently from his restaurant, located at 122 3rd Ave. N. "And now we have Nicole to deal with while we're trying to plan the event this weekend." That kind of roller coaster ride epitomizes the first decade of Sothern Fresh, a casual dining spot the hometown boy opened, along with partner Jamie Ackendorf, in September 2012 with a vision of bringing farm-to-table food to the Harbor, a concept that was unique at the time. "To do what we do takes a long time," Stewart, a fourth-generation chef who uses homemade
recipes handed down from his great-grandmother, explained. "So, we were worried if everybody would understand that it's not fast food. Now that's normal. But back then our motto was come in, sit down and relax and enjoy a meal, and they've embraced it. We always believed people will wait if the food is good."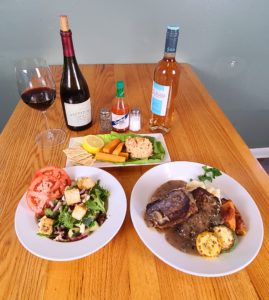 The food at Southern Fresh is better than good, as the mouthwatering fried chicken, slow roasted pork, slow cooked soups, and fresh salads, routinely draw raves reviews from customers who packs the cozy dining areas at the refurbished, Florida Cracker style home. In fact, Stewart said the iconic building is as much a part of Southern Fresh as the food. "Being an outdoor restaurant it's beautiful four months of the year but the rest of the time its
either too hot or too cold or raining," he said, pointing to the ominous, pre-Nicole clouds. "People always ask why we don't enclose the patio, and it probably would be a good business decision, but we like the outside feel. It's part of the old Florida, Southern Fresh charm." During the last decade Stewart and Ackendorf established themselves in town, hosting charitable events, contributing to local causes, and winning awards at the annual Taste of Safety Harbor.
In the summer of 2016, they took a risk by opening the Coastal Cantina, a contemporary Latin American themed restaurant at 519 Second Street South, a move that provided valuable learning lessons Stewart believes are just starting to pay off. "We're glad we did it," he said of taking his culinary skills in a new direction. "It threw a wrench in our spokes a bit at the time and spread us a little thin, but now that COVID is over and we have a new chef over there, we're firing on all cylinders and we're excited where the Cantina is headed, including the new brunch service we just started last week that's already been a hit." The pandemic was yet another roadblock Stewart hurdled, one that nearly crippled the entire industry that he said was tough to handle because there was no way to plan for it. "As a business owner I know the key to success is good business plan, and for two years we had no plan," he said, noting he faced the same issues as most businesses, staffing and rising costs. "So, that was tough. But now we seem to be out of it and we're having fun again. I was once told as a young chef 'one day you'll get it,' and I think I'm at the point now where I get it, and running a restaurant is fun again."
With the new brunch menu at Coastal Cantina, new lunchtime hours coming to Southern Fresh, and a new perspective on the industry, Stewart is more than ready for the next decade. "Part of our original goal was to open four of five of these, but now we really want to be here as much as we can, working with fresh ingredients and making the best food that we can," he said. When asked where he sees himself ten years from now, aside from running multiple restaurants, Stewart replied with a smile, "Hopefully fishing three days a week!"
Related Stories