Sip and Suds Pub Crawl This Weekend in Safety Harbor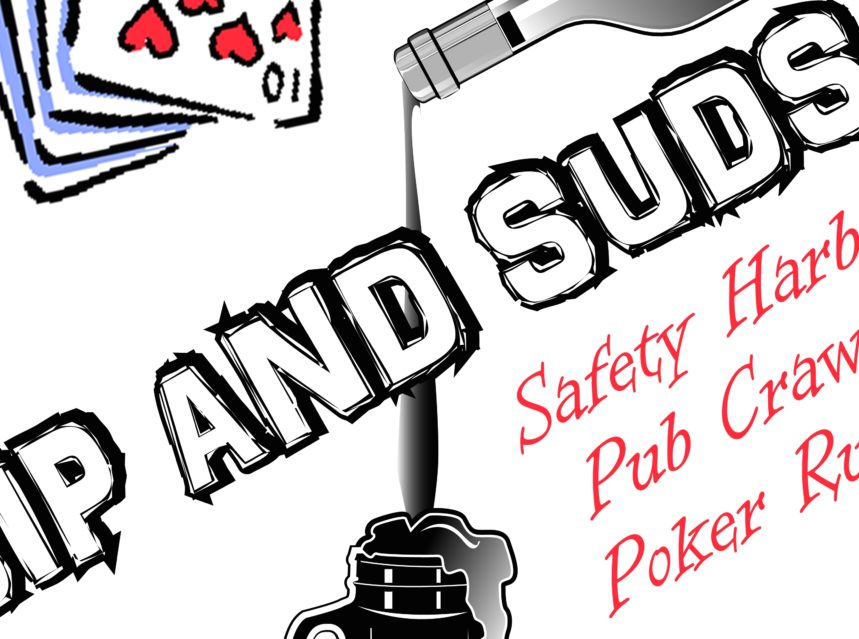 The second annual Sip and Suds Pub Crawl takes place this Saturday, May 17, in downtown Safety Harbor, with a dozen area establishments participating in the adults-only event.
Hosted by the Safety Harbor Chamber of Commerce, this year the crawl incorporates a new indulgence into the usual food and drink-filled frolic – poker!
"The Sip and Suds Pub Crawl has a fun poker run theme this year," Chamber executive director Susan Petersen told Safety Harbor Connect.  
"Crawlers will draw a card for their poker hand at each location and a cash prize will be awarded to the best poker hand of the night at the Gazebo."
The crawl kicks off at 6 p.m. (check-in is at 5:30) at the John Wilson Park Gazebo, located on the northeast corner of Fourth Avenue North and Main Street in downtown Safety Harbor.
Tickets for the event cost $25 and can be purchased at the Chamber of Commerce, 8th Avenue Pub, Copperheads Tap House, Tapping The Vine, and The Sandwich on Main.
One event ticket will get you three drink tickets, a tee-shirt, and a discounted wristband. Only one drink ticket per person per bar may be used, but additional drinks may be purchased at each bar.
In addition to having another fun event in the Harbor, Petersen said the purpose of the event is to support local businesses and non-profit organizations.
"The Chamber is excited to share the proceeds with the Rotary Club of Safety Harbor, who will be supporting the Mattie Williams Neighborhood Family Center with these funds," she said.
"We always look forward to contributing to the growth of downtown Safety Harbor and its community spirit."
Here is a list of the 12 bars and restaurants participating in the 2014 Sip and Suds Pub Crawl Poker Run, which is being sponsored by Master Cut Tools:
For more information on the Sips and Suds event, visit the Safety Harbor Chamber of Commerce website or contact the Chamber at 727-726-2890.