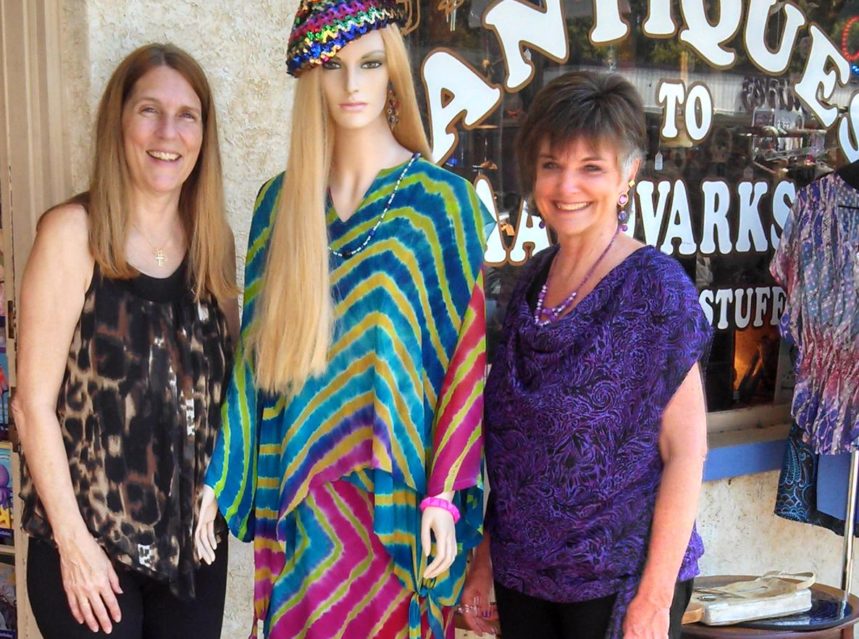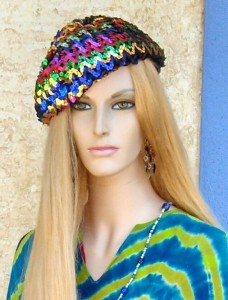 Have you noticed a familiar face on Main Street, across the street from the Post Office, standing in front of Antiques to Aardvarks?  Yes, it's Barbie – former mascot of the late Tim Thompson's TJ Mars Salon.  Barbie was a Harbor icon for many years.  Each business day, Tim changed her interesting outfit and hairstyle.  Many locals made a point of strolling (or rolling) past TJ Mars to see what Barbie was up to at the moment.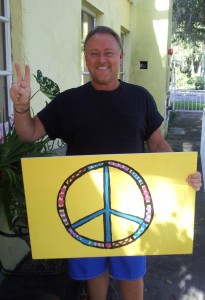 Tim, who contributed so much to his loyal clients, to the Chamber of Commerce, to other downtown merchants, and to Safety Harbor in general, passed away unexpectedly in 2013.  He has been and is still greatly missed.
Barbie has been patiently waiting for a new home since Tim passed, and now she has been adopted by Martha and Alex Sabo of Antiques to Aardvarks.   Her wardrobe will be drawn from a colorful and unique recycled clothing collection called "Reincarnations" from Safety Harbor Psychic, Caryl Dennis, who is a friend to both Tim and Barbie.  "Tim was a very sweet man, always willing to help.  Barbie's comeback is a salute to him," she said.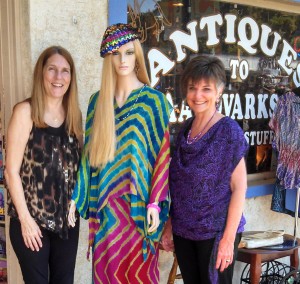 Martha didn't know Tim, so the response to Barbie's arrival surprised her.  "The very first day she was out there, a man came by, recognized her, and thanked me for taking care of her!   A few days later an old friend of Tim's burst into tears upon seeing Barbie and reading her story, which hangs on the wall beside her.  We are happy to be a part of honoring a man who was obviously so loved in Safety Harbor."
Here's the full story that hangs on the wall next to Barbie:
Hi!  My name is Barbie

                        I've lived in Safety Harbor since 2006, when Tim Thompson, of TJ Mars fame, adopted me.  We lived right on Main Street for a few years, and every day Tim had fun adorning me with a different hairdo and outfit.  That's how I became a Safety Harbor icon of sorts.  Passersby made a point of checking me out to see what novel and interesting look I was sporting each day.
When we moved over to 2nd Street North, next to Bailey's Naturals, I found a new friend in Bailey, the daughter of Julie Brannon, owner of Bailey's Naturals.  During the summer months, she came over every day to help Tim get me ready for the day.  Those are sweet memories; I knew I was loved.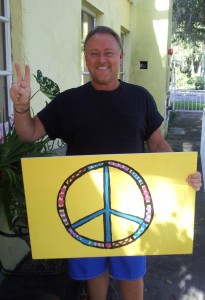 In 2013, Tim unexpectedly departed this dimension, leaving me an orphan.  It was a sad time for everyone who knew him.  He was a dear man, and we miss him greatly.  He contributed much to his loyal clients, to Safety Harbor, to the Chamber of Commerce, to the other downtown merchants, and of course to me!
 I was left in Julie and Bailey's capable hands; they have been searching for a new home for me here in Safety Harbor.  We all knew Tim would have wanted me to stay among my friends. 
Well, I'm so happy to have finally found a new home at Antiques to Aardvarks(and to be back on Main Street – I DO love the attention).  I am profoundly grateful to Martha and Alex Sabo for adopting me.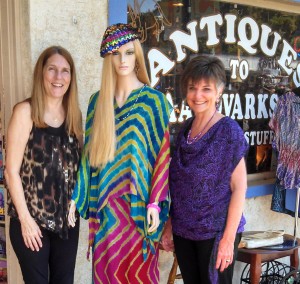 I'm excited to know my wardrobe will be drawn from "Reincarnations", a clothing collection put together by our own Safety Harbor Psychic, Caryl Dennis.  The clothes are always colorful, unique and fun!  Also, Caryl was a friend of Tim's, which makes it even more special that I get to wear her collection.  Do take a look! 
Now that you know who I am, please feel free to check me out every day to keep up with the shenanigans of Safety Harbor's favorite inanimate fashion plate —ME!!! 

Tim's Spirit lives on in the Harbor!

Love & Hugs,
Barbie