Seven-Year-Old Safety Harbor Author Impacts Lives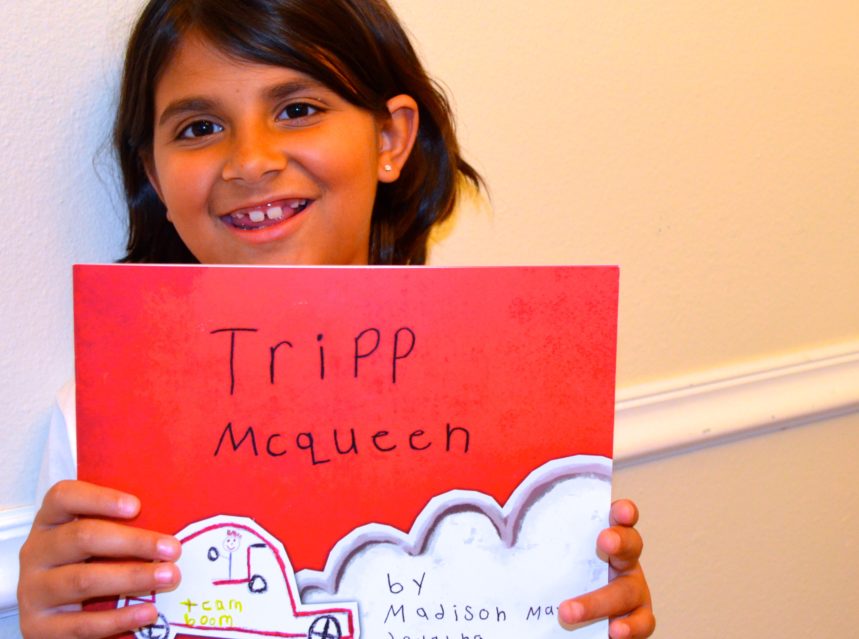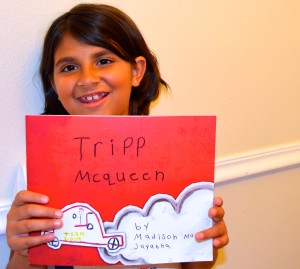 At first glance, Madison Jayanna appears to be a typical 7-year-old girl: shy and cute as a button with a fondness for drawing and playing with her little sister, Priya.
But after hearing the story of how this Safety Harbor Elementary School student used her love of writing to dramatically impact the lives of two families, it becomes clear that in some ways, Madison is far from ordinary.
The young author recently published Tripp McQueen, a short illustrated story about a car that gets sick and, with the help of friends and family, eventually gets better, in honor of Tripp Halstead, a Georgia toddler who suffered a traumatic brain injury in 2012.
In the process of helping Tripp heal, Madison also gave her parents, Sid and Justine Jayanna, a new purpose in life.
"This book has really changed our family," Justine admitted during a lengthy interview with Safety Harbor Connect.
"It's been very surprising. We never expected any of this."
Chapter One: Helping Out
According to her mom, Madison has always liked to write, and she has also shown a penchant for helping others.
"She carries her journal around and she's always writing and drawing in it," Justine explained. "And one time she donated her lunch money at school for babies who needed diapers."
So when Madison was home from school and bored one day last September, Justine suggested she write a book for Halstead, who was severely injured while playing in the yard of his daycare facility when winds from Hurricane Sandy caused a tree limb to come down on the little boy's head.
"I knew Tripp's story from reading about it on Facebook, so I told her she should write something for him," Justine recalled.
Madison jumped at the suggestion.
"I thought it would be fun," the bashful little brunette said.
After writing the whole story in one day, Justine decided to share the news with the Halstead family to see what they thought of her daughter's project.
"I posted a page from the book to Tripp's Facebook page, and someone said they'd like to see this published," she explained.
"So I talked to Sid and Madison and they said let's do it and donate all the money to Tripp."
No Profits, Big Gains
The Jayanna family worked together to facilitate Tripp McQueen's journey from notebook paper to a glossy, professionally produced book.
They formed a non-profit, the Giving Foundation for Children, to help ease production costs and ensure the proceeds from the book would go to an established charitable organization.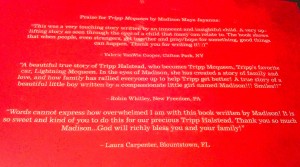 While Sid, a tech engineer, used his publishing experience to discern the best way to go about getting the book out, Justine and Madison worked with the Halsteads on the content of the story.
That turned out to be one of the most moving aspects of the whole experience.
"We sent all of Madison's original work, words and pictures, to Tripp's mom, and she was really surprised," Justine said.
"It was very emotional for them," Sid added. "Every time we read it to them, they cry."
On January 15, 2014, the first copies of Tripp McQueen went on sale online.
To date the Jayannas say they have sold more than 2,200 copies of the book, and they have donated more than $10,000 to Tripp's family so far.
"Most of our promotion has been done through Facebook," Sid admitted. "So to get this kind of response is pretty remarkable."
The Next Chapter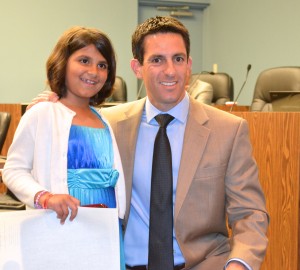 The entire process has been a whirlwind for the Jayannas – in the past few months they have travelled to Georgia twice for book signings, and the Safety Harbor City Commission gave Madison a Key to the City in March.
But the response from the Halsteads and other supporters has been worth it.
"I feel glad and I think it has helped Tripp," Madison said of the reaction to her mini manuscript, which is based on the Disney movie "Cars."
Indeed Justine said her daughter and the now 3-year-old Tripp have formed a strong bond ever since they met for the first time earlier this year.
"She has really fallen in love with Tripp," she said. "She just kisses on him and he smiles at her."
Now that the initial publishing experience is behind them, the Jayannas are concentrating on reaching goals they established at the beginning of this process.
"We had three goals when we started this – donate the money to Tripp, team up with doctors to help find a cure for TBI (traumatic brain injury), and raise a half a million dollars for TBI research," Justine said.
"So far we've reached two of the three goals," she added, noting that a TBI specialist from the University of Florida recently agreed to work with the Jayannas to help raise awareness for the cause.
Not content to help one family and a single cause, the Jayannas are already planning to branch their foundation out and utilize Madison's talents to assist others.
"The next book we're working on will deal with five mothers who have special needs kids," Sid said.
"We hope the book will help other kids understand that they don't have to be afraid of kids with special needs."
What does little Madison think of the possibility of becoming an inspiration for young authors and budding humanitarians everywhere?
"I just like to help," she said with a shy smile.
For more information on Madison Jayanna and to learn how to purchase her book, visit the Giving Foundation for Children Facebook page or website, supportgfc.org.