'Save The Trees' Protesters Picket Outside Safety Harbor Spa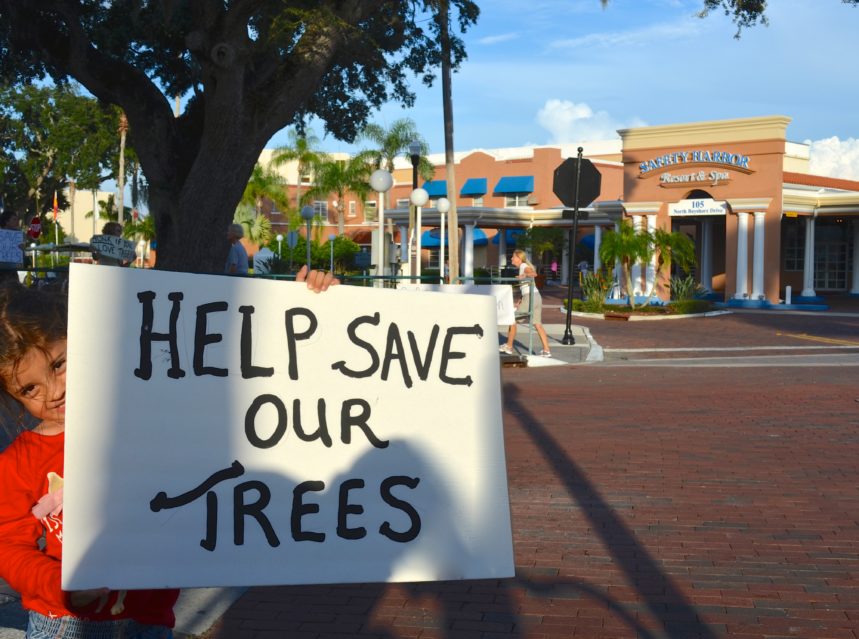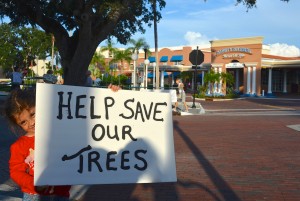 Small groups of concerned citizens lined the sidewalks in front of the Safety Harbor Resort and Spa on Thursday night to protest the removal of more than a dozen trees on the property this week.
The group held signs saying "save the trees' and 'honk if you love trees' on Bayshore Boulevard near Main Street, and many cars coming through the busy intersection during the afternoon rush hour obliged, beeping their horns and giving the 'thumbs up' sign to the crowd.
The demonstration was in response to spa owner Bill Touloumis' decision to remove at least 14 trees in order to make room for a new parking area on the property.
While many of the trees slated for removal have been declared diseased and/or dying, the mere fact that many majestic old oaks were being taken out without so much as a warning struck a nerve with some residents.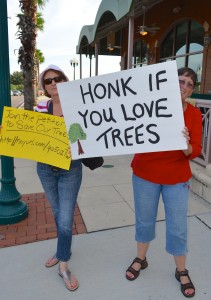 "I've lived here since I was five years old, and I've seen these trees on the spa property ever since I was a little girl," longtime Safety Harbor resident Betty Lou Douglas said. "Some of these trees are 100 years old."
"My question is, how do you do something like this without anybody knowing?"
Douglas, a spa member, said she found out what was happening when she pulled into the resort's parking lot one day.
After noticing some of the trees were marked with red dots and Xs, she started asking what was going on and learned about the plan to take down the trees.
The action was enough to spur her to join the protest on Thursday, although Douglas admitted she would be keeping her spa membership.
"I will continue to be a member of the spa, but I just think they were very shortsighted with this," she said.
"I mean this is Florida. What do people want in a parking lot in Florida except trees to provide shade?"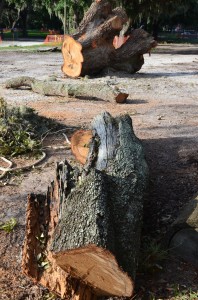 Across the street Patricia Capello was standing with her young daughter, Sophia, holding signs and waving at passing motorists.
The Safety Harbor resident was practically in tears over the recent developments with the spa trees.
"We are disappointed with whoever made this decision," Capella said. "This is a cute little town, and we want to preserve it."
"Six years ago we came here and saw how beautiful it is, such personality," she added. "We decided to move here because of it, and we don't want to lose that."
Standing next to her mom, little Sophia put the situation into perspective as only a six-year-old can.
"I wanted to make a tree house but now I can't, so I will have to make one on the ground," she said.
"And the birds have nowhere to sleep, so they're going to fall on the ground, too."
Those in attendance on Thursday said another demonstration was planned for Friday afternoon, also.
Related: