Safety Harbor Pizzeria Temporarily Closed Due To Health Code Violations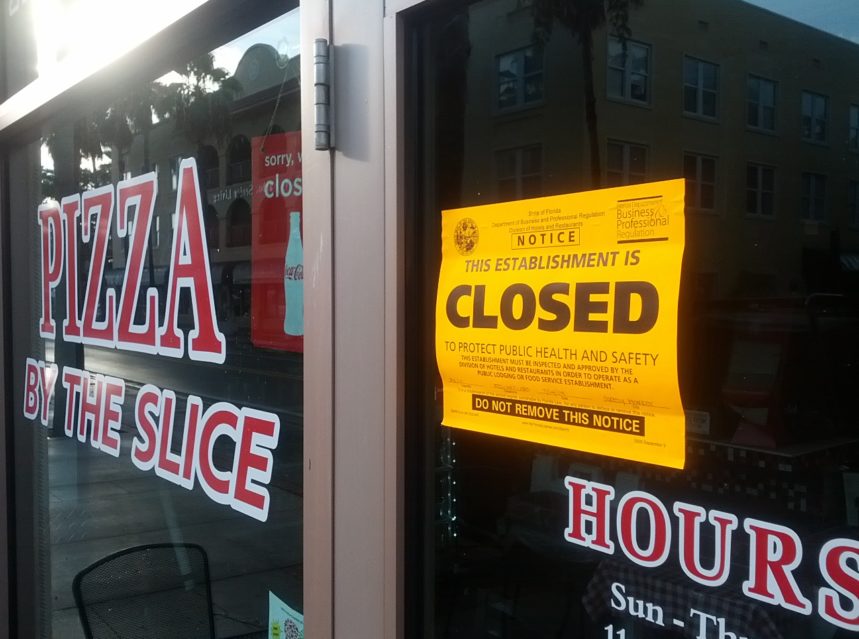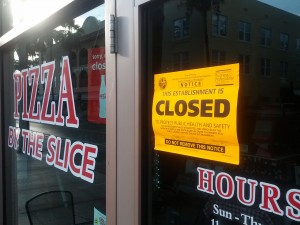 UPDATE (5:00 p.m.): The Safety Harbor Pizzeria reopened for business on Tuesday afternoon. Safety Harbor Connect left a message for management to contact us in order to get their comments on the closing. We will follow up this story as soon as we hear back from them.
UPDATE (12:00 p.m.): According to someone who answered the phone at the restaurant, they expect to reopen today, July 15, at around 1:00 p.m. Stay with Safety Harbor Connect for further updates.
—————————————
The Safety Harbor Pizzeria has been closed due to health code violations, according to a bright yellow sticker that has been placed on the front door of the Main Street eatery.
According to the notice, which was issued on Monday, July 14, the Florida State Department of Businesses and Professional Regulation closed the establishment "to protect public health and safety."
A check of public records shows the restaurant, which opened earlier this year in the former home of Dominic's Pizza at 100 Main Street, was cited for 25 separate violations, including six high priority violations, six intermediate violations and 13 basic violations.
The violations include roach activity, mold-like substance in the ice machine, improperly trained employees and faulty equipment.
According to the DPBR website, "High Priority violations are those which could contribute directly to a foodborne illness or injury and include items such as cooking, reheating, cooling and hand-washing. Intermediate violations are those which, if not addressed, could lead to risk factors that contribute to foodborne illness or injury. These violations include personnel training, documentation or record keeping and labeling. Basic violations are those which are considered best practices to implement."
Safety Harbor Pizzeria's six high priority violations include:
Employee failed to wash hands before putting on gloves to work with food. **Warning**

Employee touching ready-to-eat food with their bare hands – food was not being heated as a sole ingredient to 145 degrees F or immediately added to other ingredients to be cooked/heated to the minimum required temperature to allow bare hand contact. Establishment has no approved Alternative Operating Procedure. Cook cutting cucumbers with bare hands and no hand wash and no AOP. **Corrected On-Site** **Warning**

Potentially hazardous (time/temperature control for safety) food cold held at greater than 41 degrees Fahrenheit.Pasta 47°F, sausage 48°F, cut lettuce 51°F, chicken 51°F, **Warning**

Potentially hazardous (time/temperature control for safety) food identified in the written procedure as a food held using time as a public health control has no time marking and the time removed from temperature control cannot be determined. Pizzas **Corrected On-Site** **Warning**

Roach activity present as evidenced by live roaches found. 10 plus in glue trap under reach in cooler in prep kitchen. 2 live on floor near prep table, 6 live on wall under prep table/expo window. 1 live under prep sink/ three compartment sink. 2 live in glue trap at service area. 1 live on floor in main service area near prep table/ice machine **Warning**

Wiping cloth sanitizing solution bucket stored near/on/above food preparation surface or food. On prep table **Corrected On-Site** **Warning**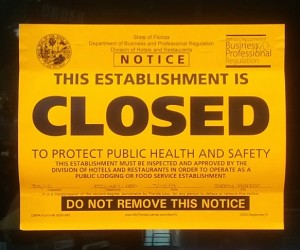 Other violations ranged from the "accumulation of black/green mold-like substance in the interior of the ice machine" to lack of proof of employee training and improper food storage.
Attempts by Safety Harbor Connect to contact the owners of the Safety Harbor Pizzeria have been unsuccessful.
According to the pizzeria's Facebook page, the restaurant opened in January of 2014.
Of the six reviews/ratings on the site, all of them are favorable to the establishment, with customer Deborah Black stating, "As a NY Italian, I can say the pizza here is the best I've had within a 25 mile radius of Feather Sound!"
Safety Harbor Connect will continue to try and reach officials from the restaurant in order to bring you an update on the Main Street eatery's operational status.