Safety Harbor Could Switch 2014 Election Back to March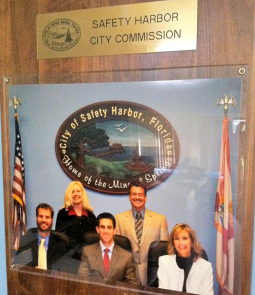 When Safety Harbor city commissioners voted in July to move their 2014 municipal election from March to November, the decision was met with both scrutiny and scorn.
Officials proclaimed the decision was made to save money, more than $20,000 according to records, as well as increase voter turnout by piggybacking on the county election.
But critics decried the move as unethical, a way for commission members to extend their terms by nine months with no voter say in the matter; Mayor Joe Ayoub's and Vice-Mayor Nina Bandoni's seats will be up for grabs in the next election.
So when Governor Rick Scott announced recently that a special election would be held in March to fill the late Congressman Bill Young's seat, Mayor Ayoub looked at it as an opportunity to potentially satisfy all parties involved.
"I jumped out in front of this as soon as I heard there would be a special election to see if we could achieve our two goals – save the city money and increase voter turnout," he told Safety Harbor Connect.
"When we heard the news from Gov. Scott, I asked (city manager) Matt Spoor if we could switch our city election to coincide with the special election in March, and he said 'yes'."
The decision to flip-flop the election wasn't as simple as merely adding it to the agenda.
Strict dates are set up for when applicants can register to run, and had the governor taken any longer to make the decision, or placed the county election at a later date, the timeframe would not have allowed the city to make the move.
But everything lined up perfectly when Scott made his announcement last week, and that's when Spoor set the wheels in motion to move an election up that had already been moved back once this year.
"It will save the taxpayer's money, increase voter turnout, and allow anyone to run for one of the two open seats," he said. "So it's a win-win-win for everybody."
Spoor said candidates could register to run between December 27 and January 7, 2014. They will be able to pick up a registration packet from City Hall later this month.
Anyone is allowed to register as long as they are citizens of Safety Harbor and have lived in the city for more than a year. Candidates also must collect a certain number of signatures of registered voters to qualify.
For his part, Ayoub, who ran unopposed after former Mayor Andy Steingold stepped down to run for circuit court judge in 2012, said he welcomes the challenge of the election no matter when it is held.
"Every couple of years, people have the opportunity to change things if they want. They just have to run," he said. "I'm proud of what I've accomplished since January, and I'm happy to run on my record."
The Safety Harbor City Commission will vote on Ordinance 2013-27 on first reading tonight during the regularly scheduled commission meeting. The meeting starts at 7:30 p.m at Safety Harbor City Hall, located at 750 Main Street. The full meeting agenda can be viewed here.