Safety Harbor Library Announces Grab & Go Library Concierge Service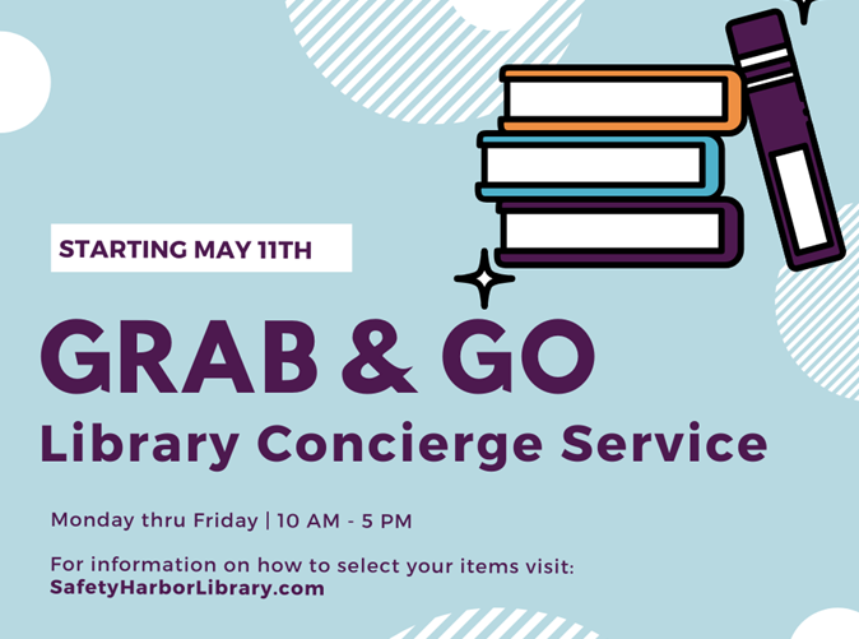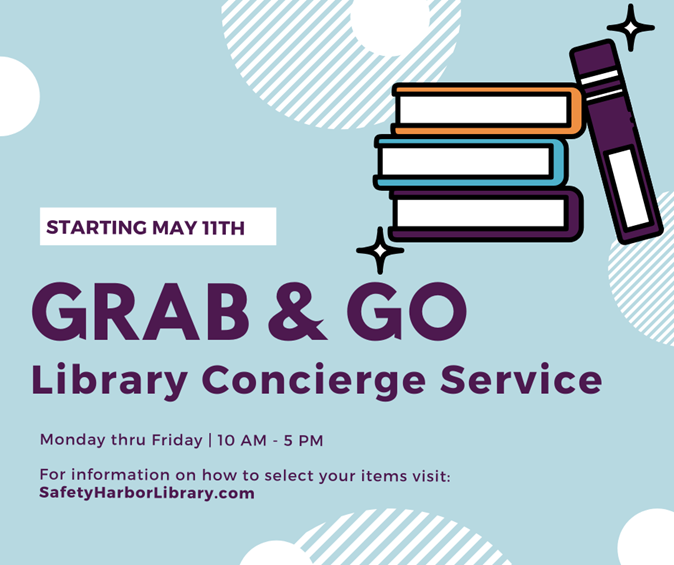 Safety Harbor Library Announces Grab & Go Library Concierge Service
1. Visit the library catalog and find items you'd like. Items must be available locally at the Safety Harbor Public Library, NOT at other libraries in the county.
2. Call or email the Library to place your request.
3. We will call or email you when your items are ready for pick-up.
4. Limited to ten (10) items per card per week.
Grab & Go Service Pick-Up Available: Beginning Monday, May 11. Weekdays ONLY, 10:00 AM – 5:00 PM.
How do I request a book, DVD, or other item? – Visit the PPLC Library Catalog – https://pplc.ent.sirsi.net/
– Look for the drop-down box on the upper left. Select Safety Harbor Public Library
– Look for items you'd like. They must be noted AVAILABLE in Safety Harbor
– Call 727-724-1525 x4112 to place a hold on the item. Have your library card available.
OR
– Emaill shplref@cityofsafety.com with your request. Include your name, library card #, and title and format (DVD, book, large print) of item requested.
YOU WILL BE NOTIFIED VIA AN EMAIL OR CALL WHEN YOUR ITEMS ARE READY FOR PICK-UP.
How do I pick up items?
– Items will be available at the front doors of the Safety Harbor Public Library, Monday thru Friday only, beginning May 11 from 10:00 AM to 5:00 PM. This service will be discontinued when the library reopens.
– Please park and walk to the front doors to get your items. If you cannot park due to mobility reasons, you may drive up under the vestibule. Please have your ID ready.
– While waiting for your items please remain six feet away from the next person in line. Stand lines are noted on the sidewalk.
– A staff member will place your items on a cart for you to take. They are already checked out to you.
– Patrons are not permitted in the building at this time.
Not sure what you want to read? Look at Novelist.
NoveList Plus is an online reader's resource that helps you uncover your next great read. It has reading recommendations for both fiction and nonfiction, for all ages. It features,read-alike recommendations crafted by experts, listen-alike recommendations for audiobooks, series information, and lists such as top ten, best of, and favorites. Visit: http://tiny.cc/SHPLNovelist
NOTE: Not all books on NoveList may be available in the Library.
Staff will be wearing masks and we ask you to also wear yours. Please be patient if there is a line and follow CDC safety recommendations.
For information call 724-1525 x 4112 or visit www.SafetyHarborLibrary.com. The Library is located at 101 2nd Street N., Safety Harbor, FL 34695