Safety Harbor Icon Lois Spencer Passes Away at 83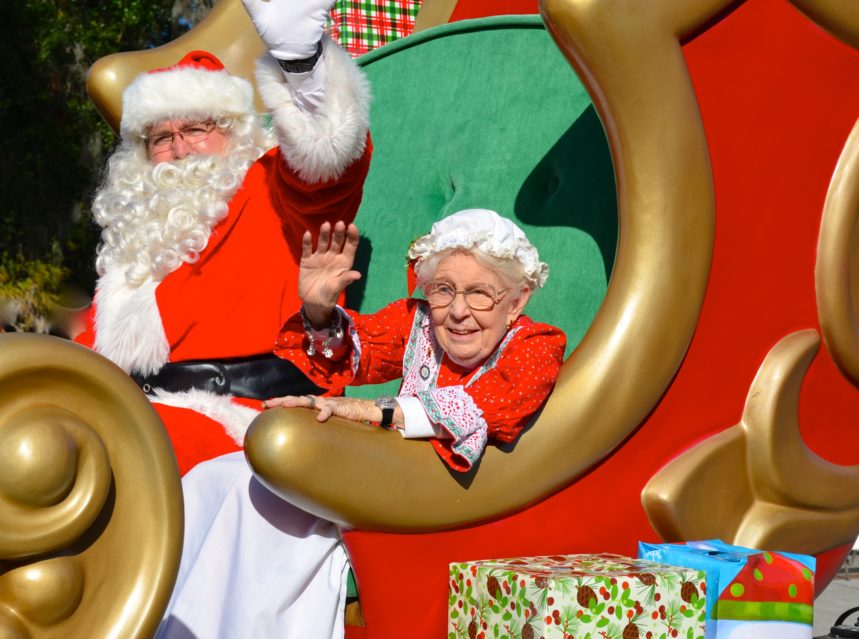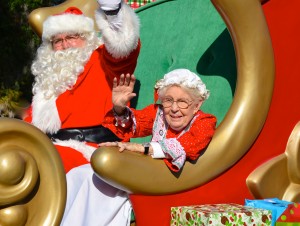 Lois Spencer, a longtime resident, business owner and philanthropic figure in Safety Harbor, passed away on Saturday, July 5th, after a brief illness. She was 83.
Spencer, who lived in Safety Harbor for more than 30 years and opened her shop, Antiques and Collectibles, in 1994, was well known around town for her outspoken personality, her giving nature, and for her portrayal of Mrs. Claus in the city's annual holiday parade.
She is survived by her son, Karl, and her husband, Joe, another local icon who creates glass art in the couple's bungalow located behind the Main Street shop.
"There is not a single person who did not love Lois," Linda Clark, who worked for Spencer for the past 25 years, said on Tuesday outside the shop, which is now permanently closed, according to a sign on the door.
"She was good to people, she was good to dogs, she did so much for the community. She was truly Safety Harbor's angel."
In addition to running her business, Spencer, a native of Idaho who was once a university librarian, devoted much of her free time to local charitable organizations.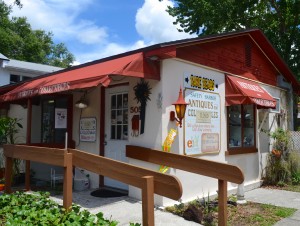 She and her husband were driving forces behind many of the city's popular events, including the biannual Kiwanis Club art shows, the seafood festival and Third Friday. Lois was also a huge supporter of the Safety Harbor Public Library.
"Lois and Joe started Special Events in Safety Harbor with the Seafood Festival years ago," City Manager Matt Spoor wrote via email. "She was always proud of the growth of special events in her town. She would participate in or patronize every one."
In fact, it was through her work with the Kiwanis Club that Spencer began dressing as Mrs. Claus for the organization's annual holiday parade, a role that endeared her to a whole new generation of Safety Harbor residents.
"I doubt we will replace her in the parade," Spoor, who had the honor of driving Mrs. Spencer to her float for the past ten years, said. "You cannot replace a woman like Lois Spencer."
As word of Spencer's passing began to spread throughout town, reactions began pouring in from residents, fellow downtown merchants and city officials.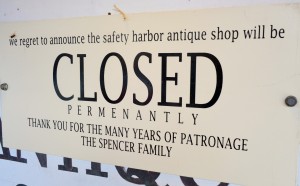 "Lois was a great part of the Safety Harbor community and she will surely be missed," Mayor Andy Steingold communicated to Safety Harbor Connect while traveling with his family. 
"Her attitude and community spirit will continue on in each of us."
Sue Cello, co-owner of Cello's Char-house, said she was with Lois shortly before she was hospitalized.
"She sat down with us at Paradise last week when we were having breakfast & told us she wasn't feeling up to par," Cello recalled.
"We said our goodbye's, and then Ellen & I said to one another, ' Its going to be a sad day when we lose her'. And here we are, a week later, facing that sad day."
Here is a sampling of some of the comments that were left on the Safety Harbor Connect Facebook page regarding Lois' passing:
"Oh no. So sad. I will miss her hauling up and down Main Street with her walker."  – Susan Massarsky

"I will miss you Lois! What a special lady who cared deeply for Safety Harbor and the people who lived there. My prayer to Joe and the rest of the family."  – Robin Borland

"The heavens have a new angel to watch down on us. Sympathies to her family and friends." – Lynn Marksberry


"Safety Harbor will miss you, Lois! And yes, heaven will have a special angel." – Marie Padavich

"Sending love and condolences to all. I have grown up going into her shop and chatting with her." – Meghan Jontina Poole-Van Swol


"Lois will be missed. Our Jeanie dog, got all excited when she saw her coming, because she always had a special treats for her that she pulled out from the basket in her walker." – Jarine Zuidema Dotson

"Wow I will miss seeing her sweet smile I loved having a quick chat with her when she was doing her walk down main street!" – Anita K. Martin
According to friends and family members, a community memorial service for Mrs. Spencer is being planned, though nothing had been finalized at the time this article was published.
Stay with Safety Harbor Connect and our Facebook page for more information on the memorial service for Lois Spencer.