Safety Harbor Firefighter Charles Russell, Jr. Honored By City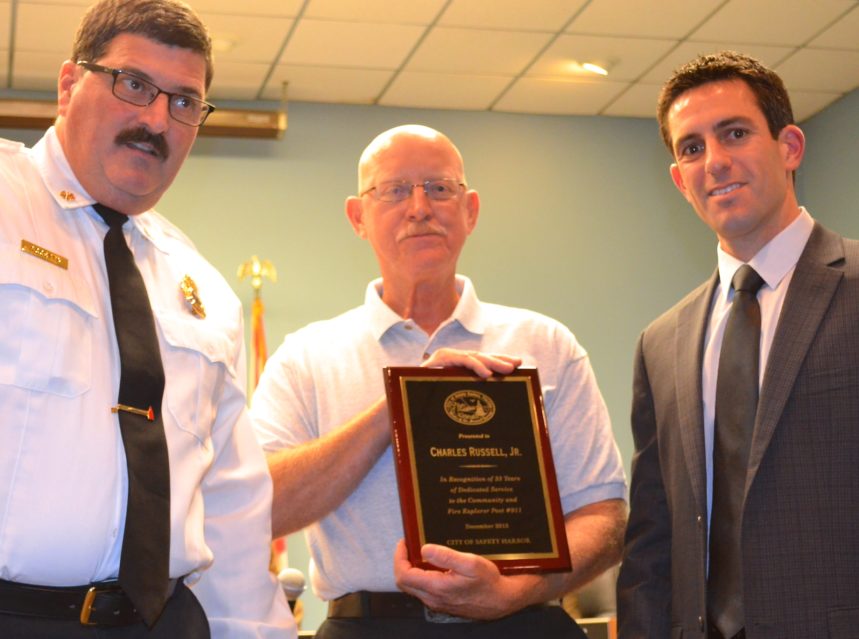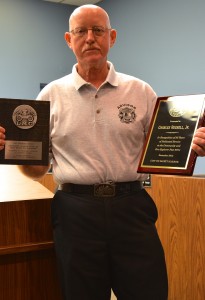 Safety Harbor firefighter Charles "Chuck" Russell, Jr. was recognized for his many years of outstanding service in a special presentation during the City Commission meeting Monday night.
Russell, a 33-year veteran of the SHFD, was honored by the City as well as a national insurance agency for his years of dedication and commitment to the community.
"We want to honor Charles tonight for his service since 1980," Safety Harbor Fire Chief Joe Accetta said. "Charles was a volunteer here in the 80s and the 90s. In 2000 he helped us with the hurricanes…and all along he's been a big part of our Explorers program."
"So with that, we want to honor you tonight with a plaque from the city."
Mayor Joe Ayoub then presented Russell's with the plaque.
"This is in recognition of 33 years of dedicated service to the community and Fire Explorer Post #911," Mayor Ayoub said.
Russell also received the Liberty Mutual National Firemark Award from Liberty Mutual Insurance, given to select firefighters all over the country for their heroic acts and dedication to community service. He is eligible to win the overall national award from the company, along with a $10,000 grant for his department.
Afterwards Russell, who didn't appear to be a man who relishes the spotlight, expressed his gratitude for all the accolades.
"I graduated from the fire academy in 1982, and you probably don't realize, but the City actually paid for my education as a volunteer," he said. "I may be the only one where the City actually put their money where their mouth is."
"I want to say I'm a firm believer that bad things always come back to haunt you without fail, while good things always come back without regret, and I want to thank the Commission and the City of Safety Harbor for giving me the opportunity to serve. Your money was well spent."
"That money is still paying dividends 30 years later, so that's a good investment," Mayor Ayoub added.