Safety Harbor Designates April 4 Autism Awareness Day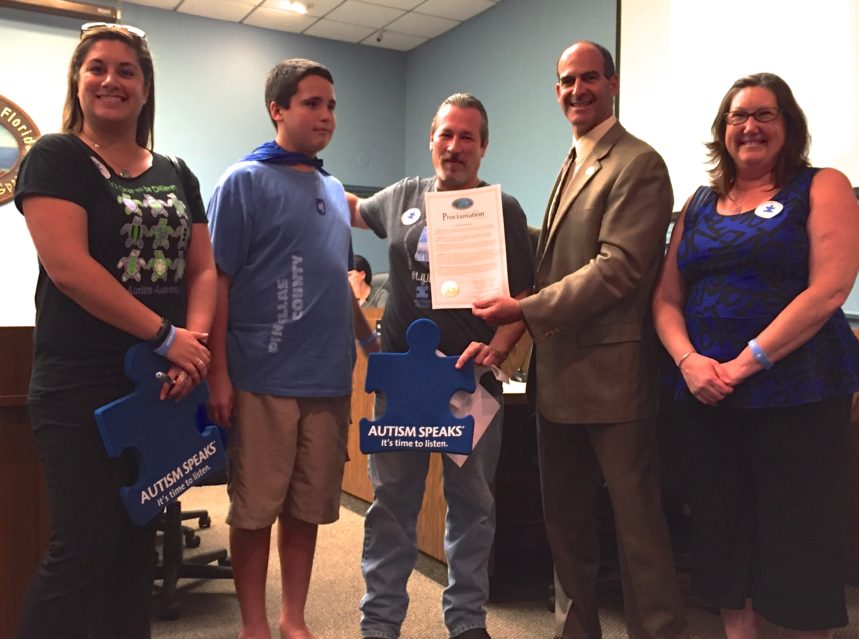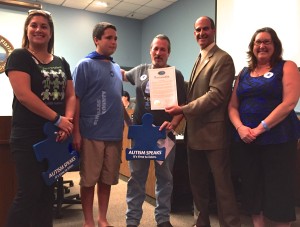 The Safety Harbor City Commission presented a proclamation to local autism awareness advocates declaring Saturday, April 4, 2015 as Autism Awareness Day in Safety Harbor.
Mayor Andy Steingold read from the proclamation at the start of Monday night's commission meeting.
"Autism, the fastest growing developmental disability in the United States, affecting more than three million people, is an urgent public health crisis that demands a national response," he said.
"Autism is the result of a neurological disorder that affects the normal functioning of the human brain and can affect anyone, regardless of race, ethnicity, gender, or socioeconomic background."
"Now, therefore, I, Andy Steingold, Mayor of the City of Safety Harbor, do hereby proclaim Thursday, April 4, 2015 as Autism Awareness Day in Safety Harbor, Florida to raise public awareness of autism and the myriad issues surrounding autism, as well as to raise the funds that support the programs that have been and are being developed to support individuals with autism and their families."
After presenting the proclamation to local autism awareness advocate John M. Evans, Evans' niece spoke about the issue.
"Thank you all for attending this evening, it shows a lot of great support and effort by agreeing to come together and spread some light onto this situation that we have with autism awareness," she said.
"We just want to get the awareness out there, and educate, support, advocate and acceptance is pretty much the message for tonight."
Evans also encouraged those who wish to support the cause to participate the Autism Awareness Walk on Saturday, April 11 at Tropicana Field in St. Petersburg.
For more information, visit walknowforautismspeaks.org.