Safety Harbor Commission back to considering 35-foot building height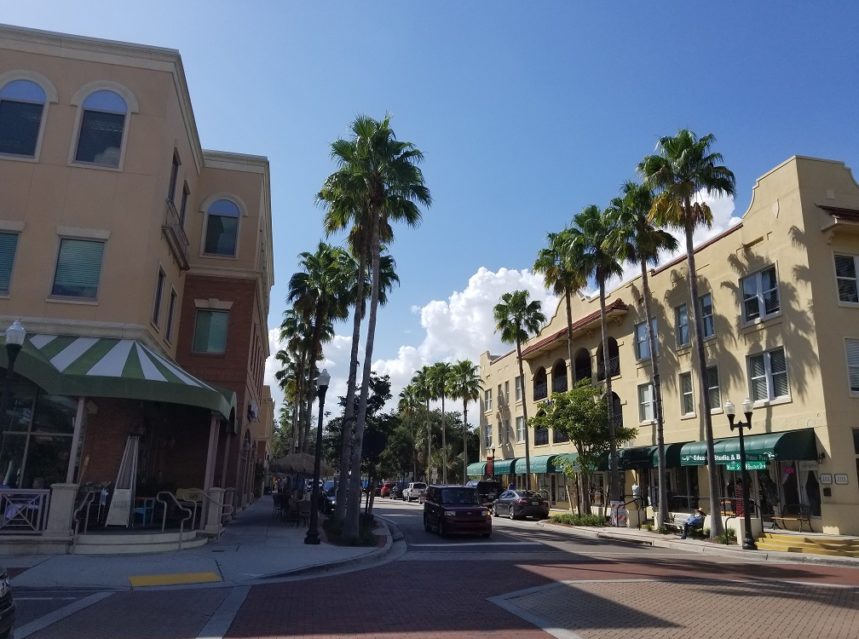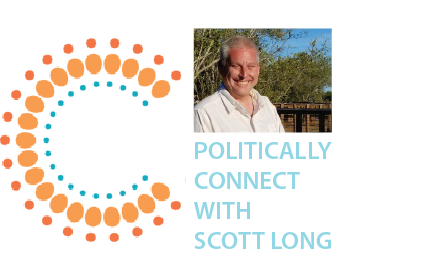 When it last discussed the issue, the Safety Harbor City Commission appeared accepting of a compromise to lower building heights in the city's most intense zoning designation from 45 feet to 40, but after additional discussion at its Oct. 1 meeting, Commission is now looking for a maximum height of 35 feet with design incentives that could allow developers to build to 40 feet.
Monday's discussion was to give city staff feedback on a proposed resolution and ordinance that would change the city's Downtown Master Plan for the Community Town Center, or "CTC," zoning district, which extends a few blocks north, west and south from the Safety Harbor Resort & Spa.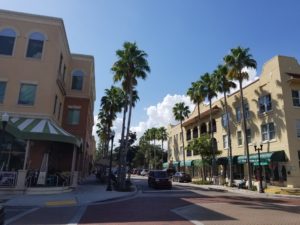 Early on at the Oct. 1 meeting, Commissioner Nancy Besore, who brought up the issue soon after being elected in March, said she had a change of heart on the previous consensus for 40 feet, which was made in recognition of modern construction needs making it difficult to build a three-story mixed-use building in 35 feet. She said she favored going back to her initial suggestion of 35 feet which, while still possible to result in a three-story building, for all intents and purposes would limit future buildings in the Community Town Center to two stories. Commissioners Cliff Merz and Andy Zodrow agreed.  
Mayor Joe Ayoub, who said he was worried that the 35-foot limit would result in developers building buildings that would look like "shoeboxes," suggested another compromise that would allow developers to build up to 40 feet, but only if they included one or more of a to-be-determined list of design desires that might make the building more visually attractive. Commission appeared to accept that, and city staff will now rewrite the ordinance before bringing it back to Commission for more consideration.
Only three undeveloped stretches of land remain in the Community Town Center, and the complicated nature of changing the Downtown Master Plan means any change in maximum height is at least seven months away from being official. Owners of those three stretches of land wanting to build at current heights can do so if their plans are submitted before the Downtown Master Plan is changed. Commission also appeared accepting of "grandfathering" in existing buildings in the Community Town Center at their current heights if those buildings are ever destroyed by fire or natural disaster, but not if the owner merely wants to redevelop it.
OTHER ACTION TAKEN
Streetlight assessment: Commission voted 5-0 to approve this year's assessment of $39 per ERU, or "equivalent residential unit," for city streetlights.
Non-city agency funding requests: Commission voted 5-0 to award Neighborly Care Network, Safety Harbor Chamber of Commerce, Mattie Williams Neighborhood Family Center and Paint Your Heart Out Safety Harbor the full amounts requested from this year's non-city-agency funding request budget of $80,000, and because the total requests submitted came in less than $80,000, to award 2-1-1 Tampa Bay Cares Inc. an additional $2,500 above what it requested.
Sign waiver request: Commission voted 5-0 to approve a waiver of the city's sign requirements for a sign at Daydreamers Cafe and Grill at 143 7th Avenue North that will extend 46 inches above the roof line.
Sidewalk waiver request: Commission voted 5-0 to grant a partial waiver to Pinellas Property Ventures Inc., which is building three single-family houses on lots on Jesse and Hamilton avenues. City staff had suggested approval of the variance, as not doing so would create isolated sidewalks, but residents who attended the meeting said that while the sidewalk on Hamilton would be isolated initially, future building could eventually connect that sidewalk to Philippe Parkway. The Commission's vote means the sidewalk must be constructed on Hamilton, but not on Jesse.  
Extension of restrictions in the Coastal High Hazard Area: Commission voted 5-0 on second and final reading in favor of these changes to the city's land development code suggested by Forward Pinellas to make them consistent with countywide rules.
Conditional use application for vehicle rental: Commission voted 5-0 to approve a conditional use application so Safety Harbor Industrial Complex could display a maximum of three vehicles for rent at 1600 State Road 590.
Code Enforcement Board appointment: Commission voted 5-0 to elevate alternate Gisela Bennie to a full member and to appoint Elizabeth Amber-Conkle as the alternate.
Downtown parking presentation: Andy Greenwood of the city's Planning & Zoning Board made a presentation of data and suggestions for downtown parking.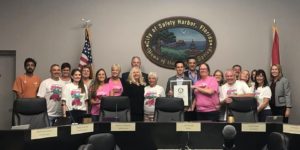 Guinness World Record presentation: The Commission accepted the official Guinness World Record certificate for this summer's Melons for Moolah watermelon-eating contest from the event's volunteers.
MISSED THE MEETING?
Watch the video of it on the city's website here: http://safetyharbor.granicus.com/MediaPlayer.php?view_id=6&clip_id=2033
NEXT MEETING
7 p.m., Monday, Oct. 15.