Safety Harbor Chamber of Commerce Undergoes Changes Inside and Out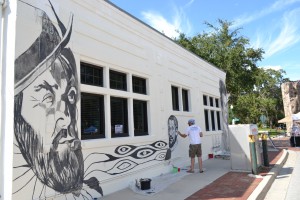 A new director, board members and website plus a splashy mural signify a new era for the organization.
Changes are often made for purely cosmetic reasons, such putting a new coat of paint on a building or redesigning a restaurant menu.
But in order to enact a true switch in direction, change must come from within and then work its way out.
Officials at the Safety Harbor Chamber of Commerce realize the importance of that distinction; recent decisions to overhaul everything from their leadership to their downtown office reflect a deep commitment to their cause.
"We're undergoing a lot of changes at the chamber right now," newly elected executive director Susan Petersen said at the organization's monthly meeting in October.
"A lot of the things we are implementing are brand new, with the hope that they will help us grow."
The chamber's cosmetic changes are obvious.
In addition to the aforementioned mural, which was painted on the of the Main Street office by Sarasota artist Truman Adams in October, the interior of the building was also recently repainted, making it a more inviting space for guests.
But the bigger changes are the ones that aren't as noticeable to an outside observer.
Seven new members were selected to serve on the chamber's 2013-14 Board of Directors, with Petersen being tabbed as executive director, taking over the day-to-day operations from chairperson Marie Padavich.
A redesigned website will make for a more pleasurable and valuable experience for visitors, and monthly networking breakfasts will allow current and prospective chamber members to mix and mingle on-site in a comfortable environment.
But Padavich stressed that while there are many new things happening at the chamber, the core beliefs of the organization remain strong.
"The Chamber of Commerce is all about the businesses, and we believe we're evolving into what the community needs, which is a chamber that is there to help the local businesses grow," she said.
"I feel the board will help that cause, because it is now full of people who really believe in the chamber, and they will reach out to tell others," she added. "There's a lot going on in Safety Harbor, and they will definitely be a plus."
Note: The Safety Harbor Chamber of Commerce will be hosting an open house on Thursday, November 7th from 5:00 – 6:30 p.m. For more information, call 727-726-2890 or visit their website at safetyharborchamber.com.