Safety Harbor bridge renamed in honor of Gold Star Families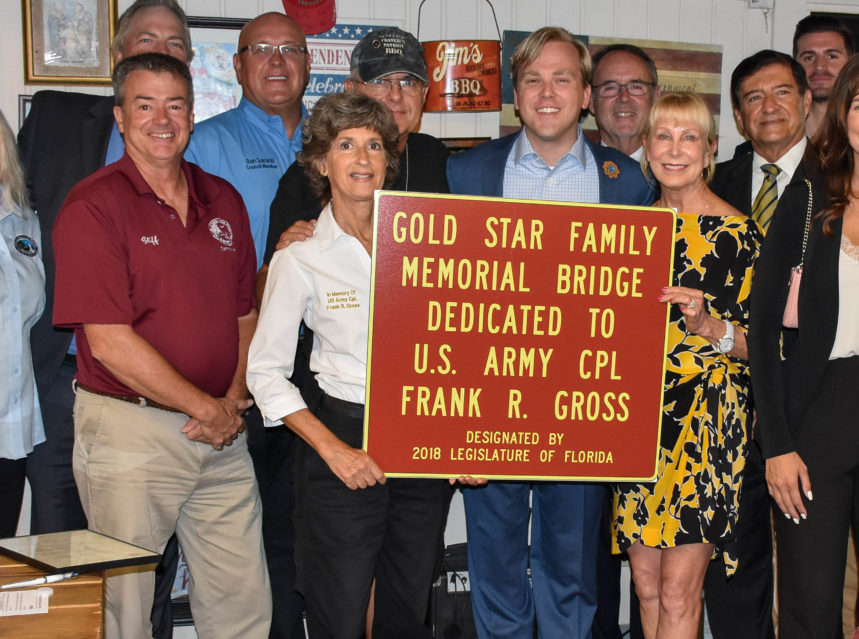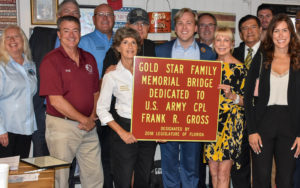 A bridge on State Road 580 that connects Safety Harbor with Oldsmar was recently renamed the Gold Star Family Memorial Bridge dedicated to US Army Cpl. Frank Gross, an Oldsmar resident who was killed in action in Afghanistan in July 2011.
Dozens of city, county and state officials, including Safety Harbor Commissioners Andy Zodrow, Cliff Merz and Nancy Besore, Florida State Rep. Jamie Grant and Florida First Lady Ann Scott, turned out for the official sign dedication ceremony at Frankie's Patriot BBQ in Clearwater on Monday, July 16, the seventh anniversary of Cpl. Gross's death.
According to Rep. Grant (R-Tampa), the bridge became the first of its kind in the state thanks to a relentless campaign led by Frankie's parents, Craig and Toni Gross, on behalf of the many Gold Star families of the fallen throughout the Tampa Bay area.
"We were able to do something that's not always easy to do," Grant said as he called officials from Oldsmar and Safety Harbor as well as Mrs. Scott to take a group photo.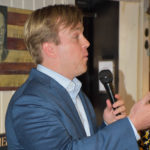 "The sign that you saw unveiled represents the first Gold Star Family bridge anywhere in the state of Florida, and it wouldn't happen without a lot of emails from Toni and a visit from Craig in Tallahassee. I feel like I've become part of the family and I appreciate everything you all have done to champion this cause."
Grant went on to thank the many parties involved in making the Gross' dream a reality, including Congressman Gus Bilirakis' office and the Pinellas County Commission, adding, "this was truly a team effort and shows what happens when a group of people come together for something as powerful as recognizing all Gold Star families."
After sitting and chatting for about an hour with several Gold Star family members, active military members and WWII vet and Purple Heart recipient Milburn "Mel" Cunningham, Mrs. Scott spoke to the packed military-themed barbecue joint.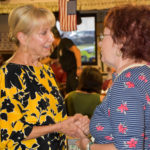 "Being a military wife myself, I have great respect for military men and women, and it is always an honor for me to be with military families and Gold Star families," she said.
"It's an honor for me to be here because these people made the ultimate sacrifice, and there's really nothing I can do or say to make you feel better, but I just want to be here to honor them, and you."
As the speeches continued and the overflow crowd mingled, Commissioner Zodrow spoke about the significance of the event.
"I'm humbled to be part of an event to honored deceased soldiers," he said, adding he "didn't know it was the only (Gold Star Family) bridge in the state, so I'm proud to be a part of that."
"Every time you drive over that bridge now, it really makes you think."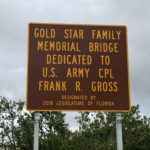 Safety Harbor Mayor Joe Ayoub, who did not attend the dedication ceremony, had this to say about the bridge naming.
"Safety Harbor is very appreciative of the men and women who served our country and made the ultimate sacrifice," Ayoub wrote via email.
"We are happy to be able to honor the memory of Cpl. Frank Gross along with other fallen soldiers by dedicating this bridge in his name.
"We also thank the parents and families of our fallen soldiers who have to live with the burden of their loss every day of their lives."
In between the hugs, handshakes and handing out food, Toni and Craig Gross shared their thoughts on the ocassion.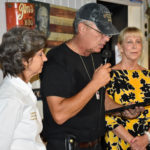 "This has been an absolutely phenomenal day, very moving," Craig Gross said.
"All I can say is it's very uplifting, very encouraging and it shows that America, and especially the Tampa Bay community, has not lost its Patriotic fervor."
Toni Gross said she was "grateful for the huge effort of the Oldsmar City Council, Safety Harbor Commissioners and the Pinellas County Board of County commissioners. Each approved a resolution for the memorial bridge signage, and the entire process, from inception in July 2017 to the dedication ceremony, took one year to complete."
She also thanked Rep. Grant and Mrs. Scott as well as FDOT's Bob Esposito, and she added, "in addition to the lasting memorial to Oldsmar's only know fallen soldier, the memorial bridge signage is a powerful reminder to the public of the service and sacrifice that our military families still make.
"Every time someone crosses the 580 bridge, coming to or going from Oldsmar or Safety Harbor, my hope is that people will see and be reminded of the service of our military and their families and our veterans.
"This sign lets the public know that both Oldsmar and Safety Harbor recognize the cost of having a loved one in the military."
Enjoy this gallery of images from the Gold Star Family Memorial Bridge dedication ceremony: