Safety Harbor Beeruary & Burger Throwdown: What You Need To Know (UPDATE)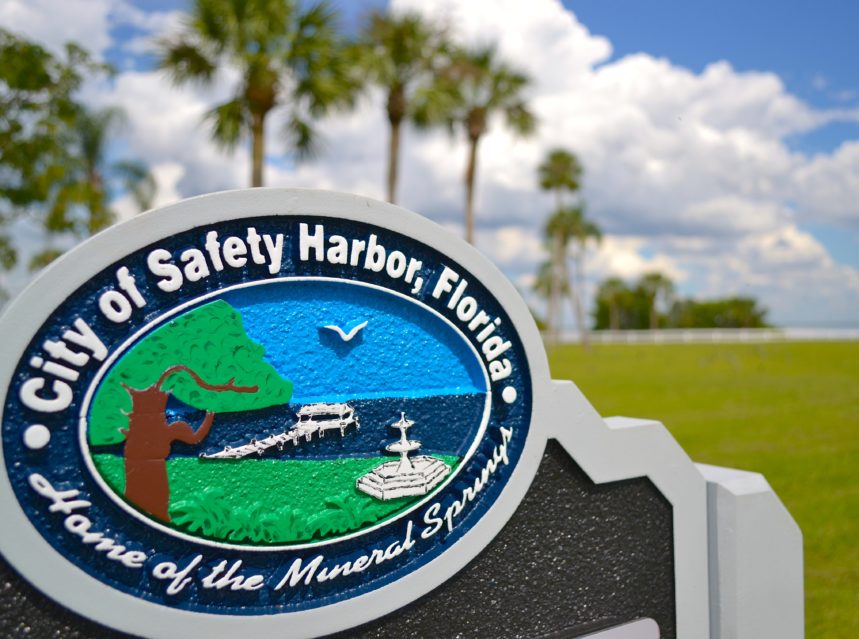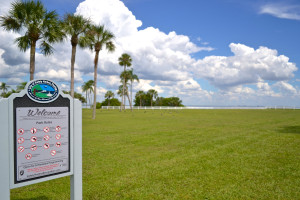 UPDATE (2/28, 11am): The Safety Harbor Beeruary and Burger Throwdown has been postponed due to inclement weather. Organizers say it has been rescheduled for Saturday, April 4. Safety Harbor Connect will have more details about the rescheduled event as soon as they become available.
Beer, burgers and beautiful scenery will take center stage in Safety Harbor on Saturday, as the inaugural Beeruary and Burger Throwdown takes place at the city's Waterfront Park.
The event, which combines craft beer, award-winning burgers, sports, games, contests and more, will run from 11:00 a.m. until 7:00 a.m. at the park, which is located on Veterans Memorial Drive at the Safety Harbor Marina.
Organizer Sonya Bradley of Simply Events hopes the wide variety of food and entertainment along the scenic Safety Harbor waterfront will make for a great event.
"We'll have beer samples from five different breweries, sliders and full sized burgers, plus 40 arts and crafts vendors, a cornhole tournament, contests, cash prizes and more," she said.
"We're packing it all in at the park!"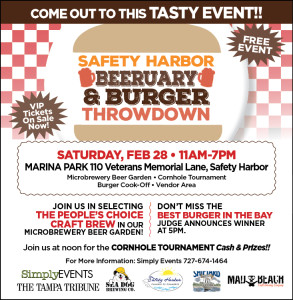 Admission to the Beeruary and Burger Throwdown is free.
Beer samples from participating breweries will also be free, but regular sized beer from Sea Dog Brewery, Shipyard Ale and Budweiser will cost $5.00 each.
Prices for full-sized burgers and sliders will vary, as will the arts and crafts and other merchandise.
Bradley noted that while there will be some seating available at the park, she advised patrons to bring lawn chairs and/or blankets if they plan on staying for a while.
Also, if you would like to register for the two-person team cornhole tournament, the cost is $50.00. There will be a $500 cash prize handed out to the winning team. Contact Simply Events at 727-674-1464 for details.
"If you like craft beer and great hamburgers, you need to come out to the Safety Harbor Waterfront Park on Saturday!" Bradley said.
Here's what you need to know if you go:
2015 Safety Harbor Beeruary and Burger Throwdown
When: Saturday, Feb. 28, 11:00 a.m. – 7:00 p.m.
Where: Safety Harbor Waterfront Park, 110 Veterans Memorial Ln.
Details: The first year festival will feature craft beer from a variety of breweries, plus gourmet hamburgers from five Tampa Bay area eateries. Also, there will be 40 arts and crafts vendors, a cornhole tournament with a $500.00 cash prize, Tampa Bay Bubble Ball Soccer games, best beer and burger contests, live deejay entertainment and other fun activities.
Cost: Admission and beer samples are free; burger and merchandise prices vary; VIP seating is sold out.
Parking/Transportation: Free public parking is located across the street from the marina behind the Harbour Pointe Complex building, as well as other public lots located off of Main Street. Some side street parking is available, where permitted. Also, the Safety Harbor Jolley Trolley will pick up and drop off passengers at the Safety Harbor Resort and Spa and other spots in town. Visit the Jolley Trolley website for more details.
Info: Facebook.com/beeruaryandburgerthrowdown; Simply Events, 727-674-1464
Related content: