Proposed Hotel Spurs Petition Drive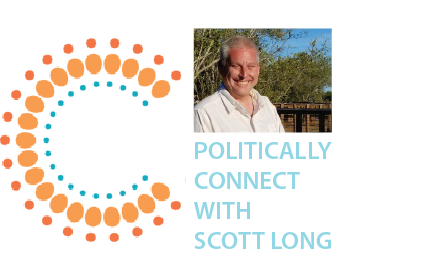 A Facebook page called Vote Against Oakbrook Plaza Rezoning to Hotel and a related online petition have put a spotlight on two upcoming public hearings for a Candlewood Suites hotel that is under construction in the the shopping plaza at the southwest corner of McMullen Booth Road and Enterprise Drive. Here's what you need to know about this issue:
What is being proposed?
KOS Corp. has submitted to the city a site plan modification for a 58,093-square-foot Candlewood Suites hotel that will use the same footprint as the previous building, with the addition of a swimming pool. The hotel will have not more than 72 rooms on three stories, and meet all other Safety Harbor requirements for hotels. Candlewood Suites is one of 13 hotel brands, including Holiday Inn, owned by InterContinental Group. According to InterContinental Group's website, Candlewood Suites "offer a more casual kind of longer stay, where you'll always feel at home, at your best and really productive while on the road."
Who is opposed and what are they asking residents to do?
In comments on a post on the Vote Against Oakbrook Plaza Rezoning to Hotel Facebook page, Susie Adriance, who lives in Northwood Estates, identified herself as being the leader of the movement, which includes a petition on ThePetitionSite.com. The group is asking residents to sign the petition, attend the two upcoming public hearings and contact elected officials in Safety Harbor, Clearwater and Pinellas County.
Isn't that land in Clearwater?
Because it is on the west side of McMullen Booth Road, it's a common misconception that it is in Clearwater. While the businesses in all four shopping centers at the intersection have Clearwater mailing addresses, only the shopping center with a Publix is in the City of Clearwater. The other three are in Safety Harbor.
Isn't that parcel already zoned to allow hotels?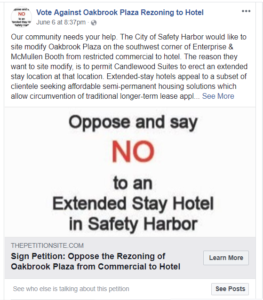 Yes, so this is not a rezoning request as the Facebook page says, but rather a site plan major modification to change the land use on a portion of the site from "office/retail" to "hotel." On May 5, 2014, the Safety Harbor Commission, which at the time consisted of Mayor Andy Steingold, Vice Mayor Cliff Merz and Commissioners Andy Zodrow, Carlos Diaz and Rick Blake, voted 5-0 to add "hotels" as a permitted use in C1-A ('restricted commercial district") zones. The ordinance included a number of provisions that essentially limited hotels to the McMullen Booth/Enterprise intersection, and established a series of requirements, including that all hotel rooms open only to an interior hallway. According to the meeting minutes, Zodrow expressed concern about adding more allowable uses, but reluctantly supported the ordinance because he said a hotel is not inconsistent with the types of businesses in the area. Merz said he, too, had concerns, but felt they had been addressed. Zodrow, Merz and Diaz are still on the Commission.
So what is a "site plan major modification to change the land use"?
The land at the northwest corner of Oakbrook Plaza, which previously housed Roadie's Restaurant among other retail establishments, is presently designated in the "office/retail" future land-use category on the approved site plan. Since this portion of the development most recently was used as "office/retail," part of the site plan process is to change the land use to "hotel," which is allowed per the 2014 vote.
When are the public hearings?
There are two. The matter will first come before the city's Planning & Zoning Board at 6:30 p.m. on Wednesday (click here for the agenda and backup materials), and the final decision will be made by the City Commission at its July 16 meeting at 7 p.m. Both meetings will be at City Hall at 750 Main St. Members of the public will have an opportunity to comment at both hearings. The City Commission hearing will be what is called "quasi-judicial hearing." The hearings will mimic a courtroom process in some ways, with "affected parties," including city staff and representatives of KOS Corp., being sworn in and able to cross-examine each other. Some hearings include a court reporter. There is a strict set of considerations Commissioners must make their decision based on, and their decision must be based solely on "competent and substantial" evidence provided during the hearing. The city offers a brochure detailing the quasi-judicial process for residents who wish to learn more about the process.
Can the hotel be stopped?
In a technical sense, yes. Commissioners are always free to vote however they wish. But in a practical sense, it will be an uphill battle. The site plan modification application appears to meet all city codes" and adheres to the city's zoning that allows for a hotel on the property. For Commissioners to vote against the site plan modification, contrary "competent and substantial evidence" must be presented at the Commission hearing.