Want To Ride A Firetruck To School?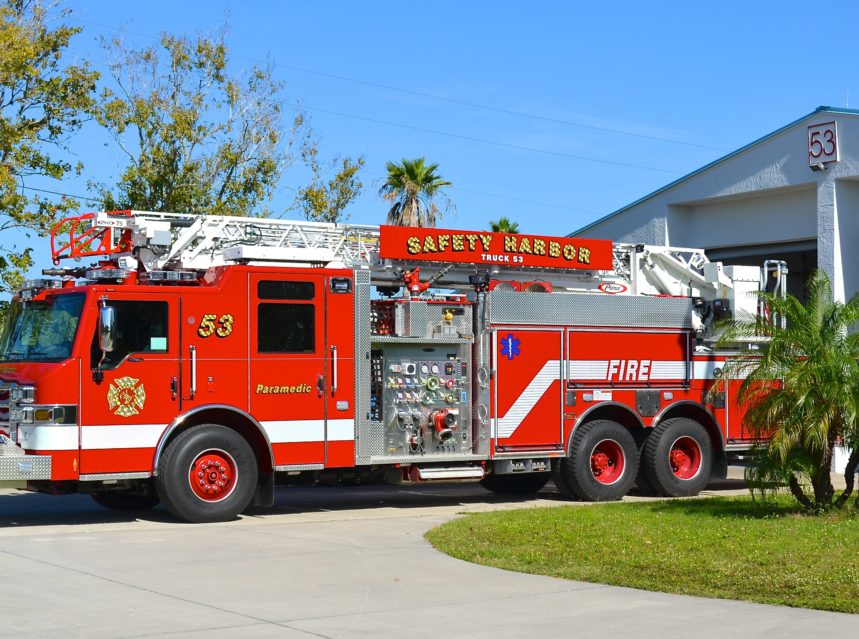 Every young child's dream, could come true this Saturday at the Safety Harbor waterfront park, thanks to the local fire departments and Paddle The Bay event coordinators, Katie and Rick Blake.  This year, during the raffle and silent auction event at Paddle The Bay, you will have the chance to win a "firetruck ride to school" for your child! Both the Clearwater Fire and Rescue and Safety Harbor Fire and Rescue have donated a "ride to school on the firetruck" to be auctioned off during Paddle The Bay this Saturday, May 12th 2018.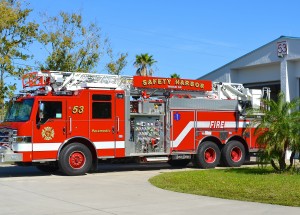 "We've been thinking of ways to attract a larger audience to our annual charity event", said Katie Blake when describing this weekend's Paddle The Bay event. "We're primarily known for our competitive paddle races, but we really have a ton more activities going on all day long for the general public and spectators who come to watch the races. We have stuff like a 60 foot waterslide, a live DJ playing beach vibe music all day, lots of vendors serving food and selling retail products that are perfect for finding your mother's day gifts" she says with a smile. "We really wanted to add some special items to our raffles this year, so we asked ourselves (including our kids) – what's a way to make someone's biggest wish come true? And our 4 year old son says 'what about a ride on a firetruck!' – it all unfolded from there. We are so lucky to have a local Fire Department that is community focused and supportive, they agreed to help out. Both the Safety Harbor Fire Department and Clearwater Fire Department gave us a donation to auction off a ride to school on a firetruck!"
All proceeds from Paddle The Bay go to the non profit Paddle For Kids Corp, whose purpose is to raise awareness for newborn screening programs.
The raffles and auctions will be held at the Waterfront Park from 10am to 3pm on Saturday, May 12. The event is free and open to the public.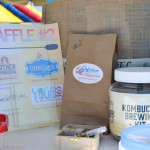 In addition to the "firetruck ride to school" prizes, some of the other featured raffle and auction prizes this year include:
$500 worth of gift certificates to Fitness 360 Clearwater
A kid's Liv cycling bike from Endurance Multisport Custom Coaching
A mermaid tail from The Mertailor, a.k.a. custom tail maker to the stars, Eric Ducharme
Over $1000 in gift certificates from Safety Harbor merchants and restaurants
Over $5000 in giveaways and other miscellaneous prizes
Now in its 5th year, the Blake Real Estate Paddle the Bay event has grown into one of the biggest and best-run of its kind in the Tampa Bay area, according to participants.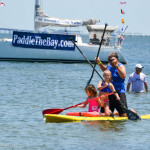 "I think this is a great event," Jennifer Monnich of Tarpon Springs said at the 2016 event.
"It's very well organized, the course is excellent and went very smoothly, and the VIP tent for the racers was a nice touch. The whole thing was top notch."
Veteran paddleboarder Bob Brodhead added, "This venue is one of the most comfortable ones for racers on the entire West Coast of Florida.
"The parking is easy, there's plenty of wide open spaces, and it's a wonderful service that Blake provides. Even the trophies are better than everyone else's. It's really one of the best events of its kind in the area."
For anyone interested in racing, the races will begin at 11:00 am and you must register online before 6pm on Friday, May 11.
Paddle The Bay 2018 Event Schedule:
9am-9:30am: Board/Boat dropoff
10am-10:30: Race Warm Up & Stretching session (Fit Yoga Factory)
10:30am: Race Briefings with Gulf Coast Divers
11am: 3 Mile & 7 Mile races start
1pm: Lunch (Mahi Tacos from Poblanos) & Beverages (Beers from Nolan's Pub) for all registered racers
1:30pm: Kids Race – Dolphin Dash
3:30pm: Awards Ceremony
4pm: Raffle and Silent Auction winners
For more information on the 2018 Blake Real estate Paddle the Bay, visit the event Facebook page.
Related content: