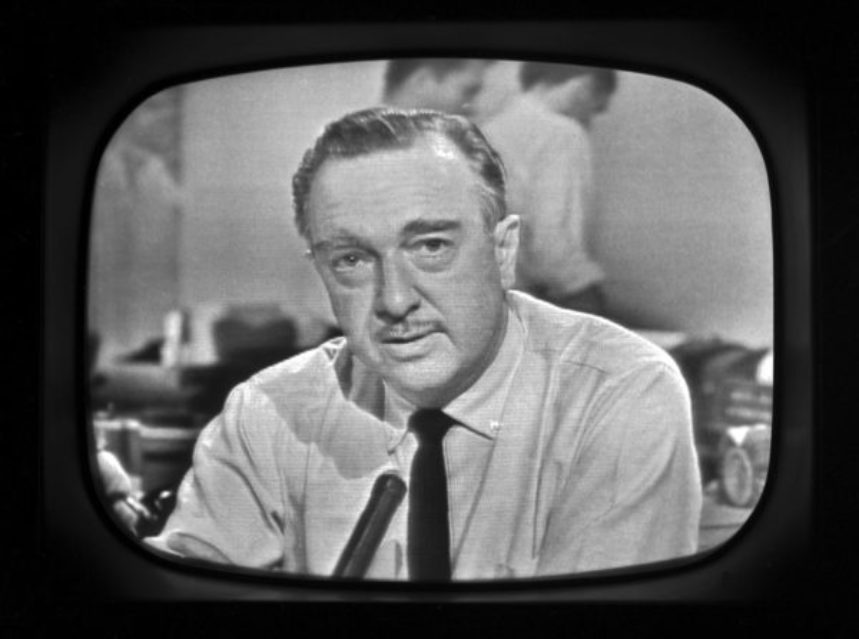 My mind is pounding with the cacophony emitted by the spokespersons on 24-hour news, and I'm missing Walter Cronkite.
Walter was a tele-journalist. He followed the journalists' unbiased reporting code of who-what-where-when-and-how. After giving us the factual news of the day, he would look benevolently into the camera with his closing words, "And that's the way it is."
Walter was a reporter, not an editorialist, so we never knew his opinion on anything. We were left to digest the events of the day and form our own conclusions.
Walter was not one to show emotion, yet he evoked the feeling of trust with his calm and soothing voice, his steady gaze, and his kindly demeanor. But I'll never forget the day he looked into the camera, took off his glasses, wiped a tear from his eye, and announced the assassination of John F. Kennedy.
There was no opportunity to get all worked up and upset over binge-watching, as there were no 24/7 news channels. Six o'clock, that was it, unless you stayed up for the eleven o'clock news.
We only had three major network channels, and no cable. There were no opinion makers regaling us with their conclusions, lulling us into believing that their analyses represented objective fact. The concept of fake news had not yet been invented.
Our parents had a hard and fast rule: "never discuss religion or politics." This was designed to keep our relationships with family and friends intact. As young adults in the '60s we broke that rule. We loved to argue politics, it was the way we exercised our brains. Drinks in hand, we yelled and shouted at each other, Republicans and Democrats alike, then waved a friendly good-bye and went on our way.
It never crossed our minds not to invite Uncle Dave to Thanksgiving dinner because of his politics. Friendships did not succeed or fail based on party affiliation.
Sadly, Walter has been replaced by commentators who have begun to look and sound the same to me no matter what channel I'm watching, as well as by websites, Twitter, and Facebook. For many people, these sources constitute their main suppliers of news today and hone in on people's deepest fears and unconscious insecurities, sadly widening this country's political divide.
I'm weary of TV, being inundated with social media notifications, and being wary of sharing opinions with friends. Walter Cronkite, I miss you . . .
And that's the way it is.