Midnight at the Masquerade – Dinner Theater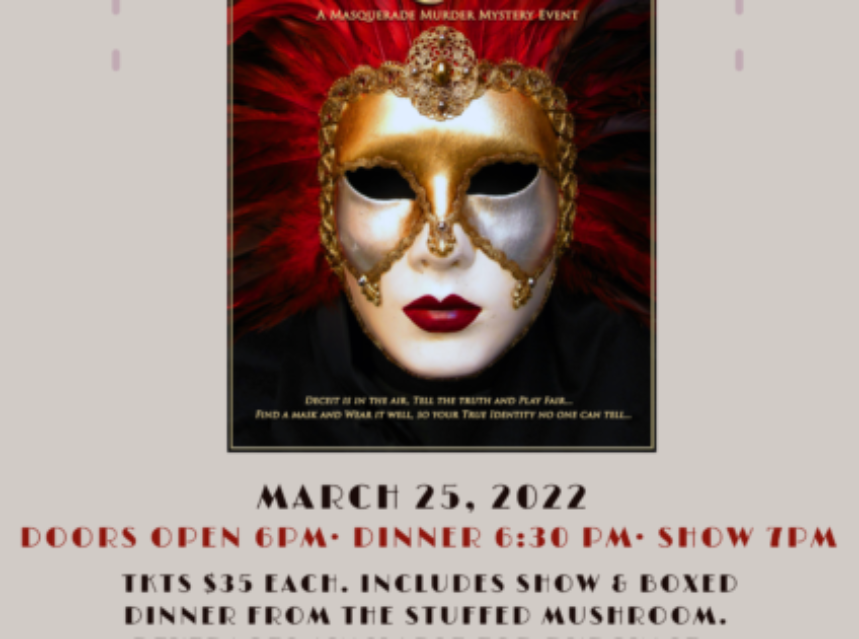 The Safety Harbor Public Library Foundation announces Midnight at the Masquerade, an evening of fun, food, and mystery theater at the Safety Harbor Public Library on Friday, March 25, presented by the Murder Mystery Company. Doors open at 6:00 PM, delicious box dinner from The Stuffed Mushroom served at 6:30 PM, show at 7:00 PM. Dessert served at intermission. Beer and wine available for purchase.
Attend the masquerade ball and help get this soiree back on track by trading clues with guests, gathering information, and solving the crime before the masked menace gets away. Wear what you'd like, but evening wear and Venetian masks are encouraged for to this night of intrigue and murder. Tickets are $35 per person. Available online: https://shplfoundationmidnightmasquerade.eventbrite.com in advance at the Library beginning January 28, and if available at the door.
The library is located at 101 2nd Street North, Safety Harbor. All proceeds benefit the SHPL Foundation's 20/20 Vision, Let's Build a Story Capital Campaign. Call 724-1525 x 4106 for more information or visit www.SafetyHarborLibraryFoundation.org