Meet the Candidates for Commission Seat #1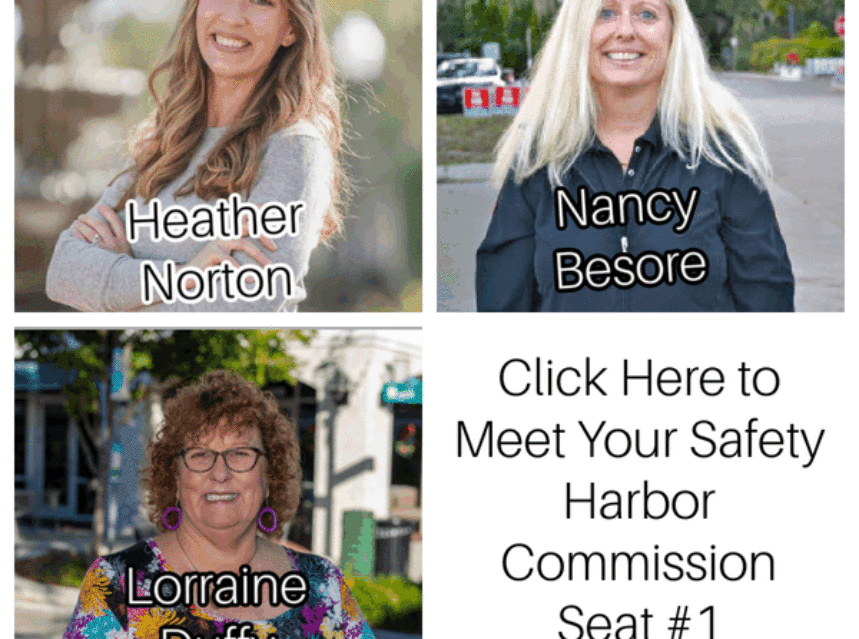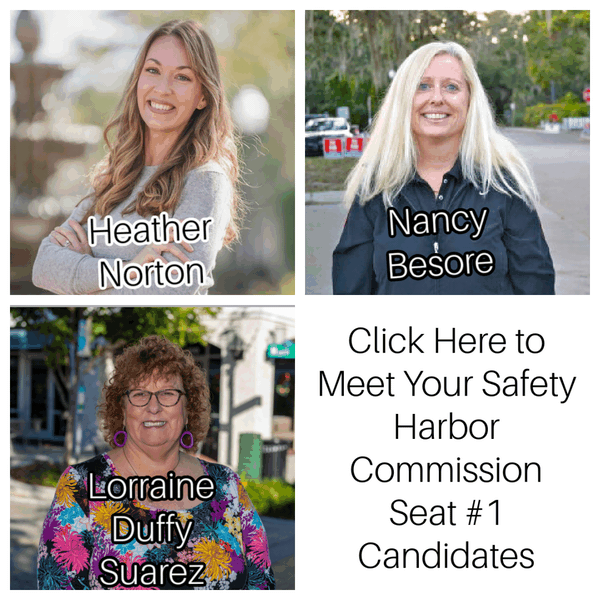 What a beautiful winter it has been. Christmas lights galore and cool weather to accommodate all the outdoor festivities. Thank you City of Safety Harbor for setting the stage so locals could enjoy what matters most, making memories with family and friends.
Now that all the holidays have come to an end and the lights have been taken down, political signs are popping up. Incumbents, previous seat holders and a couple new names are running for the three Commission seats up for election on March 9th, 2021.
I have reached out to all the candidates to offer them an opportunity to introduce themselves. I hope to hear back from everyone. I will be presenting the candidates by seat number once I hear back from all the candidates running for that particular seat. Their introductions will be in alphabetical order using the last name.
SEAT 1 – Nancy Besore, Heather Norton, Lorraine Duffy Suarez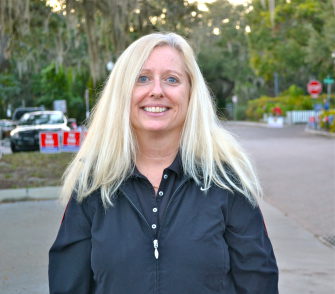 NANCY BESORE – I am running as the incumbent. I would love to serve three more years because I love engaging in community service. I am an ardent supporter of our Friends of the Library. I have interest and compassion in listening to residents' concerns.
As many of you are aware, I recently lost my life partner, John Such, of 25 years. Much of my nearly 30 year life and identity in Safety Harbor revolved around John. We raised four cats and four dogs here on 13th Avenue South. I ushered at Espiritu Santo's 7 a.m. Mass with John for many years, until his health declined. I am a Spa member. Often, I met many of you there, or around town with my mom, Noreen, during her seasonal visits to the Safety Harbor Motel.
Recently, my elder sisters have spent winters here, also residing at Safety Harbor's Motel. They love Safety Harbor's natural beauty. I am grateful I have been a vital part of park land purchases, and land preservation. I am grateful residents have trusted me as their Commissioner from 2009-2014 and 2018-present.
I hope you will check out my city bio at cityofsafetyharbor.com/298/Nancy-Besore for my professional resume. I humbly ask for your vote March 9th.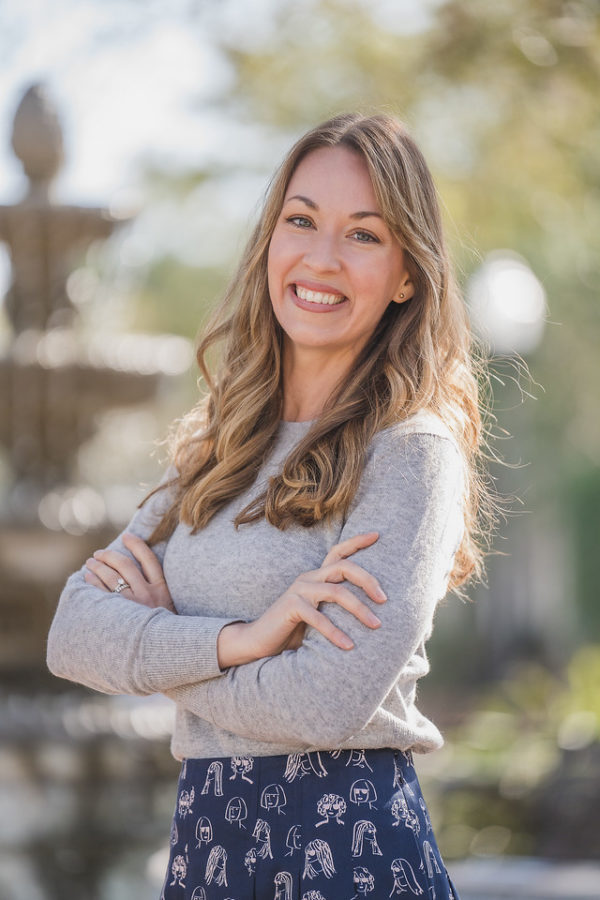 HEATHER NORTON – I am delighted to have the opportunity to share on this forum. There is an art to developing a healthy and vibrant community, while preserving our wonderful parks and green space. We really have something special here. My motivation for running for local office is my desire to help preserve the small-town charm of our city, protecting our sanctuary spaces while cultivating a welcoming and sustainable community for families and future generations. The outlook is "how can we best steward the land space with which we have been entrusted?" I have spent the last decade serving our community as an ob-gyn. Service in our local government is a natural progression. The fact that I am new to our city government is in many ways a strength. I am not tied to or influenced by any special interest groups, and that frees me to be able to represent our community in a fair and balanced light. Trust is important to me. While representing you I will recognize your individual importance within the community as a whole. I will take the knowledge we have, apply it to each novel situation, weigh the risks and benefits and work to make the best plan to support and preserve the residents who give life to this community.
I pledge to protect the unique serenity here in the Harbor that makes it that much more endearing to call "Home."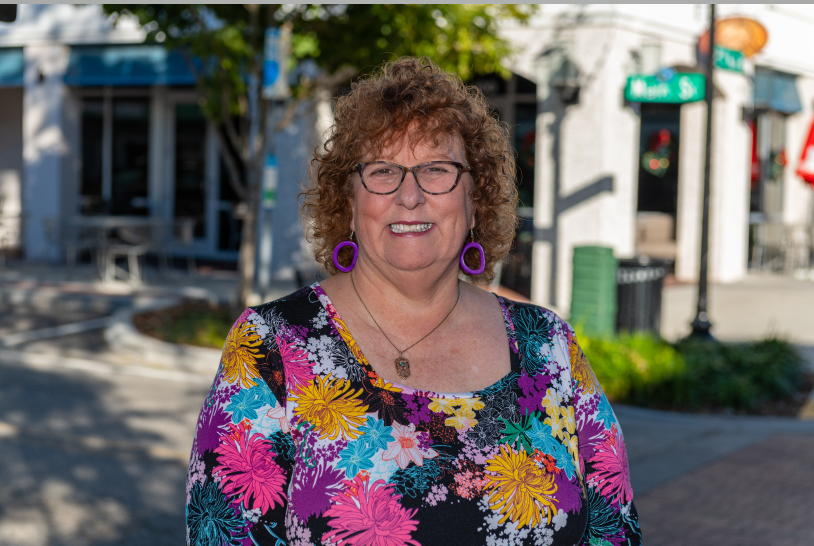 LORRAINE DUFFY SUAREZ – candidate for Seat 1 City Commission, urban planner, adjunct professor of planning at SPC, Planning & Zoning Board Chair, community volunteer and resident of Safety Harbor. My 30+ years of experience as a public sector urban planner has prepared me to tackle the types of decisions our City has to make. I have worked alongside thousands of residents to set goals and carry out plans for their community. Finding perfect solutions to complex community issues is no easy task, but I have found that listening to diverse voices to frame the problem and potential solutions is the straightest path to consensus. During my career I have worked to protect critical wildlife habitat and wetland areas, develop regulations to protect unique community character, and preserve historic places. I pledge to do the same for Safety Harbor.
My commitment to you is to uphold our treasured assets, such as our beautiful tree canopy, our natural shoreline, wildlife habitat, quaint downtown and our overall quality of life. I will work to:
develop an environmental asset plan to provide oversight and protection to City owned natural resources
improve citizen access to City information
engage diverse voices in City decisions
renew our City vision, last updated in 2007, to reflect current community values
I co-founded Safety Harbor Inspired Planners (SHIP) with other planners to organize community-building events like on-bike scavenger hunts and have volunteered for several community events. I respectfully ask for your vote for City Commission Seat 1. Learn more: electDUFFYSUAREZ.com
Thanks ladies for your time and best of luck to you all!