2013 Wreaths, Toys and Joys: 'Best Event Ever'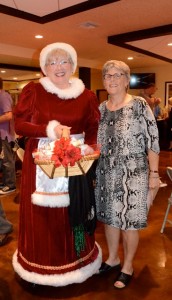 The 2013 edition of the annual Wreaths, Toys and Joys event, a fundraiser for the Mattie Williams Neighborhood Family Center, is being hailed as a huge success for the charity as well as the community.
The event, now in its seventh year, drew a large crowd to the Safety Harbor Museum and Cultural Center on Saturday night, with Mayor Joe Ayoub, Commissioner Nancy Besore and Commissioner Cliff Merz among the many local luminaries in attendance.
According to MWNFC director Janet Hooper, this year's Wreaths, Toys and Joys, which features a silent auction and dinner in addition to the auction of roughly a dozen hand-decorated wreaths, was the biggest such event in its history.
"This was our best wreath event ever both in attendance and dollars raised," Hooper told safety Harbor Connect via email. "Proceeds go to make sure every child has a Christmas."
Final figures were not yet available for this year's event, but last year the fundraiser collected more than $9,000.
This year 16 wreaths were auctioned off, including contributions from local authors Laura Kepner and Warren Firschein, Commissioner Besore and a number of area merchants and community members.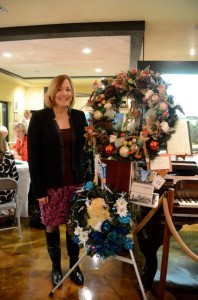 Kepner and Firschein's wreath, which commanded an impressive $100, came with a special edition of their book, A Brief History of Safety Harbor, Florida, which was autographed by a number of influential city officials.
Kepner expressed her gratitude for the support of the wreath in a post on the authors' Facebook page:
"We are thrilled that this wreath and a copy of our autographed book raised $100. for the Mattie Williams Neighborhood Family Center last night. Thanks to everyone who came out."
According to Hooper, the wreath that garnered the highest bid was created by Cheryl Williams; it pulled in a cool $250.
Hooper also expressed gratitude for everyone who contributed and helped make the event such a success.
"We are very grateful," she said. What a special night."