Matt McLachlan Says 'So Long' To Safety Harbor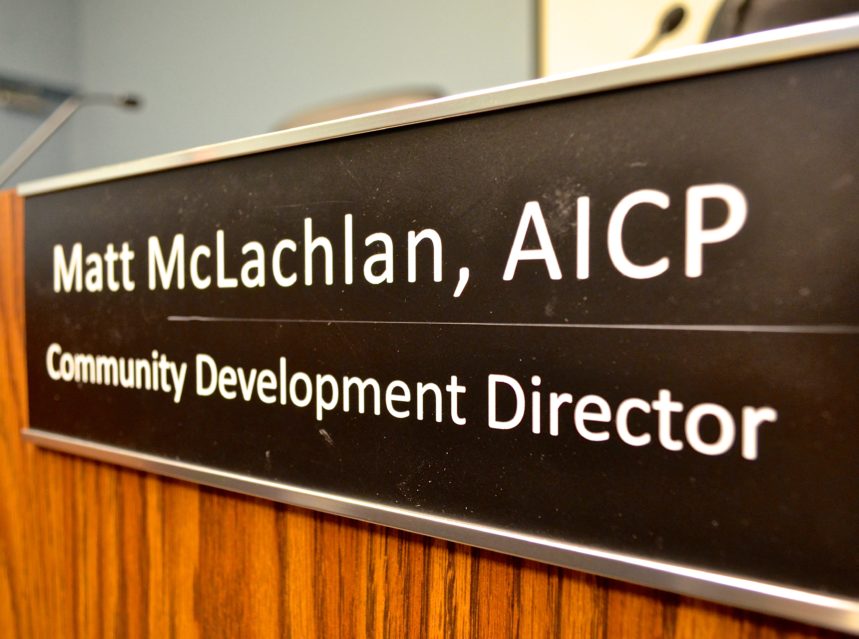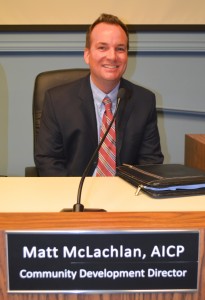 On September 3, Matt McLachlan left the City Hall office he's occupied for the last eight years as Safety Harbor's community development director for a new position with a private firm.
During his tenure, McLachlan presided over a multitude of projects, from the construction of Mullet Creek Park to a number of residential and commercial developments, that have helped turn Safety Harbor into one of the most desirable destinations in the county.
Last week Mayor Andy Steingold presented McLachlan, who also held the position of assistant city manager, with a commemorative plaque at the City Commission meeting, and officials took a moment to speak about their departing colleague.
"I would just like to thank Matt for his eight years of service to the City of Safety Harbor," City Manager Matt Spoor said. "He knows how I feel about him professionally and what he's meant to this community."
"For eight years I've had the pleasure of working with you, and I appreciate your professionalism and they way you've handled yourself," Vice Mayor Cliff Merz said. "I wish you and your family the best."
"As a resident and commissioner of Safety Harbor, I want to thank you for your service and all the passion that you put into everything," Commissioner Carlos Diaz added. "I wish you the best of luck, and we'll see you around."
Indeed although McLachlan is leaving city employ, he will still be around town, at least for a while, thanks to a service agreement with McLachlan's new employer, Calvin, Giordano and Associates, that was recently approved by the City Commission.
As he prepared to say "so long", but not "goodbye", to Safety Harbor, McLachlan sat down with Safety Harbor Connect to reflect on his time in town and share his thoughts about the past, present and future of the city.
How is Safety Harbor different today from when you began working here in 2008?
The issues that are discussed today are the same as when I started. One of the first workshops I attended was a discussion on building heights downtown. Sandwich board (signs) was also a big topic. The downtown master plan was in a state of flux. We held many workshops to come up consensus plan for the downtown area that I think has worked well in guiding downtown development.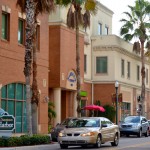 When I first started we were lucky to get a few applications from merchants for facade program grants. We did a lot of marketing regarding the availability of CRA funds for business owners that helped stimulate a lot of investment in the community. We were very proactive in trying to get people to do more with their projects. I think the combination of funding assistance and amendments we made to the land development code contributed to an increase in interest in development and redevelopment activity downtown.
When I first took the job, I told them I planned on staying for five years. But I wanted to work through the projects that were laid out and see them through. It's been a wonderful experience, a great growth opportunity for me as a professional, but at the same time there is a little tapering off – a lot of issues, from a regulation standpoint, have been solved. We've worked out the kinks in the code, solved a lot of policy conflicts and proposed solutions. I think with that work in place, the job is more of an administrative role.
What are some of the city projects you are proud to have worked on?
I think you have to look at everything in aggregation. I believe in taking an incremental approach to community development. It's been a myriad of things that have led to tangible progress over the last eight years.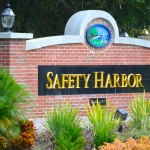 If I had to name a few, some of the projects I've been most proud of are Mullet Creek Park, the Safety Harbor waterfront park, the sign at the entrance of Main Street and the Harborside Christian Church/Messenger property project. If that one comes together, I think it's going to be a great natural resource for the community to enjoy.
It's really a series of smaller projects that we've made better through the city's review process. This job is about addressing the details of the city. The broad stokes are put on the canvas. It's our job to refine the details.
What has it been like to work for the City of Safety Harbor?
The culture of the city is to be responsive to the public, provide exceptional service and be receptive to people. It helps that we are a small town and all the services are under one roof. We work shoulder to shoulder in a timely manner and there is a lot of positive synergy from department to department. There is a unified direction, and that really simplifies things.
I didn't come into the job with any preconceived notions. I've grown in my planning and management abilities through my experience here. It's a very positive environment. I never felt constricted to bringing ideas before the P&Z board or the city commission. There's a spirit of relentless positive action here because we are all trying to make Safety Harbor a better version of what it currently is.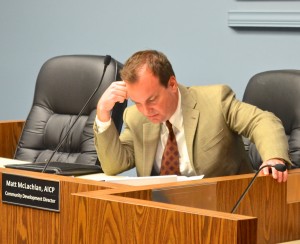 What will you take away from your time working for the City of Safety Harbor as you prepare to reenter the private sector?
Working for a smaller government, I've enjoyed rolling up my sleeves and being very hands-on with my efforts. I take full responsibility for everything I do, and I know I worked hard every day to make Safety Harbor a better place.
In my new job I'll be doing what I've been doing here, but on a broader scale…and I'll be taking the lessons I learned in Safety Harbor and applying them to other local governments.