Lois Spencer Remembered: "This Is Her Town"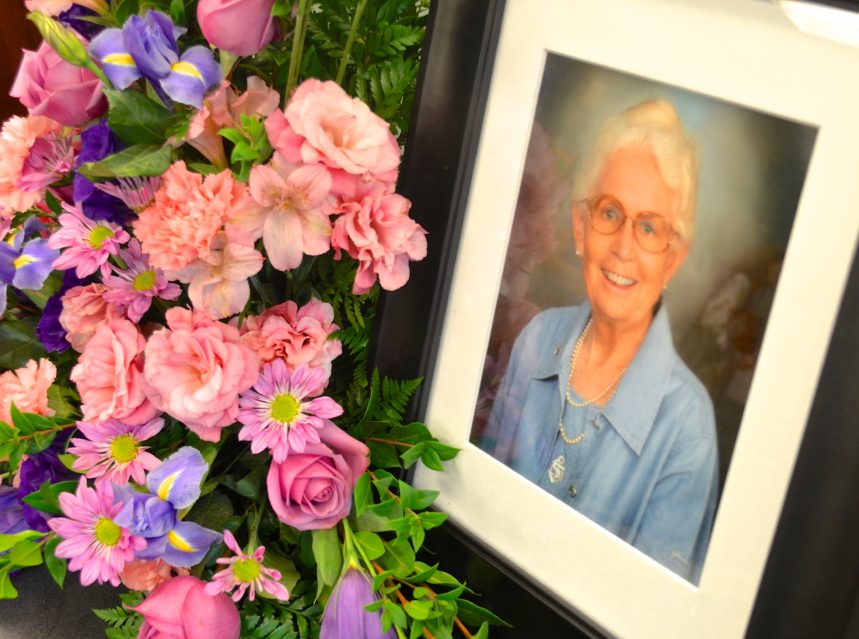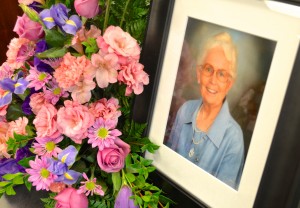 The fabric of a community is made up of contributions from many individuals, some of whom go above and beyond what is expected of them and, in turn, make their city a better place to live, work and visit.
But few can cross multiple boxes off their community checklist – business owner, volunteer, civic leader, animal lover, costume wearer – while also having a profound impact on nearly everyone they meet.
Lois Spencer was obviously that kind of person to Safety Harbor, based on the sincerity of the remarks made at a memorial service held in her honor on Sunday night, two weeks after her sudden passing at the age of 83.
"Many people know her as the Antique Lady of Safety Harbor, Mrs. Claus at Christmastime, the 'Reading Rabbit' at the library's Easter event, originator of the Seafood Festival and an enthusiastic community participant," Spencer's daughter-in-law, Miriam Hoekstra, said at the start of the ceremony.
"Lois' life was not an impossible dream. She lived it well and reveled in it."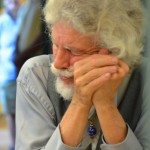 Following those opening remarks, which traced Lois' life from a "little girl with flaming red hair" to the time she met her second husband, Joe, in a Minneapolis piano bar, a number of her friends, relatives and associates took turns recalling the many ways the woman born Lois Irene Soper had impacted their lives.
"I met Lois in the summer of 1982," former city official and current library fund trustee Tom Ronald said. "At that time I was in charge of the library, and libraries were very important to Lois."
"Over the years, Lois and I had a lot of conversations," he continued. "We had a lot of laughs, had some different points of view, and we shed a lot of tears…I will miss my friend, but I will always remembers the markers along life's highway that we shared."
Kiwanis Club members Paul Bryan and Nadine Nickeson then spoke about Lois' contributions to the civic group's annual arts and crafts show, which she helped organize roughly 30 years ago.
"Safety Harbor Kiwanis did very well…because of the arts and crafts show Lois helped create," Bryan said. "Still, to this day, it's probably one of our most important functions to give back to the community."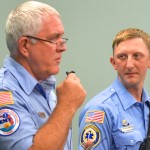 "In 1979 we had our first arts and crafts show, and through the years it has brought back to the community over $400,000," Nickeson added. "I learned the procedures from Lois…she was a big part of Safety Harbor."
Safety Harbor firefighters John Weston and Charles Russell, Jr. also evoked fond memories of Mrs. Spencer, most notably when Weston admitted he has played second fiddle as Santa to Lois' Mrs. Claus all of these years.
"I'm really going to miss her this year for the parade," Weston said, as more than a few sniffles could be heard in the room.
"I don't know what we're going to do, but nobody's going to be able to replace Lois as Mrs. Santa."
After Lois' longtime employee Linda Clark read a heartfelt poem in her honor and library director Lisa Kothe recalled Spencer's deep commitment to the facility, family friend Sara Green put a poignant bow on the evening.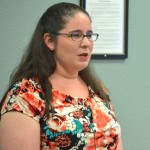 Green spun a tale about a spider's web, how the web is 20 times bigger than the creature that creates it and is made up of "hundreds of intricate connections" that ensnare anything that comes in contact with it.
She then compared Lois' influence on the Safety Harbor community to a web, as she touched all the lives that came into contact with her.
"Lois is not a spider, but oh the web she spun," Green said. "This is her town. This is her web. And she lovingly toiled over each strand, an artist in her own right."
"Today we celebrate Lois' life by celebrating the community that has benefitted so greatly from her work, and from the way she supported the work of others. Her life, and the legacy she has left us to call our own, is surely worthy of celebration."
Note: Spencer's family is asking that in lieu of flowers, donations be made to the Safety Harbor Public Library's Chrissie Elmore Trust in Lois' name. Checks can be dropped off at the library or mailed to:
Chrissie Shull Elmore – Safety Harbor Library Fund

c/o Thomas K. Ronald

46 Laurelcrest Lane

Travelers Rest, SC 29690
Related: