Library Foundation Announces Key Lime Pie Fiesta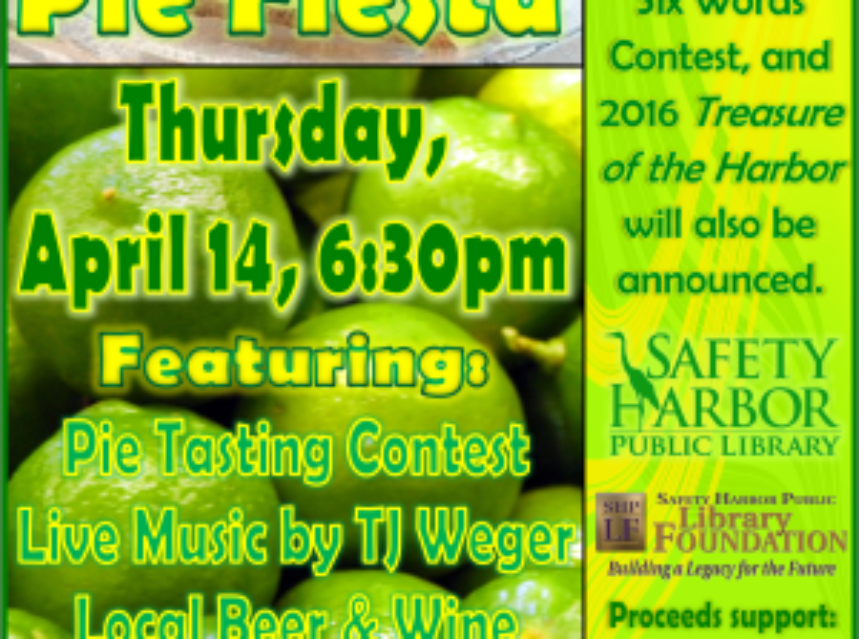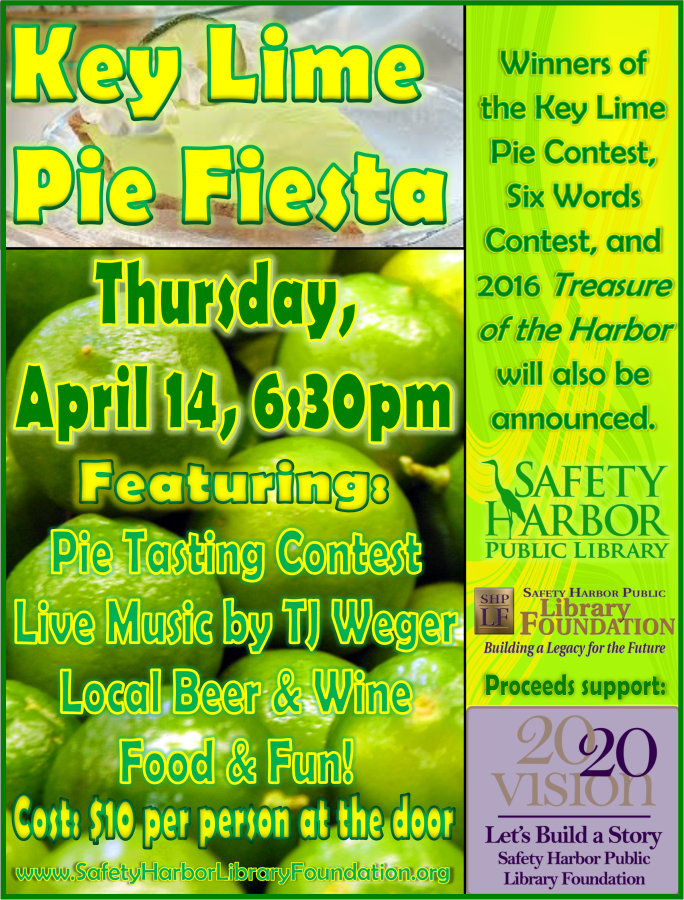 The Safety Harbor Library Foundation announces a Key Lime Pie Fiesta, on Thursday, April 14, 6:30 pm at the Safety Harbor Public Library.  Winners of the Key Lime Pie Contest will be announced along with the Friends of the Library Six Word Memoir ™ Contest winners.  The Treasure of the Harbor outstanding volunteer, will also be crowned.  Winners of artistic Flamingos from the Flamingo Fundraiser will also be revealed.
Fiesta guests will be entertained with Florida Style music by local musician, TJ Weger and be treated to Key Lime Pie tastings.  Beer and wine will be available for a donation. Cash prizes will be awarded for the Key Lime Pies; first place – $100.00, second place – $75.00, third place – $50.00.  Decisions made by honorary judges are final.
Pies must be dropped off at the Safety Harbor Public Library with a completed entry form between 3:00 and 6:00 pm on Thursday, April 14. There is a limit of two pies per person. Entrants can win one cash prize level only.  Entry forms can be found on www.SafetyHarborLibraryFoundation.org by visiting the event page.
Entry to the event is $10 per person with 100% of proceeds benefiting Foundation's 20/20 Vision Capital Campaign to create a second story meeting room facility. Participants providing a Key Lime Pie for the contest have complimentary entry to the Fiesta.
For further information, visit http://www.safetyharborlibraryfoundation.org or contact lkothe@cityofsafetyharbor.com or 727-724-1525, x4106.  The library is located at 101 2nd Street, Safety Harbor, FL.