Jeremiah: In Tune With the Heart of Safety Harbor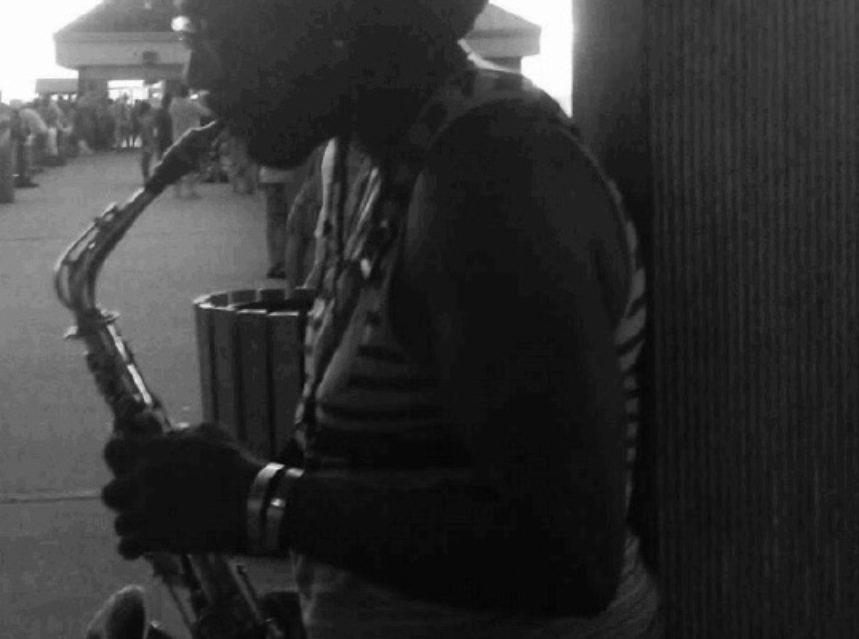 He stood by the curb, eyes lowered, saxophone in hand. Soft jazz melodies reverberated into the street. At his feet, a small African drum with the top missing—a receptacle for the appreciative dollar bills of passersby. I stopped to deposit my monetary acknowledgement of his talent. With head still lowered under his Rasta cap, he raised his eyes and nodded his thanks.
The ritual repeated itself month after month, year after year. This street musician rarely missed a Third Friday in Safety Harbor. In my eyes, he had become an icon. Emboldened, I asked about his story and I found myself in the engaging presence of a musician, poet, and philosopher. Much to my delight, he was very talkative as he shared his humanity in revealing his story.
Jeremiah's focus was less of a chronology of his musical career, and more a love affair with his audience; his connectedness with people, in this case the passersby who stop and share a brief, or prolonged moment listening to his music on countless Third Fridays.
"Safety Harbor is a cool little town. The number one place I want to play."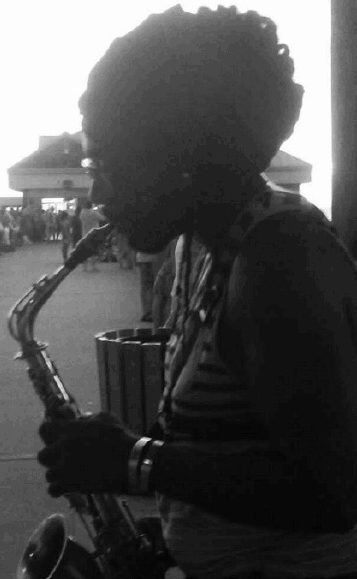 Reflecting back over his life, he lived in all but three states, attending a variety of schools, some inner city, some rural; unfortunately, some racist. He remembers being left standing in the hallway with a Mexican boy—neither of them permitted into the classroom.
His parents kept him close to home. Although he was always the new kid on the block, he never wanted to skip school. It was there that he learned how to size people up, recognize the bullies and figure out how he would fit in. It was through school that he learned to read people and understand the world, a skill that carries over into his experience on our Main Street.
Jeremiah made his first album in high school and sold 3,000 copies. As an adult performer, he played guitar and sang in a small band. There was a saxophone hanging on the wall of their rehearsal room, and when the band broke up, the sax was bequeathed to Jeremiah.
As Jeremiah performs at Third Friday, his theme is always one of connectedness. His goal is not to have people just hear his music, but to feel it emotionally.
"If you want to know how good your music is, put it out in the world."
A man stood before him with tears in his eyes, "Your music touches me." Of the people who have interacted with him over the years, he has seen couples date, marry and start a family. He's especially appreciative of the children who stop in front of him, perhaps sitting at his feet transfixed, perhaps dancing with that natural affinity that little ones have with music. He recalled a particular ten-year-old who remarked, "Do you remember me? I've known you all my life."
Apart from Third Fridays, Jeremiah has played on the sidewalk heading to concerts at the marina, on the streets leading to the Clearwater Jazz Festival, and on Clearwater Beach. Rather than play in traditional indoor venues, he prefers the outdoor settings, putting his music into the community for people to be drawn to what pleases them.
"I'm giving straight from my heart."
If you're tempted to feel sorry for him as a street performer, forget it. The only complaint that he speaks of is those people whose attitude connotes a stereotypical view that as a street musician, he must be homeless. His real life currently defies that stereotype. For one brief stint he was homeless sleeping in an Amtrack train while working to put himself through college during the day. He emerged as an audio engineer working in film, television and recording studios, and has a social media presence on The Visualistics.
"I'm a Creator. . . creativity is a blessed place to be."
Jeremiah is in tune with the heart of Safety Harbor. "Third Friday is like a religion. Have you ever noticed it never rains on Third Friday?" In the six or seven years he's been playing here, he's only been rained out once. He is drawn to Safety Harbor by the vibe, much akin to the feeling that has drawn so many Harborites to choose Safety Harbor as their home. When he arrives on the street, he's not armed with a rigid playlist. Rather he pauses to assess the feel of the evening. He engages in "straining people and their energy through me," and plays into that relationship.
"I love Safety Harbor. It's magical."