Happy New Year! News from the Library Foundation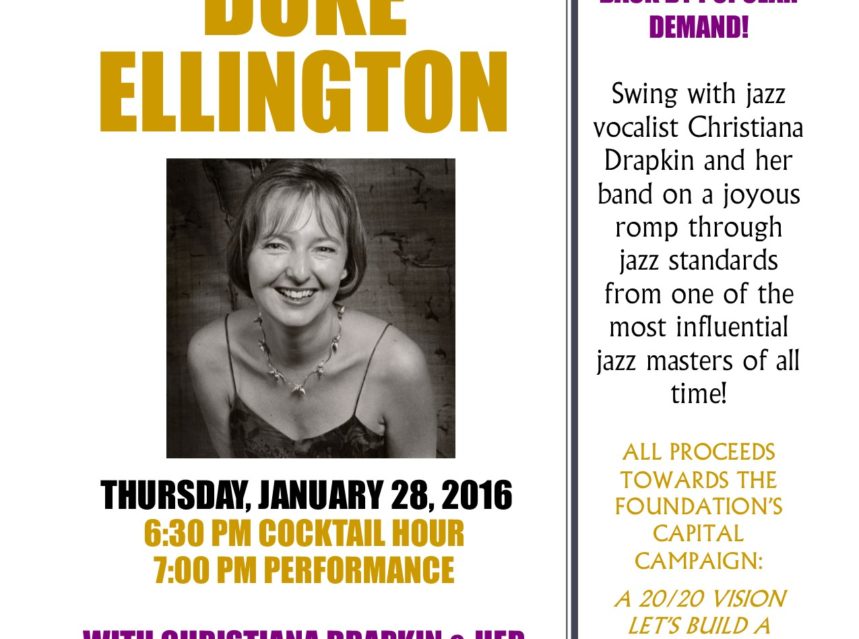 Back by popular demand, the Safety Harbor Library Foundation kicks off 2016 with the Christiana Drapkin Band, with a joyous romp through jazz standards by Duke Ellington, one of most influential jazz masters of all time. The show is Thursday, January 28, with a Salute to Duke Ellington at 7:00 pm and refreshments at 6:30 pm. Tickets are $10.00.  All proceeds go toward the Foundation's capital campaign, Let's Build a Story, a 20/20 Vision, to raise funds for a second floor meeting room. Tickets may be purchased prior to the show at the Library or at the door, if still available. Only 100 open seating tickets sold.
A Citywide Book Club, "Safety Harbor Reads," sponsored by the Foundation begins in February and culminates in April with a variety of special events all related to our wacky, but wonderful state of Florida.  The selected book for the Citywide Read is Alligators in B Flat, by Jeff Klinkenberg. Read events begin with a Meet the Author on Thursday, February 4, 6:30 pm.
The Foundation is sponsoring Treasures of the Harbor, honoring a community volunteer that goes above and beyond to make our city a special place.  The Treasure winner will be announced April 14, at the Foundation's Key Lime Pie Fiesta. To qualify as a Treasure, a person must reside in Safety Harbor and should not hold public office.  Applications can be found by visiting:  http://www.safetyharborlibraryfoundation.org on the event page.