A Guide To The 2014 Super Bowl In Safety Harbor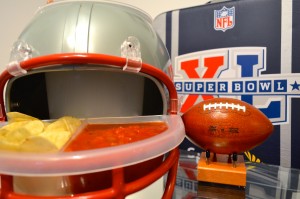 Once the 4,400+ Best D**n Racers clear the Safety Harbor area on Saturday, chances are your attention is going to turn to the football game on Sunday – Super Bowl XLVIII between the Denver Broncos and the Seattle Seahawks.
Whether you're planning on watching the biggest NFL game of the year (and the commercials, of course) from the comfort of your living room, or heading out to cheer on your favorite team with friends, there are plenty of places in town that have your pigskin party needs covered.
Safety Harbor Connect compiled a list of options that should fit any tailgate needs, ranging from places that are offering catered food to the establishments hosting all-out bashes.
Here's your handy guide to enjoying the Super Bowl in Safety Harbor:
Catered Food:
Southern Fresh
Address: 122 3rd Ave. N
Phone: 727-216-6341
Website/Facebook: facebook.com/southernfresh
The dowtown restaurant that specializes in Southern-style food is having a special on their jumbo sized chicken wings: $19.00 for a dozen smoked wings, and $11.00 for a dozen fried wings. Customers are being requested to place orders prior to noon on Friday, Jan. 31, although there will be some extra wings available as supplies last for those who tend to order late. Note: the jumbo-size wings are equivalent to two regular wings, according to the Southern Fresh chefs!
Brady's Backyard BBQ
Address: 340 Main St.
Phone: 727-712-3727
Website: bradysbackyardbbq.com
The Main Street barbecue joint is known for its catered takeout foods, like smoked turkeys and hams around the holidays. For the Big Game, Brady's is offering wide variety of menu items, including their barbecue pulled pork and chicken as well as smoked wings. Order require a 24-hour advance notice, and they will be closing at 4:00 p.m. on Super Sunday. Also, they will deliver for orders over $75.00/10 people.
Big Bashes:
Harbor Bar
Address: 840 Main St.
Phone: 727-726-8044
Website/Facebook: facebook.com/harborbar
One of the biggest Super Bowl parties in the Harbor happens at this Main Street mainstay. According to the bar's Facebook page, there will be a ton of specials and activities taking place on Super Sunday, including beer and drink specials, pizza and wings at halftime, game squares for bar tabs, plus jello shots, games, prizes, contests and giveaways. The party kicks off at 3:00 p.m. and goes until 2 a.m.
Beef 'O' Brady's
Address: 2471 N. McMullen Booth Rd. (Oakbrook Plaza)
Phone: 727-614-9717
Website/Facebook: facebook.com/beefobradyssafetyharbor
Another place known for its big blowouts, the Safety Harbor Beef O Brady's has plenty of activities planned for the Big Game, including a halftime contest where the winner will receive free wings for a year. Other items on the super schedule include beer bucket/pitcher specials, a $14.99 beer and wings special, raffles, giveaways and more.
Smaller Scale Throwdowns:
8th Avenue Pub
Address: 103 8th Ave. N.
Phone: 727-799-1105
Website/Facebook: facebook.com/8th-avenue-pub
The downtown bar and restaurant will have a giant screen to watch the game out back, plus food and drink specials throughout the evening.
Copperheads Tap House
Address: 670 Main St.
Phone: 727-400-4721
Website: copperheadstaphouse.com
Bar owner Tara McCutcheon said she will be bringing in food from Southern Fresh to feed the fans, and there will be random drink prices specials awarded throughout the night beginning at 6:00 p.m.
Intimate Gatherings:
Nolan's Pub
Address: 230 Main St.
Phone: 727-400-6998
Website: nolanspub.com
Nolan's dad, Craige Davide, said his Main Street bar will be open as usual, with no specials planned.
Bar Fly/Saltwater Grill
Address: 100 Main St., #6
Phone: 727-400-4790
Website/Facebook: facebook.com/barflysafetyharbor
The adjoining bar and restaurant will both be open during the game and offering chili and beer bucket specials; owner Jeff Harrell said his will be a place for those people who are looking for a more quiet Big Game atmosphere.
If you think we missed anyplace, please let us know in the comments below.
Have a safe Super Sunday, and enjoy the game!