February is Love your Library Month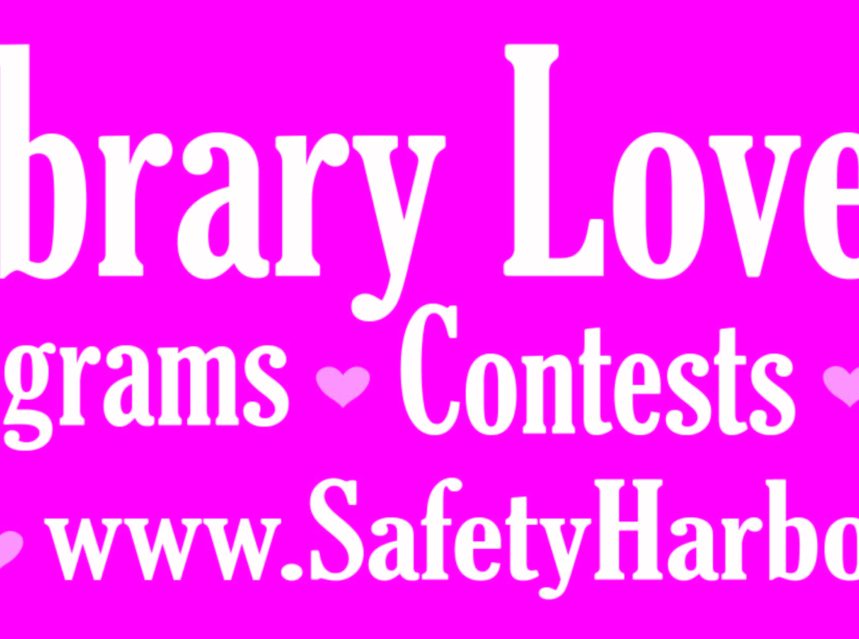 If you are reading this, you probably know the dozens of reasons to love your library. From Internet access to eBooks, computer classes and cultural programs for all ages, downloadable music, DVDs, book discussions, books and newspapers, streaming IndieFlix movies, meeting room space, children's story times to crafts, resources such as Mango Languages and Learning Express to study for the college entrance exams and other careers, or a quiet place to study or just hang out…you already know the very cool things we have going on.
So pass it on… Don't keep us a secret!  Talk it up.  Let everyone know how much you love your Library and the special programs we offer.  If you really love us, give back.  Think about volunteering, joining the Friends of the Library, or consider making a donation to the Library Foundation.  Share the love… For more information on supporting your Library, visit www.SafetyHarborLibrary.com and visit on Library Supporters.   
If you really love your library, you may want to shout it out to the world with a very cool t-shirt you can purchase here:  https://www.booster.com/loveyourlibrary.  This fundraiser will help us digitize historical Safety Harbor Herald Newspapers.  More information can be found on the booster webpage.
Looking for something to do in February?  Check out our events below.  For a complete listing, visit our website, www.SafetyHarborLibrary.com.  And remember to tell your friends about the things we have going on.
Chef Warren Caterson:  Thursday, February 6, 6:30 pm.  Chef Warren will share his new book Table for Two-Back for Seconds and assorted kitchen tips, cooking hints and humorous anecdotes about the joys and challenges of cooking followed by a demo.  Registration required; call 727-724-1525 x 4112.
Children's Book Illustrating with Artist Leah Lopez: Thursday, February 13, 6:00 pm. Leah Lopez, and Nancy Mercurio speak about their children's book, Tails of Fluffy McDuffy: Lessons of Love.  Learn insights about their relationship to the real dog who inspired the series and how to create illustrations.
Les Paul & Mary Ford Tribute Show featuring Tom & Sandy Doyle:  Wednesday, February 26, 6:30 pm.  Meet master Guitar Builder, Tom Doyle and his wife, Sandy, for a night of tribute to musical legends, Les Paul and Mary Ford.  
Library Lover's Celebration: Thursday, February 20, 6:30 pm.  The prize winners from the Library Lover's Month Writing Contest will be announced.  Authors will be encouraged to share their winning essays.  Join us for an evening of literary fun with writing coach speakers, a book fair of local authors, and more.
Fancy Nancy Book Bash:  (Ages 3-10).  Saturday, February 15, 11:00 am.  Join us for a fun Fancy Nancy stories, games, and crafts.  Come dressed in your fanciest clothes!  Registration required call 727-724-1525 x 4118.
Family Fun Yoga:  (All ages)  Friday, February 21, 4:00 pm. Exercising as a family is a great way to bond, so bring the whole bunch to the library for Family Yoga.  This class is a great chance for parents and kids (ages 3 and up) to move, stretch, and breathe together. Registration required call 727-724-1525 x 4118.
Tail-Waggin' Tutors – A Dog is a READER'S Best Friend:  Tuesday, February 18, 7:00-7:45 pm and Friday, February 21, 3:00-4:00 pm.  These friendly dogs are specially trained to listen patiently while a child practices reading and gains more confidence.  Registration required call 727-724-1525 x 4118.