Commissioner's young daughter campaigns for a great cause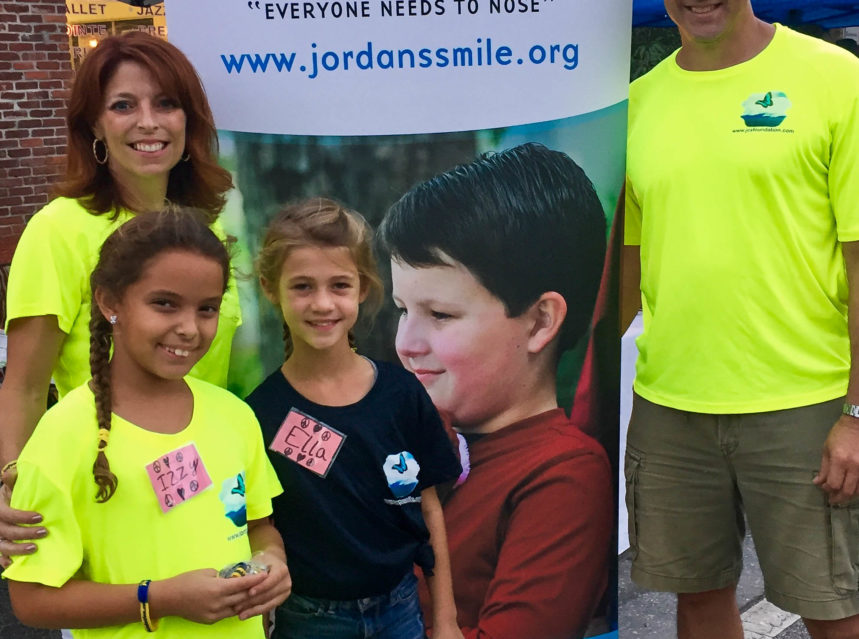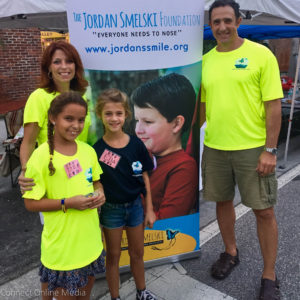 As a longtime business consultant, active volunteer and local lawmaker, Safety Harbor City Commissioner Carlos Diaz is used to helping other people.
At just 8 years old, it appears Diaz's daughter, Isabella, is set to follow in her dad's footsteps.
Isabella spent Third Friday, along with Carlos and mom, Lori, fundraising in downtown Safety Harbor on behalf of the Jordan Smelski Foundation for Amoeba Awareness; the 11-year-old Smelski was a Diaz family friend who tragically passed away from primary amoebic meningoencephalitis (PAM), a deadly brain infection he contracted after swimming in hot springs during a family vacation to Costa Rica in July 2014.
"My friend, Jordan, died because of these little amoeba things that he got through his nose," the Safety Harbor Elementary School student explained during a break from handing out bracelets and asking strangers to support the foundation last Friday.
"I was only six, and I was really, really sad because he was really nice to me and he was fun and I really liked him. So now we are raising money for Jordan's foundation to help other people."
After Smelski's death, Commissioner Diaz joined the board of the foundation, which hosts events in order to increase public awareness about the risks associated with amoebas in fresh warm waters and holds seminars to help educate medical professionals on best practices for the detection and treatment of PAM.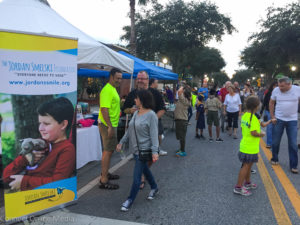 "We're having a summit walk in St. Pete Beach on November 5 and we're hosting a golf tournament in April," Diaz said, "and the money from the events goes toward awareness, teaching and treatment."
When Carlos and Lori learned their daughter had decided to represent the foundation for a school project, they were hesitant, yet proud of her choice.
"She could've chosen any charity, but she insisted on this one," Lori Diaz said. "I wasn't sure if it was such a good idea because of how close she was to Jordan, but she was adamant this was the cause she wanted to represent."
"Her passion made me cry," she added. "She is so absorbed in the process of bringing the awareness to PAM, she even recruited a friend from school to help her with the booth, and she prepared a list of things to say to people who walk by!"
"I was very proud of her to put herself into this and do what she's doing," Carlos added. "The impact she's having on other people will not only affect their lives, but hers as well."
As it turns out, the foundation is already helping to save the lives of those infected by the deadly Naegleria fowleri amoeba, which enters the body through the nose, can be incredibly difficult to diagnose and almost always results in death.
Soon after attending a foundation seminar, a doctor was able to successfully diagnose and treat a boy who had contracted PAM while swimming on private property in Orlando this summer.
"A boy contracted it in late August, and a doctor who had attended our summit was able to diagnose it and treat it successfully," Commissioner Diaz said. "A lot of people know this exists, but they don't think it will happen to them, and from a medical practitioner's standpoint, there is very little awareness and not a lot of people know how to diagnose it."
"Through our work with the foundation, we hope we can change that."
For more information on primary amoebic meningoencephalitis and the upcoming Jordan Smelski Foundation Walk for Amoeba Awareness, visit the foundation's website at jordansmelskifoundation.org.