Commission To Vote on Election Move Tonight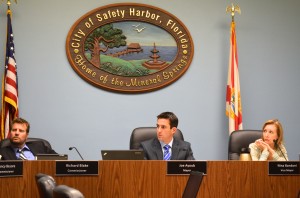 The Safety Harbor City Commission is expected to pass an ordinance Monday night that will move the city's 2014 municipal election from November back to March of next year.
After voting over the summer to move the city's election to coincide with the county's election in November, the commission decided to revisit that decision after Florida Governor Rick Scott called for a special election to fill the seat vacated by the retirement and subsequent passing of longtime Congressman C.W. Bill Young.
Ordinance 2013-27 was unanimously approved on first reading by the commission at its previous meeting on November 4.
In an interesting side story, Safety Harbor Mayor Joe Ayoub considered running for Young's congressional seat instead of entering the city's race for mayor.
But Ayoub told Safety Harbor Connect last week that he would forsake a run for Congress and seek reelection in Safety Harbor, instead.
"I realized, after much deliberation, that my heart was still here in Safety Harbor," he said.
Other items on tonight's agenda include approval of the city's special events calendar for 2014, and the selection of a grand marshal for the annual holiday parade next month.
The City Commission meeting takes place at Safety Harbor City Hall, located at 750 Main Street. The meeting is scheduled to begin at 7:30 p.m.