Christine McWilliams Named Outstanding City Employee Summer 2014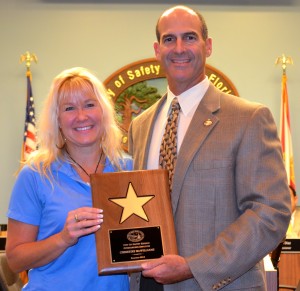 Christine McWilliams, a longtime city employee who is currently a recreation department coordinator, was named Safety Harbor's Outstanding City Employee for Summer 2014 on Monday night.
McWilliams, who has worked for the city for fourteen and a half years, was honored in a brief ceremony at the start of the City Commission meeting, when Mayor Andy Steingold read a proclamation in her name.
"Christine is dedicated to her job, her department and the City," Mayor Steingold read. "Christine has an attitude that is contagious and a leadership style that is always positive. Her background and passion in the arts have naturally brought her to the position that she currently holds."
"She understands that our mission is to increase the quality of life for our residents and visitors, but first it starts with us, the employees and staff. Christine is a role model to all City staff."
After informing her that she would be receiving one day of compensatory time as well as a restaurant gift certificate, Mayor Steingold presented McWilliams with a plaque and then allowed her to say a few words.
"I actually would like to thank our whole Leisure Services department," she said. "I absolutely love my job."
"We definitely are a team."
Related: