Call for Artists! Library Foundation Announces Flamingo Fundraiser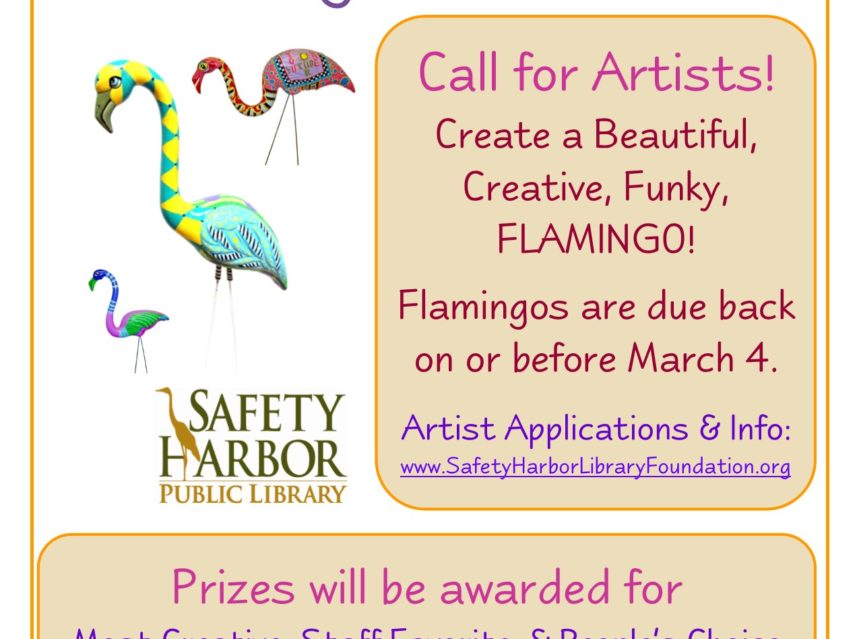 The Safety Harbor Library Foundation is seeking artists of all ages and anyone creative to donate and decorate an artsy plastic flamingo their Flamingo Fundraiser.  Donated Flamingos will on display in the Library March 7 through April 14.  Chances to win and own one of the flamingos are $1.00 per ticket or six for $5.00.  Winning tickets will be drawn at the Key Lime Pie Fiesta on Thursday, April 14.
There is no artist or entry fee. Group entries are also encouraged.  Artists will not be paid for their time or materials, however artists and group names will be honored on the Foundation website where flamingo pictures can be viewed. Prizes will be awarded for the Most Creative, Staff Favorite, and People's Choice.
Artist applications are on the Foundation website: www.SafetyHarborLibraryFoundation.org.  Completed artsy Flamingos are requested to be delivered to the Library by Friday, March 4.
Proceeds from the event will be used to for the Foundation's 20/20 Vision capital campaign to create a second story meeting room facility.  For further information, visit http://www.safetyharborlibraryfoundation.org or contact via email; lkothe@cityofsafetyharbor.com or 727-724-1525, x4106.