A Slice of Life, in the Harbor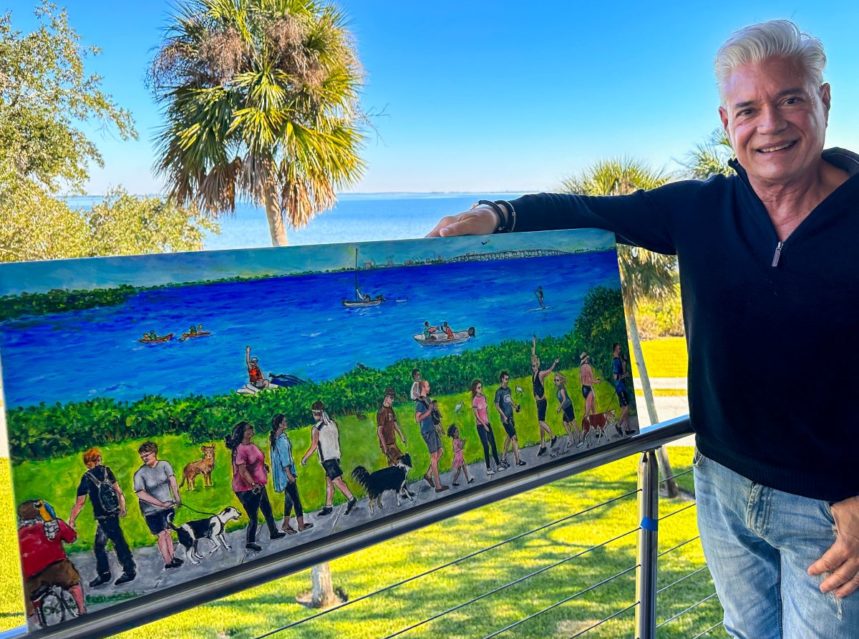 The Artist: Ben Cardoso
Ben Cardoso is one of the most talented artists in Safety Harbor, a community filled with many highly skilled painters and musicians, sculptors, and mosaic masters. The Cuban born painter is known for his colorful, detailed works depicting people, places and events from different eras and places in his life, and his natural talent was evident as soon as he picked up a paintbrush as a young boy. After retiring from a longtime executive position with the Coca Cola company in 2011, Ben was free to be able to pursue his passion full time, and he has produced some truly amazing, award-winning works that have been sold and shown around the world, from Latin America to Kenya, Greece and the United States.
The Painting: Looking Out My Studio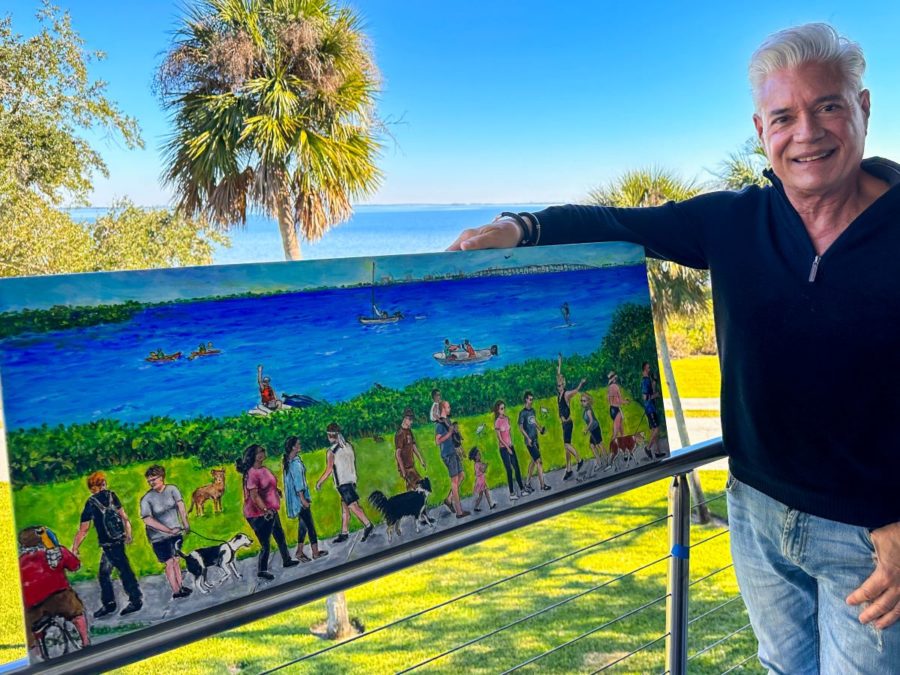 Cardoso is also a member of several prestigious art societies and organizations, including The Exhibiting Society of Artists, the Tampa Bay based art collective. So, Cardoso was mildly surprised at the success of one of his most recent works, "Looking Out My Studio," a colorful depiction of daily life outside his Bayshore Drive window that has quickly gained a dedicated following.
"I paint up here in my studio and see people walking by and thought, what a cool thing to capture them!" Cardoso said recently from his cozy, second floor spot that sports a patio overlooking Bayshore Drive below and Old Tampa Bay in the distance. "So, last February I started taking pictures of them whenever I would see repeat walkers that regularly walked by, and I finally got a composition I could display and put them all together in a way that makes sense."
After sketching rough drafts and working out the right arrangement of the two-dozen subjects—men, women, children, and animals Cardoso has witnessed from his window—he finally finished the piece last September; and to his surprise, "Looking Out My Studio" immediately drew rave reviews, words of appreciation and orders from around the country.
"When I finished it some of the people in the painting said are you making prints, and I said yeah, if you want!" he said, noting the work was recently displayed in Oldsmar as part of TESA exhibit and will be featured at the Safety Harbor Museum and Cultural Center starting January 26th.
Cardoso said he has since heard from several of the passers-by who want to hang the piece in their nearby homes, and he also received an order from a non-Harborite living in California. "I said to him, what do you want this for, you don't even live here?!" the silver-haired artist said with his signature laugh. "He said he just liked the painting for what it was—a nice slice of life."
When asked if he had any plans for "Looking Out My Studio II" using the many subjects he had to reject due to space, Cardoso said "there might be! But I'm not looking to make money on this. Painting is a fun thing for me. I take it seriously, but I think it should be something people look at and enjoy and this is a fun thing for everyone. I try to do paintings that tell a story. This could be anybody's window, but these are my people. It's my little slice of Safety Harbor life!"
Related Articles